Chargers Crush Jags to Boost Playoff Hopes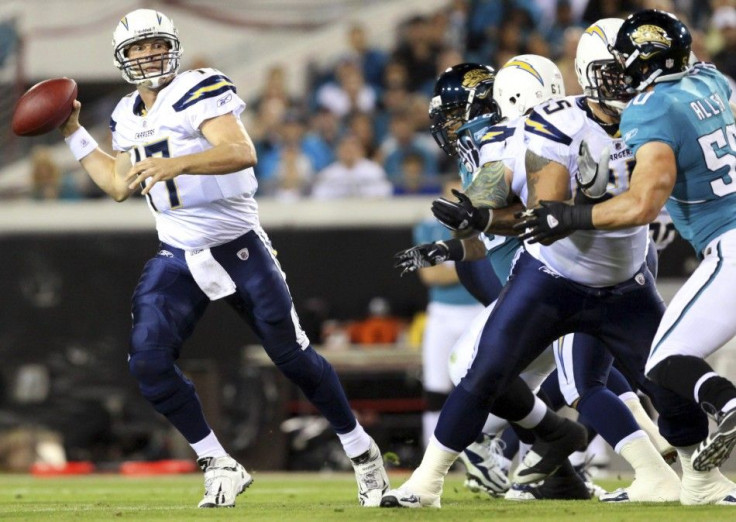 (Reuters) - The San Diego Chargers provided a glimmer of hope to their slim playoff chances by pounding the Jacksonville Jaguars 38-14 on Monday to end a six-game losing streak.
Chargers quarterback Philip Rivers returned to his Pro Bowl form with 294 yards passing and a trio of touchdown throws that helped San Diego (5-7) snap out of their funk and move two games off the lead in the AFC West with four to play.
There's four (games) to go, we've been here before and we believe we can do it, Rivers told reporters after he reversed his recent play and avoided adding to his league-leading interception total this season.
We're going to do our part and see if it's enough.
Rivers found Vincent Brown on a 22-yard strike that gave San Diego a 17-14 lead with 1:33 left in the first half, then capitalized on a Jacksonville turnover to find Vincent Jackson with a 35-yard touchdown pass just before halftime.
He kept his passing touch going at the start of the second half to land a 52-yard bomb to Malcom Floyd for another touchdown as the Chargers soared ahead 31-14 before Ryan Mathews ran in a late score in the fourth quarter.
Mathews ran for 112 yards and fellow running back Mike Tolbert also added a rushing score in the first.
It was a third consecutive loss for the Jaguars (3-9) and first under coach Mel Tucker, who took over after Jack Del Rio was fired last week.
Despite falling behind 10-0 in the first quarter, rookie quarterback Blaine Gabbert led two scoring drives to put Jacksonville on top 14-10 with just under three minutes left in the second.
But after the Chargers regained the lead on a quick drive, Gabbert threw a costly interception that allowed the visitors to add another score before halftime and seize control for good.
Maurice Jones-Drew led Jacksonville with 97 yards rushing and 91 yards receiving, including a touchdown.
© Copyright Thomson Reuters 2023. All rights reserved.