Charlie Hebdo Attack: Suspects Take 1 Woman Hostage, 'Want To Die As Martyrs,' Reports Say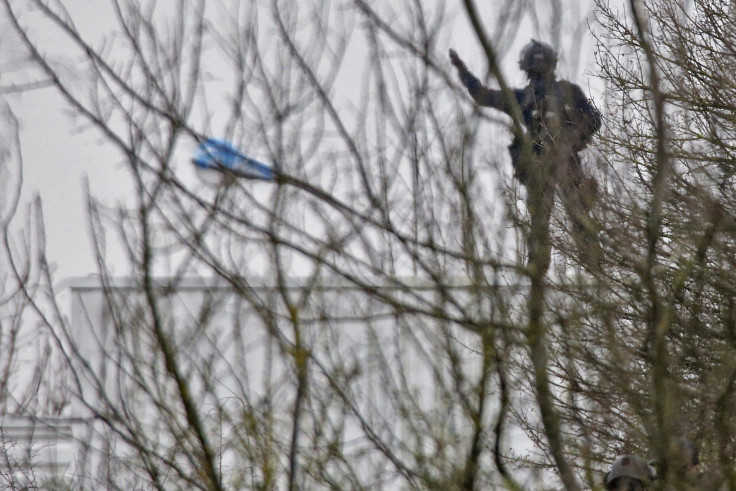 Update as of 7:25 a.m. EST: A spokesperson for France's interior minister said Friday that the priority is to establish a dialogue with the suspects of the Charlie Hebdo attack who are currently holding a hostage inside a building at an industrial complex in Dammartin-en-Goele, about 38 miles northeast of Paris, Reuters reported.
According to the Guardian, which cited an Associated Press report, phone contact had been made with the two suspects, adding that the men said they "want to die as martyrs." The news comes hours after local media reports said that police negotiators had begun talks with the two suspects.
Update as of 6:30 a.m. EST: The hostage being currently held, in a building northeast of Paris, by the two suspects in Wednesday's attack on Charlie Hebdo's offices, is a woman, BBC reported, citing unconfirmed reports.
Update as of 6:14 a.m. EST: Police and government officials told local media that there appeared to be one hostage inside the building where two of the suspects from Wednesday's attack on the offices of Charlie Hebdo are facing off with security forces since Friday afternoon.
A police official also confirmed the presence of a hostage, according to The Guardian, which added that three primary schools and one high school in the area are under lockdown, and police have warned residents in the area to stay indoors.
Earlier, French President Francois Hollande reportedly said at a meeting at the Interior Ministry that authorities had known "attacks were possible" in the country. "I have confidence in our country. Our capabilities are better when we are together," Hollande reportedly said, adding that he had confidence in the security service's handling of the aftermath of the Charlie Hebdo shooting.
However, he reportedly did not make any reference to the siege in Dammartin-en-Goele, about 38 miles northeast of Paris, where the hostage situation is unfolding.
Original Story:
Shots have been fired and at least one hostage has been taken Friday morning in an area northeast of Paris, during a manhunt for two of the suspects involved in Wednesday's attack on the offices of Charlie Hebdo, Agence France-Presse reported. Police had been reportedly chasing a car heading in the direction of Paris, close to the Charles de Gaulle Airport.
At least one person is believed to have been taken hostage by the suspects inside a public works company in Dammartin-en-Goele, about 25 miles northeast of Paris, Le Figaro, a local publication, reported, adding that police have begun negotiating for the hostage's release. Unconfirmed reports of the suspects occupying the offices of a printing business also surfaced. Five police helicopters have been deployed in the area, local media reports said.
"The two individuals have been localized. We are moving towards a denouement," Paris's public prosecutor said, according to The Telegraph, which added that the suspects were holding one person hostage inside a building, and local police had blocked off the exit to the complex that houses the building.
However, a source told AFP that it was not clear how many people were inside the building.
French interior minister Bernard Cazeneuve reportedly said that a major operation is now underway in the area. "We have indications that the terrorists are within our perimeter," Cazeneuve reportedly said. "The national police and the gendarmerie are working to locate them."
The suspects reportedly stole a Peugeot in Montagny Sainte Felicite, 30 miles northeast of Paris, after abandoning their hijacked Renault Clio. Reports of at least one person being killed and several people injured in the manhunt were refuted by prosecutors, AFP reported.
The two suspects now being chased are brothers Saïd and Chérif Kouachi. A third suspect in the attack, Hamyd Mourad, turned himself in to French police Thursday.
© Copyright IBTimes 2023. All rights reserved.