Charlie Hebdo Aylan Kurdi 'Groper' Cartoon: After Cologne Sexual Assaults, Magazine Under Fire For Refugee Satire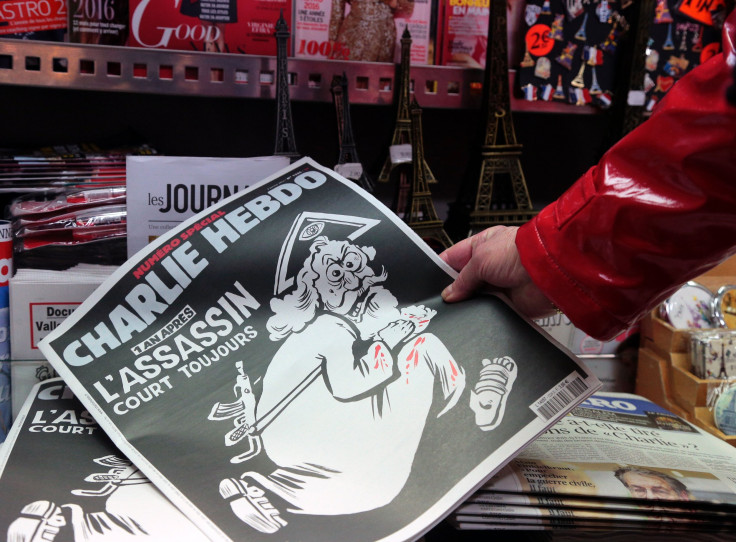 Satirical French magazine Charlie Hebdo came under fire yet again Wednesday for depicting drowned Syrian refugee child Aylan Kurdi as an "a-- groper" in a new cartoon about a spate of sexual assaults allegedly committed by refugees in Germany. The controversial cartoon made reference to an ongoing investigation in Germany after more than 100 women in Cologne were attacked on New Year's Eve, allegedly by a group of several dozen newly arrived asylum-seekers.
"What would little Aylan have grown up to be if he had lived? An a-- groper in Germany," reads the caption accompanying a picture of men with pig-like noses and lustful looks chasing after a woman. Kurdi and his family were some of the hundreds of thousands of refugees who have sought safety in Europe in the past year, fleeing escalating conflict in Syria, as well as many parts of the Middle East and North Africa. Photos of the drowned toddler in September caused worldwide outrage and prompted some of the first strong pro-refugee action in Europe.
Charlie Hebdo is well known for its often controversial cartoons, satirizing everything and everyone from politicians to the pope. A pair of heavily armed Islamic terrorists stormed the magazine's offices on Jan. 7, 2015, killing 12 journalists over cartoons the magazine had published of the Prophet Muhammad.
In the year since the attacks, the French weekly has continued in its same irreverent style, recently publishing a special edition for the anniversary of the January 2015 attacks with a cover cartoon featuring a blood-spattered, bearded God carrying a Kalashnikov automatic weapon with the caption: "One year later: the assassin is still at large."
It's not the first time Charlie Hebdo has featured an image of Kurdi. The magazine published a cartoon of the young refugee boy next to a figure appearing to be Jesus Christ, with the caption "Christians walk on water while Muslim children drown," in September 2015.
The cartoon sparked backlash online, with social media users accusing the magazine of mocking Kurdi's death. Editors at the publication defended the drawing, saying it lampooned the hypocritical response of European authorities, not the death of a young child.
© Copyright IBTimes 2023. All rights reserved.