Chase Utley Slide Controversy: Dodgers, Mets Series Could Be A Boon For Game 3, MLB, Despite Ruben Tejada Injury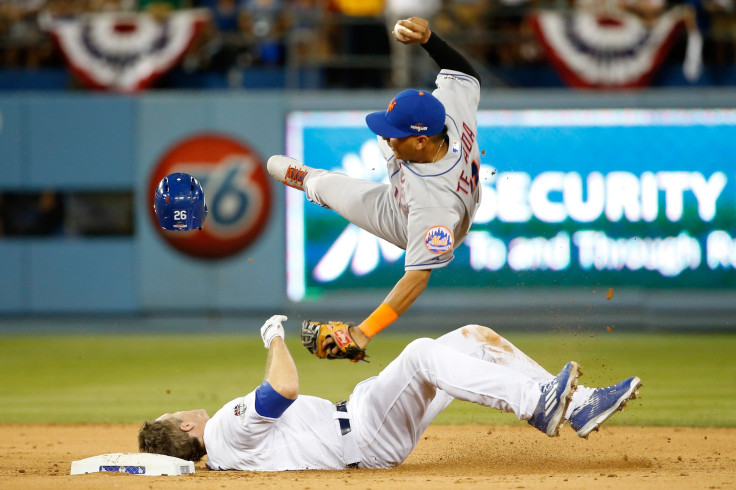 You can expect the boos to echo through Citi Field from the first row up to the nosebleed seats Monday night when Los Angeles Dodgers second baseman Chase Utley takes the field against the New York Mets in Flushing, Queens. The presumed hostile greeting on the diamond will come just two days after Utley slid wide into Ruben Tejada, breaking the Mets shortstop's leg and sparking a controversy that swept baseball fans into raucous argument.
Utley was scheduled to play Monday because his appeal of a two-game suspension levied Sunday for the slide has yet to be heard, ESPN reported. And while nobody, especially Major League Baseball, wants to see a player injured, the debate surrounding the routine play-turned-ugly is likely to be a blessing to the league. Already a marquee matchup between the nation's two largest markets, the additional spice of controversy will likely cause an uptick in viewership for the Dodgers-Mets series. While it's hard to put a price tag on what the firestorm will mean for MLB, experts said the extra ingredient of bad blood will likely cause an uptick in viewership for the best-of-five series.
"Absolutely, this is a big boon for the series," said David Berri, a sports economist and professor of economics at Southern Utah University. "This is something that has really put a lot more attention on [the series] than it would [have had] otherwise."
Excitement Of Controversy
Utley's slide in Saturday's game went well wide of second base, with the Dodgers second baseman attempting to break up a seventh-inning double play as Tejada tried to throw the ball to first base. Utley collided with an airborne Tejada and broke his leg, with Tejada now having to sit out the rest of the postseason. The slide was deemed illegal by the MLB and Utley was suspended for Game 3 and Game 4 of the National League Division Series matchup. But Utley, who said he felt "terrible" about the injury, will be eligible to play until his appeal is heard, which is not expected to happen by Monday.
Game 1 of the five-game series knotted at 1-1 already earned solid ratings, up 11 percent against the same matchup in 2014, according to Deadline. Game 2 ratings were not immediately available. However, that moment of the game, with the slide and ensuing debate over the play many Mets fans called dirty, has caused a fervor uncommon for an early-round, non-elimination playoff game.
"The game itself peaked in excitement at that time," said Warren Packard, founder and CEO of Thuuz Sports, a service that alerts fans to "good games" by measuring excitement in sports games using a proprietary algorithm. The algorithm takes contextual factors into account like rivalries or, say, controversy. Interest peaked for Game 2 in the seventh inning as Utley took out Tejada with a slide.
"What it bodes for today's game and the next game – it pushes up the anticipated excitement," Packard added.
The game had a 59 Thuuz rating overall, which is decent. But that moment skyrocketed into the 80s.
'Tremendous Interest'
It's hard to say how, or how much, the MLB will benefit. The biggest area where it should see a positive result is in viewership, as the ad dollars have likely already been collected. More eyeballs will be on the MLB's product as interest grows. New York and Los Angeles already compose more than 10 percent of the total U.S. television market, according to Nielsen data. That's a big audience to begin with, and it's even more likely to tune in with the added excitement of contentiousness. The precise increase is nearly impossible to predict, however.
"I don't think we could put a number on that," Berri, the Southern Utah University professor, said. "We would expect because there's increased attention there would be an uptick in viewership."
In the 2000 World Series, the Mets were involved in a different controversy when New York Yankees pitcher Roger Clemens chucked a broken bat in the direction of rival catcher Mike Piazza during Game 2 of the "Subway Series." The series saw low total viewership, perhaps because there was only fleeting interest outside of New York. But Game 3 actually garnered a larger share of the audience -- or the number of televisions that tuned in-- than Game 2 did, according to Nielsen data. Game 3 fewer total viewers, because Game 2 was played during the prime TV timeslot Sunday night, but it earned a slightly larger share of viewers. That might be a comparable situation to the NLDS matchup with Dodgers.
"The biggest effect will be today's game, [the slide and resulting injury] gives people something to talk about," said Andrew Zimbalist, professor of sports economics at Smith College in Northampton, Massachusetts. "Both sides are talking like they're going to war instead of playing Game 3."
People tend to tune in for a game pegged as a battle. They'll also watch to see if the Mets retaliate. And while that might not translate into dollars immediately for MLB, it could be a sign for its business power moving forward.
"At the most, what it does [is] it reminds broadcasters and advertisers [the game] can spike tremendous interest," Zimbalist said.
Continued Interest
Baseball has a smaller audience than a juggernaut like the NFL. The NFL's ratings, for instance, during its Thursday-night matchup for Week 4 outpaced Game 1 of the Mets-Dodgers series by several million viewers. What an incident like Utley's slide can do is draw in more slightly more fans who would normally flip past the channel.
"Viewership for the baseball playoffs is something that's confined to baseball fans," Berri said. "I think it is an odd outcome, that when you have any kind of event like [the slide], you can gain a small amount of interest."
Traditionally, the biggest draw for baseball fans is elimination games. But outside of win-or-go-home matchups, something else needs to prompt casual fans to tune in. Packard of Thuuz Sports said Game 3 outpaces any other upcoming MLB matchup in anticipated interest. That includes a game between longtime rivals the Chicago Cubs and St. Louis Cardinals, expected to be the top draw.
But, he added, this controversy could be a windfall for the MLB for longer than just Game 3. It'll sustain through the series, surely. It could also resurface next year with a new National League rivalry formed between teams in the two largest markets in the country.
"The first series of the Dodgers and Mets next year, this is going to come back in spades," Packard said. And while the injury to Tejada was crushing to Mets fans, it could translate to a gain for the league for years to come.
FOR FREE to continue reading
✔️ Unlock the full content of International Business Times UK for free
offer available for a limited time only
✔️ Easily manage your Newsletters subscriptions and save your favourite articles
✔️ No payment method required
Already have an account?
Log in
© Copyright IBTimes 2023. All rights reserved.