DraftKings Won't Dump Its MLB Playoffs Ads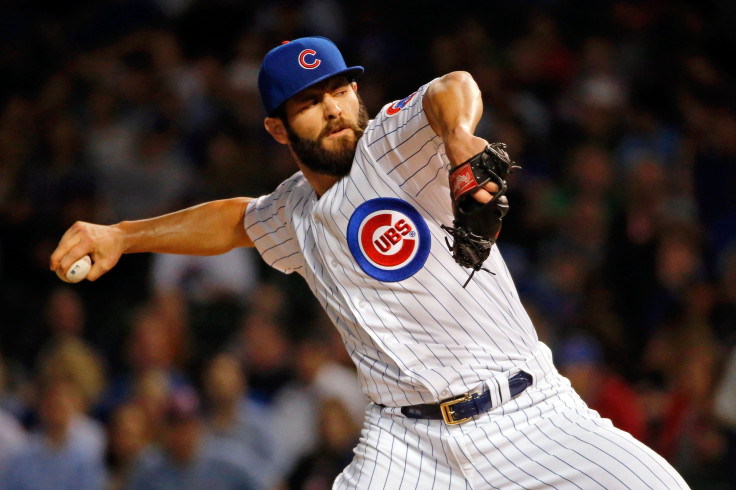 DraftKings may be embroiled in an ugly scandal involving alleged insider trading, but don't expect the company to lie low. With both DraftKings and FanDuel desperate to acquire new users during the all-important fall season, when America's most popular -- and most gambled-on -- sports are in full swing, DraftKings is staying the course and using the expensive airtime it bought for the MLB Postseason, which began Tuesday.
While DraftKings has not purchased any advertising for Wednesday night's wild card matchup between the Pittsburgh Pirates and the Chicago Cubs, a Turner spokesperson told International Business Times that DraftKings has purchased airtime during both the National League Divisional Series and the American League Divisional Series games airing on TBS, and it's not giving it up. Fox Sports did not return requests for comment about whether DraftKings has bought spots during the American League Championship Series.
DraftKings' resolve stems partly from the daily fantasy company's understanding of who is going to be watching these games -- die-hard baseball fans -- and they're unlikely to be turned off by the ads. It's also because it would cost a lot more to give up the ads. While not on the level of Super Bowl ads, which cost $4.5 million per 30 seconds, ads that air during the postseason are likely to be some of the most expensive one can buy on cable. The airtime DraftKings bought during the postseason is probably at least three times as expensive as on ESPN, according to a media agency account executive whose firm has bought national cable airtime on both channels but was not authorized to speak publicly about the deals.
Damage Control
DraftKings and its top competitor, FanDuel, have been in full-on damage control this week after a story about employees using the equivalent of inside information to build teams plunged both companies into scandal and has them pulling every public relations lever they can. The companies issued a joint statement Monday saying that the integrity of their games is of the utmost importance, and both companies announced today they are banning employees from participating in their sites' tournaments. On Tuesday night, USA Today reported that DraftKings, which just weeks ago was one of the biggest advertisers in America, had begun pulling its ads from ESPN.
ESPN, which has threaded DraftKings deeply into its coverage of a number of sports after signing an exclusive advertising partnership, has begun scaling back the number of DraftKings-branded segments it airs. "It is a standard procedure for us pull these kind of sponsorships and integrations when we are covering breaking news," ESPN spokesman Paul Melvin said in a statement to USA Today Sports. "We look to avoid any suggestion of influence on our coverage."
How quickly both companies manage to recover could have huge ramifications. Both are hugely reliant on fan participation during the fourth quarter of the year, when sports like football, basketball, hockey and soccer are all rolling at the same time, and they have spent lavishly in their efforts to woo customers. According to iSpot TV, DraftKings has already aired nearly five times more national advertisements this year than it did in all of 2014.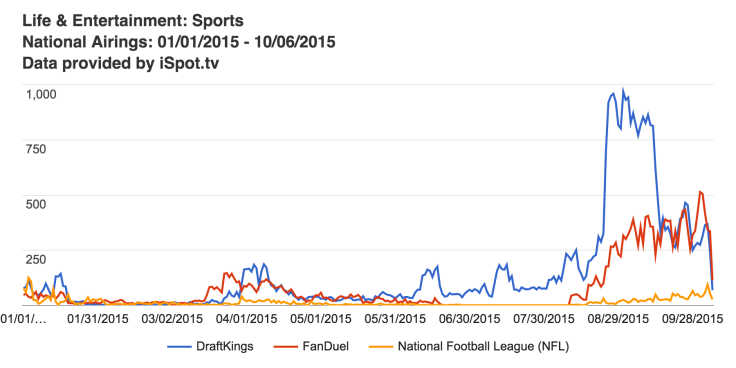 © Copyright IBTimes 2023. All rights reserved.
FOLLOW MORE IBT NEWS ON THE BELOW CHANNELS