Chile Student Protests 2016: Police Arrest 117, Use Tear Gas During Education Reform Demonstration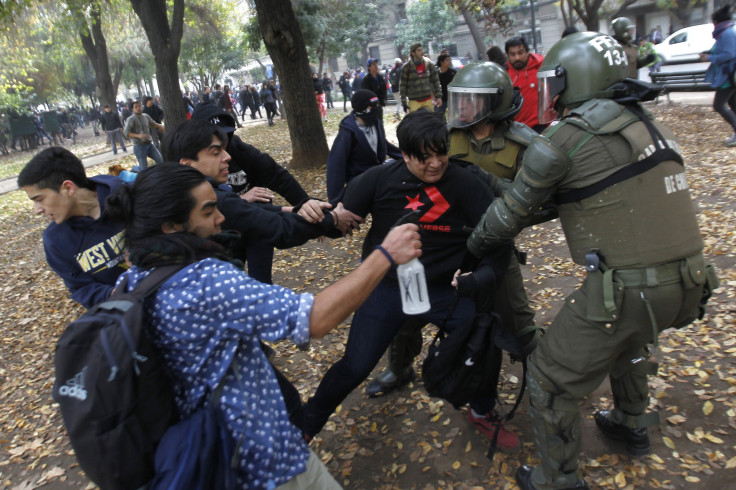 More than 110 young people were arrested and 32 police officers injured in Santiago, Chile, during a Thursday demonstration by student protesters demanding education reform. Students gathered in the capital to call out President Michelle Bachelet for delaying action that would make university free, but the demonstration quickly escalated with tear gas and rocks flying through the air, Agence France Presse reported.
"The repression maneuvers were excessive," Marcelo Correa, a spokesman for the Coordinadora Nacional de Estudiantes Secundarios, told Elm Strador. "We are high school students who just want to fight to improve education peacefully, but police [Thursday] were the ones who took up arms."
The protest was centered around Bachelet's 2014 campaign promise eventually to make higher education free for all Chileans. Families in Chile famously pay a lot for college, covering about 75 percent of the cost themselves, according to World Education News and Reviews. In the United States, families pay about 40 percent.
Bachelet said she'd revamp the university system as a way to close the gap between poor and wealthy Chileans. About 200,000 of the country's low-income residents are to receive free tuition this year, but Bachelet previously has told AFP the government was working so that "all students have access to free, quality education." Other, wider reforms have been put on hold because of the struggling economy, BBC News reported.
The students attending Thursday's unauthorized protest said they were done waiting. Protesters threw rocks at law enforcement, who then used tear gas and water guns to control the masses. And activists vowed to keep up the fight.
"We the students have adopted a position of offense," Reuters quoted Marta Matamala, who leads the student union at the University of Santiago, as saying. "We are going to stay on the streets. From today onward, we expect that the protests will only intensify."
© Copyright IBTimes 2023. All rights reserved.
FOLLOW MORE IBT NEWS ON THE BELOW CHANNELS