China And Japan Move Away From Dollar, Will Conduct Bilateral Trade Using Own Currencies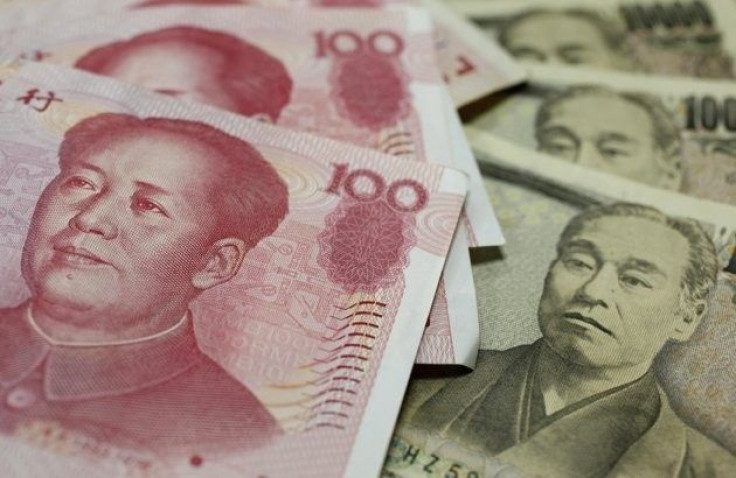 China and Japan, not exactly the world's best friends, will soon be walking away from the dollar, hand-in-hand. Although the two countries have their share of diplomatic problems, June 1st will mark a historic day in Sino-Japanese relations, as they move to conduct trade with one another by directly using their own currencies.
Trade between China and Japan, the world's second and third-largest economies respectively, is currently conducted by using the dollar as an intermediate to determine yen-to-yuan exchange rates. That will all change.
China is Japan's largest trading partner, and over the past decade their economic relationship has strengthened. Trade between the two countries reached approximately 27.5 trillion yen or $347 billion in 2011, according to the Ministry of Finance in Japan.
The yen-yuan direct trade development is expected to boost commerce and investment between the two economies. It will carry benefits for both.
The move will mark a major step in China's efforts to further internationalize the yuan and gain international recognition for its financial system. In past years, China has carried out numerous currency swaps with other countries, often worth tens of billions of dollars, but those were largely seen as symbolic gestures. Direct yen-yuan trading will mark the first time China has allowed another currency to trade directly with the yuan besides the U.S. dollar.
In March, the Japanese government said it would buy 65 billion yuan or over $10 billion of Chinese government debt for its own reserves. That's only a tiny amount in Japan's near $1.3 trillion in foreign exchange reserves, according to the Japanese Ministry of Finance. Nearly $1.1 trillion of that amount at the end of March 2012 was in U.S. Treasury Securities, according to the U.S. Treasury Department. China has agreed to allow Japan to add the yuan to its foreign exchange reserves. The move has led to predications from economists that Japan may move to diversify away from the dollar by substituting it with the yuan.
China's own foreign exchange reserves are much larger, at $3.3 trillion. More than 1.1 trillion of that was in U.S. Treasury Securities at the end of March 2012.
Japan's Minister of Finance, Jun Azumi, said on Tuesday that by conducting transactions without using the third country's currency, it will bring reduced transaction costs and lower risks involved in settlements at financial institutions.
Azumi added that direct trading will energize the Tokyo financial market. Japan's three major financial holding companies, which in turn control the country's three major banks -- Mitsubishi UFJ Financial Group (Tokyo: 8306), Sumitomo Mitsui Financial Group (Tokyo: 8316), and Mizuho Financial Group (Tokyo: 8411)-- will also allow domestic companies to hold trade-earned yuan in bank deposits.
Currencies will be traded in separate markets in Tokyo and Shanghai.
The China Foreign Exchange Trade System, the divison of the People's Bank of China which manages currency trading, said that the country will set a daily trading rate based on a weighted average of prices given by market makers. The People's Bank said on Tuesday that an intial trading rate would be set at 7.9480 yuan for every 100 yen at market in Shanghai. Unlike yuan-dollar trading, which only allows for a daily flucatuation of 1 percent in yuan trading value, yuan trading with the yen will be able to move within a 3 percent range.
In Japan however, both currencies will be traded openly without restrictions.
The Asian Development Bank said that a paltry 2 percent of Chinese 2011 exports to Japan were settled in yuan while less than 20 percent was settled in yen.
© Copyright IBTimes 2023. All rights reserved.