China Begins Construction Of Aircraft Runway On Disputed Spratly Islands: Report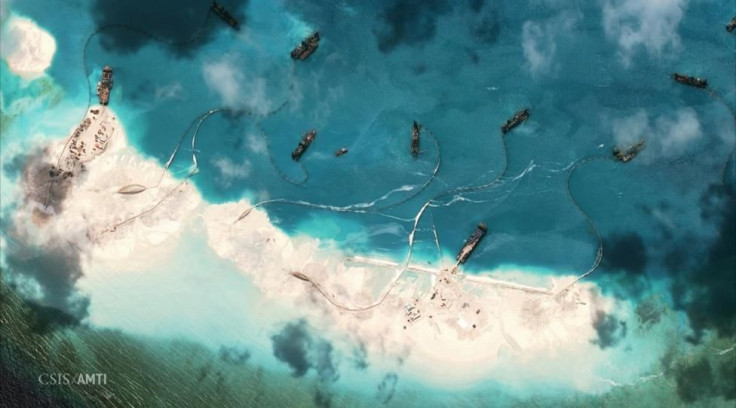 China has begun constructing a concrete airplane runway in the disputed Spratly Islands in the South China Sea, according to reports. The runway is expected to be capable of handling military aircraft, according to satellite images released Thursday.
The images, published by IHS Jane's Defence Weekly, showed that China is building the airstrip on the northeastern side of Fiery Cross Reef, part of the Spratly Islands chain claimed by at least three other countries. According to the Defence Weekly report, Chinese workers have also started working on an apron alongside the runway for parking planes.
The runway, which is expected to be about 10,000 feet (3,000 meters) long, can be a game changer in the rivalry between China and the United States in the South China Sea, the New York Times reported, citing Peter Dutton, professor of strategic studies at the Naval War College in Rhode Island.
"This is a major strategic event. In order to have sea control, you need to have air control," Dutton told the Times, adding that Beijing could install radar and missiles at the facility to threaten countries such as Philippines and Vietnam, which also claim ownership of the Spratly Islands.
The image, dated March 23, also shows floating cranes placing concrete blocks on the interior walls, and an extended sea wall to provide protection for ships at port. Additional images taken in March show that China may also be building a second airstrip on Subi Reef, also in the Spratly Islands and only 15.5 miles from an island that's home to Filipino civilians, BBC reported.
"We absolutely think it is for military aircraft, but of course an airstrip is an airstrip -- anything can land on it if it's long enough," the Times quoted James Hardy, Asia-Pacific editor for IHS Jane's Defense Weekly, as saying. "Three thousand meters is big enough for pretty much any aircraft."
Meanwhile, China has claimed that reports of the country creating a "military threat in the region" have been exaggerated. "China's work on some of the Nansha Islands [Spratly] landmasses in the South China Sea falls entirely within its sovereignty," according to a report by China's Xinhua news agency.
"China's work on the islands mostly serves civil purposes apart from meeting the needs of military defense. China is aiming to provide shelter, aid in navigation, weather forecasts and fishery assistance to ships of various countries passing through the sea," the report added.
© Copyright IBTimes 2022. All rights reserved.
FOLLOW MORE IBT NEWS ON THE BELOW CHANNELS