China Begins Military Reforms, Major Cuts For People's Liberation Army Underway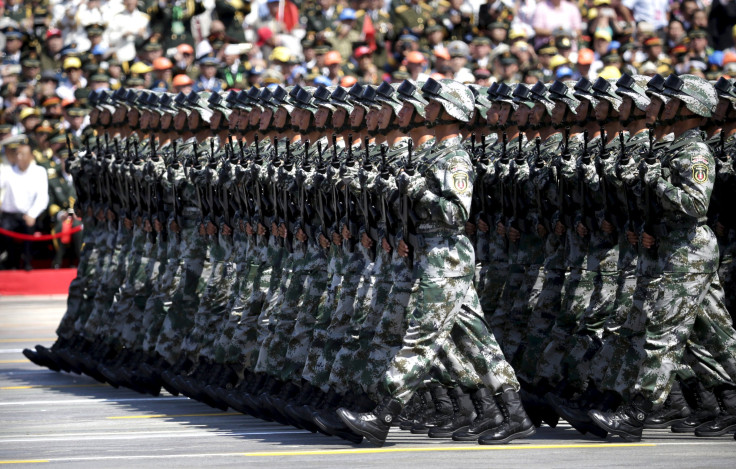 Long-anticipated reforms of the Chinese People's Liberation Army are under way, the South China Morning Post reported Tuesday, citing sources close to the PLA. The planned changes are expected to reorganize China's existing seven military zones into four separate commands, while cutting about 300,000 troops.
The onset of the restructuring was formally announced to top military brass at an assembly of leaders involved in national defense and military reform who serve under China's Central Military Commission. President Xi Jinping reportedly attended the session, along with leaders of China's air force, missile corps, navy and armed police. The planned reforms aim to switch the command of its armed forces to a more professional, U.S.-style military structure, with distinct commands for air, missile and naval forces, instead of the current seven-zone model.
Xi has reportedly called on leaders to embrace the changes. He first announced the planned reforms in early September, saying China would shrink its 2.3-million-strong armed forces as it made the largest cut in troop levels since 1997.
"I announce that China will reduce military personnel numbers by 300,000," Xi said after stating that the military was "loyally committed to its sacred duty of defending the security of the motherland and the peaceful life of the people, and loyally committed to the sacred duty of safeguarding world peace," according to the New York Times.
China Overview | FindTheData
Because of the cuts, tens of thousands of officers could be pushed into early retirement, while many in support roles, such as drivers or entertainers, could lose their positions, the Financial Times reported. A couple of recent articles in the PLA's own newspaper have worried about the effects these cuts could have.
"The military reform will inevitably involve cutting back personnel, restructuring and layoffs," the PLA National Defense University's Sun Kejia and Han Xiao wrote last week in an article that was later removed from the PLA Daily website, according to the Financial Times. "It is in the direct interest of the officers and soldiers. But if this is not done properly, it could affect the stability of the military or even all of society." Their article indicated the changes could be done smoothly as long as proper attention is given to the pensions and salaries of officers.
An earlier PLA Daily piece addressed resolving "conflicts" that could arise because of the changes, the Financial Times reported.
© Copyright IBTimes 2023. All rights reserved.
FOLLOW MORE IBT NEWS ON THE BELOW CHANNELS