China Censors Hong Kong's 'Occupy Central' Referendum Vote On Weibo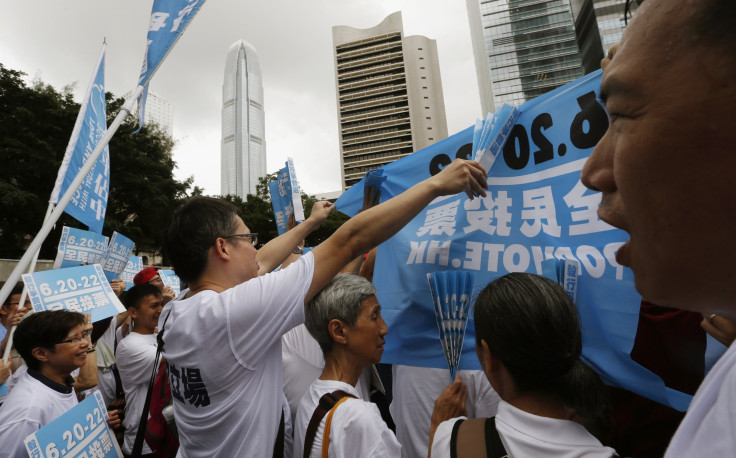 While hundreds of thousands of people in Hong Kong cast their votes in a sovereignty referendum over the weekend, mainland China's censors quickly took action to quiet online discussion of the reform initiative on popular social media platform Weibo.
More than 700,000 Hong Kong residents cast their votes in the unofficial poll on electoral reform as part of a larger "Occupy Central with Love and Peace" movement, which promotes the international standard of "universal and equal suffrage" in elections for the chief executive of Hong Kong. China's central government has instead announced that the upcoming 2017 election for the post will include nominees appointed by a mainland government committee.
According to FreeWeibo.com, a real-time censorship monitoring system, some posts on Weibo relating to the voting referendum that included phrases like "6/22 referendum," "Hong Kong referendum" and even the search term "Hong Kong" were blocked starting this weekend.
The censorship is in line with the official stance of the mainland government. Chinese state-run media and former officials have spoken out against the Occupy movement, calling the polls and movement "illegal and useless." Ahead of the poll, which took place on June 22, the Global Times published an editorial condemning the referendum.
"The Special Administrative Region's government has made it clear that the 'referendum' is illegal and that the result of the vote is not legally binding," the Global Times op-ed piece said. "The opposition groups, who refuse to accept the essence of the Basic Law and the white paper, are trying to use the 'referendum' and 'Occupy Central' movement to scare off the central government."
Much of the online responses to the article have been removed by censors.
"The Global Time is a crap newspaper," one blogger posted, adding, "How about you let the 1.3 billion [people in China] vote on a referendum?"
"The votes of 700,000 people mean nothing? Well neither do the votes of 1.3 billion," another said.
The pro-reform initiative was prompted by a white paper from China's State Council published earlier this month stating that Beijing's interests and governance took precedence over those of Hong Kong, a democratic territory that was handed back to China by the United Kingdom in 1997. During the handover negotiations, China and the U.K. agreed on a "One Country, Two Systems" policy that would allow Hong Kong to maintain its already established currency and governance, among other things.
© Copyright IBTimes 2023. All rights reserved.
FOLLOW MORE IBT NEWS ON THE BELOW CHANNELS