China Coronavirus Death Toll Hits 361, First Death Outside China Confirmed in the Philippines
The coronavirus that originated in Wuhan has a confirmed death toll of 361 inside mainland China as of Sunday, surpassing the 349 deaths caused by the 2002-03 SARS epidemic. In the Philippines, health officials announced the death of a 44-year-old-Chinese man who had flown into the country from Wuhan, the first fatality from the disease outside China.
Reuters reported Monday that China's foreign ministry stated that some countries, especially the U.S., are overreacting to the outbreak. This was in reference to President Donald Trump's signing of an order to deny entry to any foreign nationals who have traveled in China within the past two weeks. Vietnam, Australia and New Zealand have also announced similar bans.
Ministry spokesperson Hua Chunying said, "All it has done could only create and spread fear, which is a bad example," adding that it is unreasonable to prevent people from entering borders.
Several other countries have also placed travel restrictions on Chinese nationals, or those with travel history in China. Russian Railways said Sunday that it would temporarily suspend passenger trains to China from midnight until further notice, including rail services along the Moscow-Beijing route.
Evacuations of people from Wuhan are accelerating. The U.S. has 195 evacuees quarantined at an air force base in California, with plans for another planeload to leave Wuhan soon. A French carrier left Wuhan carrying citizens of many European countries headed for a quarantine destination, part of the European Crisis Management Mechanism.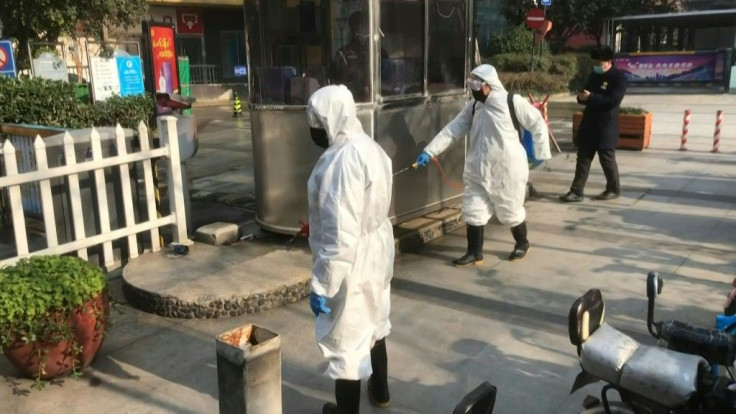 In Hong Kong, according to the South China Morning Post, thousands of medical workers are ready to strike to convince the city's government to completely shut down the borders with the mainland. A partial strike of 2,400 employees took place Monday, with a full strike of over 6,000 workers in essential services to begin Tuesday depending on the government's response, or lack of it.
Inside China, about 60 million people remain on effective lockdown and there are reports that its health system is running out of beds and supplies. The economy is another casualty as the stock market is plunging and people have been ordered not to return to work until mid-February. The People's Bank of China announced Sunday that it will inject 1.2 trillion yuan ($174 billion) worth of liquidity into the markets.
Throughout all this China is trying to maintain a positive face. The Ministry of Commerce vice president Wang Bingham claimed that the inventory of vegetables in Wuhan has returned to "normal levels." Another official added that the impact of the virus on the economy, especially consumption, is increasing, but the overall impact on the economy is "temporary."
The irony of China claiming that the U.S. is overreacting is the fear that China is downplaying the epidemic. In a government statement, Chinese Premier Li Keqiang asked the European Union to help China procure medical supplies. CNN reported that has been told of delays in testing for the virus, raising concerns that the outbreak in China may be worse than is being reported.
© Copyright IBTimes 2022. All rights reserved.
FOLLOW MORE IBT NEWS ON THE BELOW CHANNELS