China Cracks Down Some More On Drugs With Beijing Bar Raid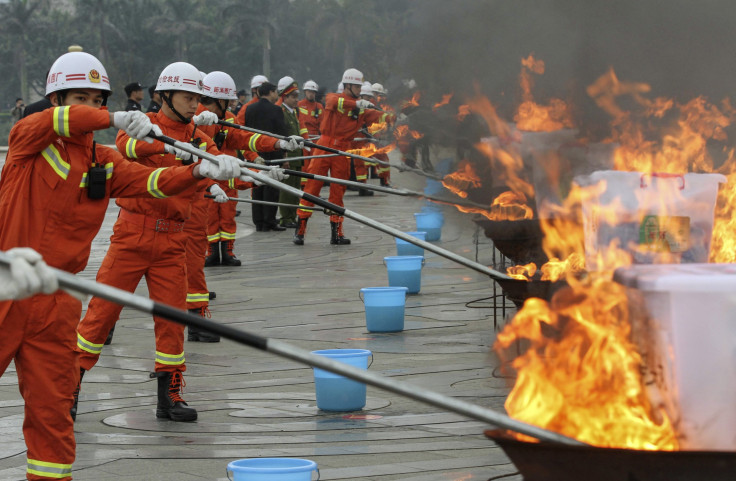 Beijing police raided 2 Kolegas, a bar and live music venue popular with the city's expatriate population, over the weekend and administered on-the-spot urine tests to patrons. According to Stephen McDonnell, an Australian journalist who was at the bar at the time of the raid, at least 10 patrons were arrested, including four foreigners, who now face deportation.
The arrests have occurred during a period of intensified anti-drug efforts in the country, where the distribution and consumption of narcotics are strictly prohibited. In remarks timed to coincide with International Day against Drug Abuse and Illicit Trafficking, president Xi Jinping pledged to crack down on drug-related crimes, and on July 6, China's State Council, or cabinet, issued guidelines for a "people's war" against narcotic use.
According to the Ministry of Public Security, China arrested an estimated 168,000 suspects for drug crimes in 2013, an increase of 20 percent from the year before, and in the first five months of 2014, the number of people sentenced for drug crimes rose 27 percent year-on-year. The arrests have affected a broad cross-section of society: On Tuesday, actor Gao Wu became the latest in a series of celebrities to be caught possessing illegal drugs.
Chinese nationals account for the vast majority of drug arrests in the country, but the country's anti-narcotics campaigns occasionally ensnare foreigners. In late May, police arrested 30 suspected drug dealers, including 10 foreigners, in Beijing's Sanlitun district, a neighborhood known for its lively nightlife. Drug dealing can be a capital offense in China; in a 2011 case that attracted significant controversy, the Chinese government sentenced a South African woman to death for trafficking.
According to Gloria Lai, the senior policy officer for the International Drug Policy Consortium and an expert on drug laws in Asia, drug use on the whole appears to be rising in China, where the country's Ministry of Public Security reports 2.58 million registered users. But a lack of research and analysis of China's drug trade, combined with limited government transparency, hamper efforts to ascertain the actual number.
"It's incredibly difficult to get an accurate understanding of the extent of drug use in China because it is such a severely punished activity, and therefore quite hidden," she said.
China has increasingly focused its anti-drug efforts on methamphetamines, a drug once rarely seen in the country. In January, police forces conducted a mass raid of methamphetamine manufacturers in the village of Boshe, Guangdong Province, arresting 182 suspects and seizing three tons of the drug: According to the United Nations Office on Drugs and Crime's just-released 2014 report, 1.27 million of the country's registered drug users were addicted to opiates. much of which coming from poppies grown in neighboring Myanmar.
In his remarks given on June 26th, Xi Jinping acknowledged that China still "faces serious challenges in banning drugs, which is an arduous and long-term task." The country has attracted criticism from Human Rights Watch for failing to rehabilitate addicts, citing a 2008 law that allows government officials to incarcerate drug users for up to seven years. Lai, for her part, believes that the country's efforts to lessen demand for drugs is not working.
"China's current policy of detaining people who use drugs, in the name of 'rehabilitation,', and imposing other punitive and heavily stigmatizing measures on them is very costly and counterproductive," she said.
© Copyright IBTimes 2023. All rights reserved.