China Exercises Political And Military Dominance In South China Sea Amid Search For Flight MH370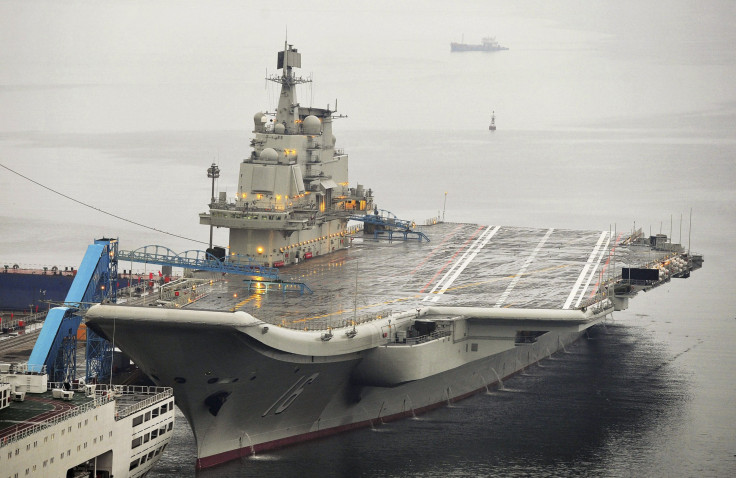 Just last month, the sight of Chinese People's Liberation Army aircrafts jetting over the South China Sea would have triggered alarm bells for several Southeast Asian nations. But as the search for Malaysia Airlines Flight MH370 continues, China's military aircraft and naval vessels have had virtually free reign in the region.
The search for the Boeing 777, lost en route from Kuala Lumpur to Beijing, brought together most of Southeast Asia's governments and military resources in a frantic bid to locate the commercial aircraft that mysteriously disappeared over the South China Sea. During two weeks of searching, most international water and air territorial claims were set aside. China, however, used the opportunity to show geopolitical dominance in the region.
China's national military and political leadership and command in the South China Sea during the recovery efforts have affirmed for many Chinese that the area needs to be controlled by a nation with sufficient resources and political clout. Similar to the way the United States has intervened as a regulator of trade passageways in various places like the Persian Gulf and the Gulf of Panama, the Chinese public are now seeing the necessity of similar control in the South China Sea.
Positioned as Asia's strongest economy, largest military in terms of manpower and the region's biggest military budget, China seems to be a natural contender to take on that role, much to the fear of other Asian nations. Exerting military power and general understanding of the area during the search has been beneficial for Beijing twofold — casting doubt on the abilities of Malaysia's government and, in turn, many of the other nations in the region while simultaneously boosting public opinion of China's strength in various South China Sea territorial disputes.
Malaysia Airlines and the government have been widely criticized for their response to the missing flight. The frustration of relatives of passengers on MH370 have been directed at Malaysian officials after a series of fumbling news conferences, contradictory and slow information.
As a result, Chinese sentiment, especially on China's vocal microblog platform Weibo has virtually crucified Malaysian leadership. The term "Malaysia tourism" became a trending topic in the blogosphere, with many people expressing their newfound distaste for traveling to the country following the MH370 drama.
"Malaysia's clown-like prevarication and lies, and disrespect for my people, makes me want to reject all commercial goods and never want to travel on Malaysia Airlines," one blogger wrote on Weibo. "My concern is not temporary, it is indefinite."
A poll conducted on the social media site asked, "Will the Malaysia Airlines MH370 incident affect your travel to Malaysia?" and received an overwhelming response: As of Wednesday morning, nearly 78,000 people voted that Malaysia's government's actions angered them enough to affect travel plans to the country, while just 2,600 people said the incident would have no effect on future plans.
China's involvement in the recovery is natural because most of the citizens on the plane were Chinese, and because of the considerable size of resources the nation has, but it's not hard to believe that the government has an ulterior motive.
Ray Kwong, a senior adviser at the University of Southern California's China Institute, says that China's response was designed to maximize positive perceptions of the country's leadership. "China never passes up a political opportunity, and the MH370 disaster is a case in point," Kwong said via email. "Its demands on Malaysia to turn over satellite data aren't exactly polite, and prepared statements purportedly written by crash victim relatives sound like they've been written by state media."
The protests of passengers' relatives and loved ones, which followed Malaysia's announcement that search would no longer be for survivors, seemed to be coordinated by the government. "Marches to Malaysia's Embassy in Beijing, complete with printed signs, banners and T-shirts handed out by 'plainclothes' government agents, and you have what appears to be a carefully orchestrated effort to take full political advantage of Malaysia's bungled investigation."
The coordinated effort on Beijing's part, however, seems to have had an effect. On Weibo, increased confidence in China and decreased confidence in Southeast Asia was becoming more explicit. In some cases, some bloggers even pleaded for China to take an even more aggressive posture in the South East, claiming that the Chinese should push harder to solidify their overall might as an international power-player.
"The Malaysia Airlines incident shows China's influence in the world is not big enough. … The Philippines, Vietnam, Malaysia, Australia, Thailand, all looked down on the Chinese, but China should be stronger, should continue to develop, and continue to develop international status."
Now that the search for plane debris has shifted into the southern areas of the Indian Ocean, Australia is also feeling China exert its presence.
''One of the lessons of this event is that we see a China that's not content to just sit on the end of the phone and hear how other countries are dealing with situations where they have a significant interest,'' Australian Strategic Policy Institute Executive Director Peter Jennings said in the Sydney Morning Herald. ''It will deal itself in quickly and with military assets.''
FOR FREE to continue reading
✔️ Unlock the full content of International Business Times UK for free
offer available for a limited time only
✔️ Easily manage your Newsletters subscriptions and save your favourite articles
✔️ No payment method required
Already have an account?
Log in
© Copyright IBTimes 2023. All rights reserved.