China Fires 'Aircraft-Carrier Killer' Missiles As Clear Warning To US
A day after alleging that a U.S. spy plane entered a no-fly zone to watch Chinese military drills, China fired off two ballistic missiles in an apparent warning to Washington.
The South China Morning Post (SCMP) described one of the missiles, DF-21D, as an "aircraft carrier-killer." "This is China's response to the potential risks brought by the increasingly frequent incoming U.S. warplanes and military vessels in the South China Sea. China doesn't want the neighboring countries to misunderstand Beijing's goals," The paper quoted a source familiar with the Chinese Military.
A U.S. defense official confirmed to CBS News that two ballistic missiles had been launched. China describes DF-21D as the "world's first anti-ship ballistic missile." With a range of about 1800 kilometers (1120 miles), it is considered "unusually accurate" and was developed to target U.S. aircraft carriers, according to Associated Press.
"The U.S. continues to test China's bottom line in Taiwan and South China Sea issues, and this pushed China to showcase its military strength to let Washington know that even U.S. aircraft carriers cannot flex their full muscle near China's coast," Song Zhongping, a Hong Kong-based military commentator, told SCMP.
The other launch was a DF-26 dual-capable missile, a type of weapon banned by the Intermediate-Range Nuclear Forces Treaty between the United States and the former Soviet Union. U.S. President Donald Trump withdrew from the 1988 treaty in August 2019 partly because of China's development of the DF-26 and similar weapons.
China unveiled the 2,485 mile-range missile in 2015. Dubbed the "Guam Express" or "Guam Killer," it can be used in nuclear or conventional strikes against ground and naval targets.
The launches came barely a day after Beijing protested "a naked act of provocation" by a U.S. reconnaissance plane during a live-fire drill by the People's Liberation Army. Wu Qian, the Ministry of National Defense spokesperson, said the U-2 flight had "seriously interfered in normal exercise activities" and "severely incurred the risk of misjudgment and even of bringing about an unintended air-sea incident".
In response, the U.S. military released a statement saying that the U-2 flight was "within the accepted international rules and regulations governing aircraft flights." It added that "Pacific Air Forces personnel will continue to fly and operate anywhere international law allows, at the time and tempo of our choosing."
China's missiles landed harmlessly in the sea but they add to the tensions between Beijing and Washington. The relationship between the world's two most powerful countries has sunk to its lowest point in years over issues that include human rights, trade, technology, Taiwan, the South China Sea and the coronavirus.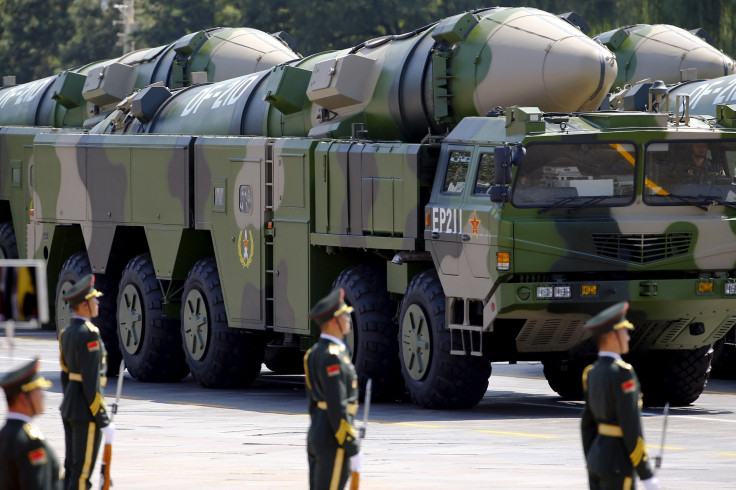 © Copyright IBTimes 2023. All rights reserved.