China Holds Military Drills Near Taiwan To Warn Island Against 'Collusion' With US
KEY POINTS
The drills showed the troops were capable of thwarting external interference
China said the U.S. was saying one thing and doing another on Taiwan issue
Beijing said no forces, including the U.S., can prevent it from taking Taiwan
In response to President Joe Biden's statement that the U.S. would defend Taiwan, China conducted a drill near the island, as a warning to Taipei against colluding with the U.S. It also announced a large-scale military exercise in the region this month.
According to the People's Liberation Army's (PLA) Eastern Theatre Command, the joint naval and air combat-readiness exercise was a "solemn warning against recent collusion between the United States and Taiwan," reported Channel News Asia.
"It is hypocritical and futile for the U.S. to say one thing and do another on the Taiwan issue," Shi Yi, the spokesperson for the Eastern Theater Command, said in a statement to Chinese state television.
However, Shi did not give any details about the drills. He said that the troops from the theatre command were capable of thwarting external interference and attempts to advance independence for the island.
Two days ago, Joe Biden said the U.S. would intervene militarily if China attempts to take Taiwan by force.
While Biden's stance was viewed by many as a deviation from the U.S. policy of "strategic ambiguity," the White House quickly downplayed the comments, saying they don't reflect a change in U.S. policy. This was also reportedly the third time in recent months that Biden said the U.S. would protect Taiwan from a Chinese attack. The White House walked back on the comments all three times.
Under the "One China" policy, the U.S. acknowledges China's position that Taiwan is part of it, but has never officially recognized Beijing's claim to the self-governing island of 23 million.
Nevertheless, the comment angered Beijing, which warned the U.S. against playing with words on the one-China principle.
According to the Chinese Foreign Ministry, there will be "irretrievable consequences" for the China-US relations and no forces, including the U.S., can prevent it from reunifying Taiwan.
"We treat our friends with fine wine. But for our enemies we have shotguns," Chinese Foreign Ministry Spokesperson Wang Wenbin said Tuesday in response to the comment, citing lyrics from a Chinese song.
Meanwhile, Defense Ministry spokesperson Tan Kefei said Wednesday that the PLA is all set to await the order for battle, and will take all necessary measures to resolutely thwart interference by external forces and "Taiwan independence" forces' secession attempts.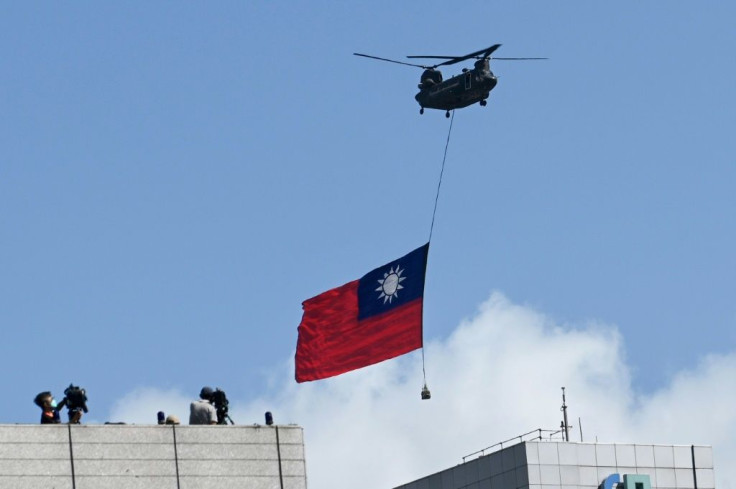 © Copyright IBTimes 2023. All rights reserved.