China Implements New Military License Plate To Combat Corruption - Netizens Already Expressing Disbelief
Although China implemented a new military license plate system on Tuesday forbidding any vehicle that costs more than 450,000 yuan ($73,103) from having with a military license plate, already netizens have begun posting photos of violators on Weibo, China's most popular microblogging website, and expressing their lack of faith in the regulation.
Military license plates have long been abused in China as they provide certain privileges -- such as not having to obey traffic laws or being able to enter restricted areas.
Military plates are sometimes sold illegally for high prices, and those obtained by non-military personnel on the black market are hard to track down. To combat such abuse, China issued new military plates. At the same time, in keeping with anti-corruption measures introduced last December, the government announced that luxury vehicles that sell for more than 450,000 yuan ($73,103) may no longer bear military license plates.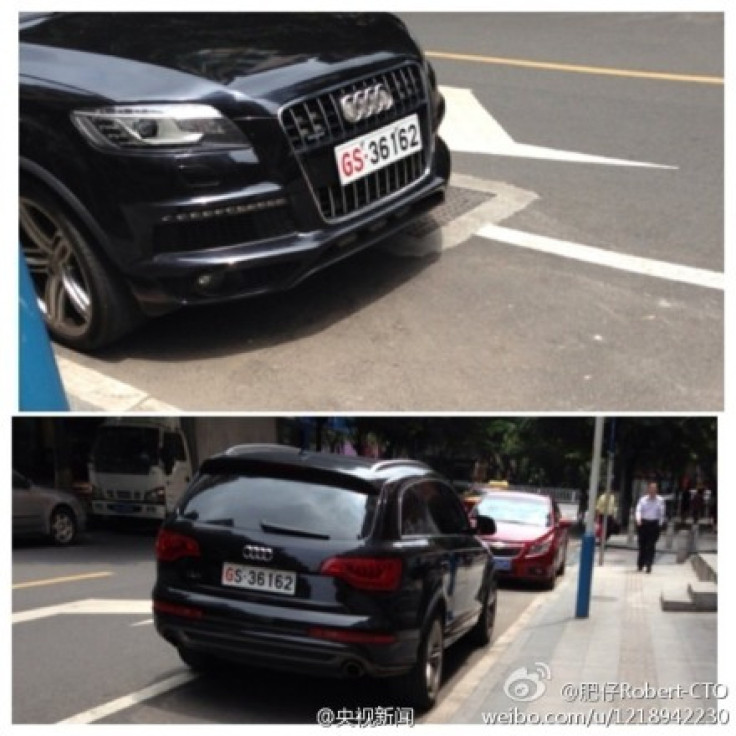 The first widely reblogged violator of this new rule was photographed on Tuesday at 11:20am, according to Ynxxb.com, a regional Chinese news source, posted by Weibo user @肥仔Robert-CTO. Photos showed an Audi (FRA:NSU ) Q7, a luxury vehicle specifically mentioned as not permissible under the new license plate regulation, with a brand new military license plate. The plate number started with the letters GS, signifying it belonged to the military division in Guangzhou, a southern province in China.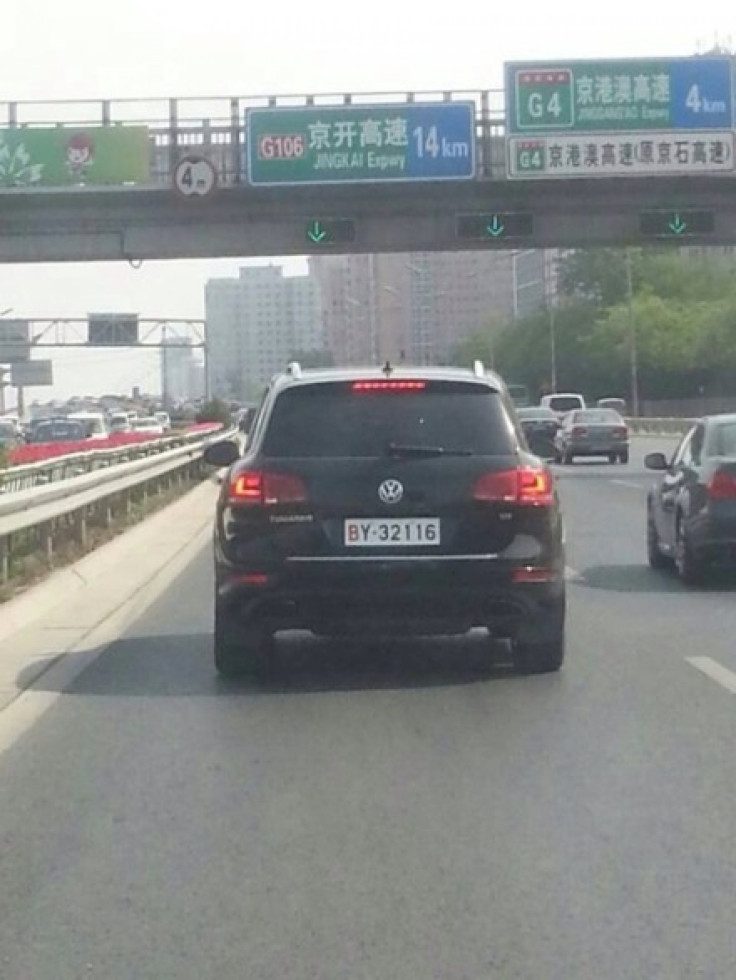 The second violator was blogged by a radio host of China's state radio station, according to Ynxxb.com. @主持人晓婷 posted a photo of a Volkswagen (ETR:VOW3) Touareg SUV she saw on a highway in Beijing at 3pm on Tuesday. The vehicle costs at least 680,000 yuan and carried the new license plate from the Beijing military division. The user even tagged the Beijing Police's Weibo account in her post as a way of reporting the perpetrator.
Other netizens followed suit with their own photos. The radio host's post was reblogged 15,000 times by Thursday. Even with such prevalent and public supervision, however, the military's response has been disappointing. @肥仔Robert-CTO removed his post that same afternoon, and joked, "Am I in big trouble?" The military division in Guangzhou has not responded to date. The military division in Beijing responded officially that "to avoid waste, cars that were in use before the new plate system can still carry the new plate even if they cost more than 450,000 yuan."
Netizens were unsatisfied by this response. Many expressed the sentiment that owners of luxury cars can always argue their cars were in use before the new plate system, and that the military's position provided a huge loophole in the regulation.
"In the name of not being wasteful, they can keep smoking expensive cigarettes, drinking luxury wine, and eating shark fin, sea cucumber and abalone," a well-known commentator, @薛蛮子 , wrote on Weibo. "These things stored in the military storage can't be 'wasted'!"
"Just a few hours after the new regulations became effective, an Audi in Guangzhou and two Volkswagens in Beijing were seen with new plates," @博者文摘 wrote, adding that "there will be more and more…the military has always been outside of laws, we can expose violators, but who will make them obey?"
"Promises and slogans can be shouted loud enough to shake mountains," @AVCult wrote, "but afterwards, it's as useful as a fart!"
© Copyright IBTimes 2023. All rights reserved.