China-Laos Military Relations Deepen As Chinese Increase Economic, Infrastructure Investments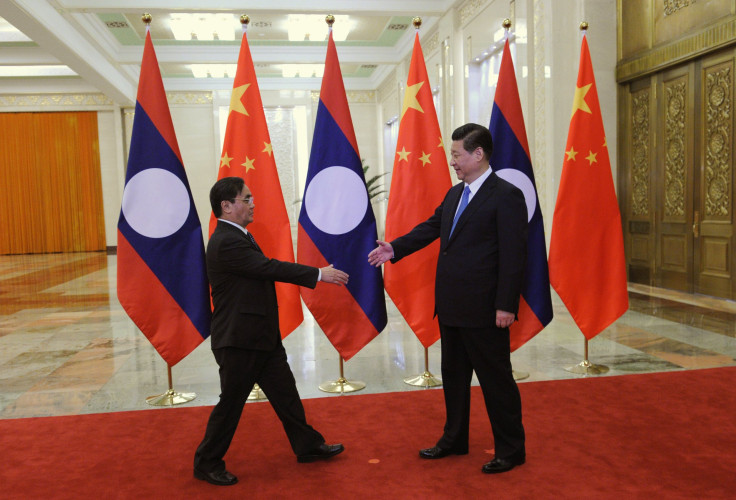 China and Laos announced closer military ties Wednesday, a development that coincides with China's growing investment in infrastructure and economic influence.
The Laotian defense minister met with Xu Qiliang, the vice chairman of the Central Military Commission, and other Chinese military officials Wednesday in Beijing to affirm increased cooperation between the two nations. The Laotian defense minister, Sengnuan Saiyalath, said, "Laos is willing to learn from China's experiences in army building and further strengthen bilateral friendship and military relations," according to China's state-run Global Times.
The warming military ties are the latest move linking Vientiane, the capital of Laos, and Beijing. China's so-called belt-and-road infrastructure plan, which would link China and Laos by railway, is a key to Laos' socio-economic development. "Lao transport infrastructure, including road, water, air and railway, are lagging behind other countries," Lattanamany Khounnyvong, Lao vice minister of Public Works and Transport told Xinhua. "I totally support the [Chinese] initiative as good transport infrastructure and transport connectivity with other countries are key to national development," he said, adding that the project will turn landlocked Laos into a "land-linked country."
However, analysts warned that the budding relations may be too lopsided, with Laos using natural resources and mineral-rich land as collateral, working mostly in China's favor.
"It's all part of both China's push to develop its trading route southward and improve the infrastructure," Carl Thayer, a defense analyst at the University of New South Wales, told Voice of America. "You have steady accretion of China -- the high-speed rail makes Laos go heavily into debt for concession loans."
Laotian Armed Forces Over Time | FindTheData
Though China has been expanding into Thailand, Myanmar and Cambodia, as well, experts said Laos is most likely to be dwarfed by China's influence.
"Of the countries involved, Laos is most at risk of coming under China's domination," Thitinan Pongsudhirak a political scientist at Chulalongkorn University in Thailand, also told VOA. "Laos is a small country, small economy and China is not afraid to make the mainland Southeast Asia space into its own backyard. It's doing that now."
© Copyright IBTimes 2023. All rights reserved.