China-Nepal Railway Through Mount Everest: China Plans To Expand Controversial Tibet Railway To Nepal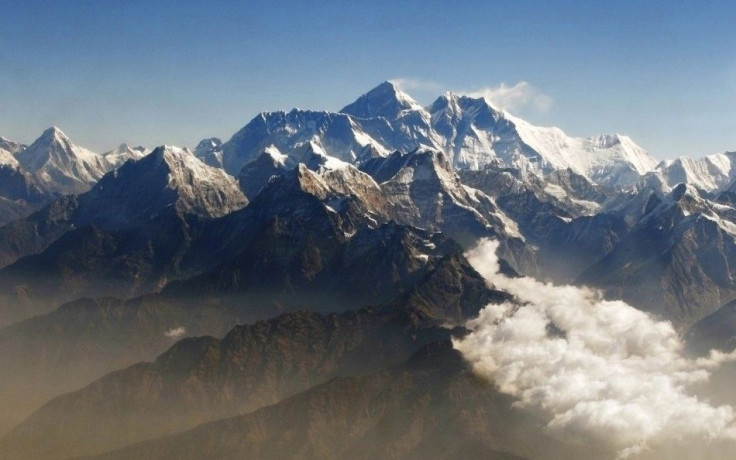 China's plans to expand its impressive railroads are reaching new heights. The government is looking to conquer Mount Everest by building a rail system that would run through the mountain, linking China and Nepal.
The plans, originally reported by Chinese state media, are ambitious and aim to connect the two countries as an increasing number of Chinese go to Nepal. According to the China Daily, the railway would pick up from Lhasa, the capital of Tibet, which borders Nepal, where a newly installed Qinghai-Tibet rail line is running, and proceed through Mount Everest and on toward Nepal's capital, Kathmandu. The project aims to be completed by 2020, a short time period for such challenging terrain.
"The line will probably have to go through Qomolangma, so workers may have to dig some very long tunnels," Wang Mengshu, a railway expert, said in the China Daily. The Himalayan terrain and elevation of the mountain range would be challenging for workers as well as future riders, he added.
The announcement was made during the state visit of Nepalese President Ram Baran Yadav to China. According to state-run China Radio International, Yadav "applauded the announcement," hoping that better connections between the two countries would improve bilateral trade and tourism, which was the main purpose of his trip.
According to a report by the Guardian, Nepal has become an increasingly popular destination for Chinese tourists. Nepal is home to Lumbini, the birthplace of Buddha and a popular destination for Chinese Buddhists. Additionally Chinese goods and Chinese-language schools have cropped up in Kathmandu and Pokhara, a western Nepalese city.
While the plans seem to be welcomed by Nepalese officials, not everyone is excited about China expanding its access to South Asia. "The Chinese are giving it a hard try, but the ties with India are very strong," G. Parthasarathy, a former Indian diplomat and commentator, told the Guardian. "There's a natural geography and history to our relationship [with Nepal]. Yes, they can build a few roads but they can't employ 5 million Nepalese. And how many Nepalis are migrating to China?"
Similarly, advocacy groups for Tibet are wary of China expanding through Tibet and into Nepal and the disruption it will cause for locals. "The Chinese government's claim that rail expansion on the plateau simply benefits tourism and lifts Tibetans out of poverty does not hold up to scrutiny and cannot be taken at face value," Matteo Mecacci, president of the International Campaign for Tibet, said during the completion of the first portion of the Tibetan railway. ICT now says the expansion has "dangerous implications for regional security and the fragile ecosystem of the world's highest and largest plateau."
© Copyright IBTimes 2023. All rights reserved.