China-North Korea Ties: Pyongyang Official Ri Su Yong Says Kim Jong Un's Policy On Nuclear Ambitions Remains Unchanged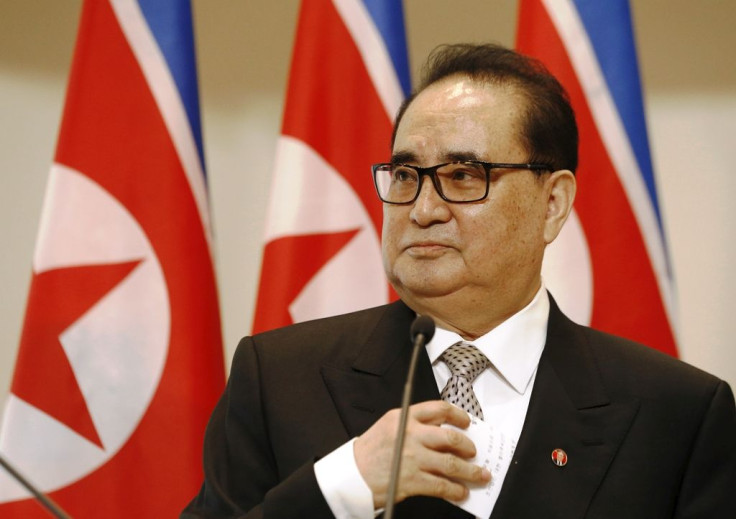 North Korea's top official Ri Su Yong told Chinese President Xi Jinping that Pyongyang will continue with leader Kim Jong Un's policy of developing nuclear arms while simultaneously bolstering the country's falling economy, North Korean state media reported Thursday. Ri arrived in Beijing Tuesday at a time when ties between the two nations have soured following the isolated country's growing nuclear and missile ambitions.
Ri, who is the North's career diplomat, met Xi Wednesday — the second day of his three-day trip to the world's second-largest economy. It also marked the first such visit since relations between the two countries were strained by the North's recent series of nuclear tests and missile launches.
"The party congress [held last month] showed that the general line of socialist construction, the line of independence, the line of the Songun revolution [Pyongyang's 'military first policy'], the Juche-oriented line of reunification [Kim's policy of national reunification] and the new line of simultaneously developing the two fronts consistently maintained by the WPK [Workers' Party Korea] remain unchanged," KCNA Watch, which carries statements from North Korean news agency KCNA, reported Thursday.
"The DPRK [Democratic People's Republic of Korea] will invariably develop and boost the DPRK-China friendship, treasure common to the peoples of the two countries, while protecting the regional peace and security with a strategic vision," the report added, citing Ri, the newly promoted vice chairman for international affairs of the ruling Workers' Party.
Meanwhile, Xi said that Ri's visit showed that Kim and the Central Committee of North Korea's ruling party "attach importance to relations" between Beijing and Pyongyang, China's official Xinhua News Agency reported. The Chinese president also said that his country is willing to work with North Korea to "properly maintain, consolidate and develop bilateral ties."
However, Xi noted that China's stand on the Korean Peninsula remains the same. He urged all sides to stay calm and exercise restraint to protect regional peace and stability, Xinhua reported.
Beijing is widely seen as the reclusive nation's diplomatic and economic protector. Although China criticized Pyongyang's recent nuclear test, experts say Beijing may not go too far against its old ally. China may be reportedly concerned about an influx of refugees from North Korea across its own border and to South Korea if the Kim Jong Un-led government was toppled.
© Copyright IBTimes 2023. All rights reserved.