China Pledges Tighter Rules On Visits To Hong Kong By Chinese, But Activists Say It's Not Enough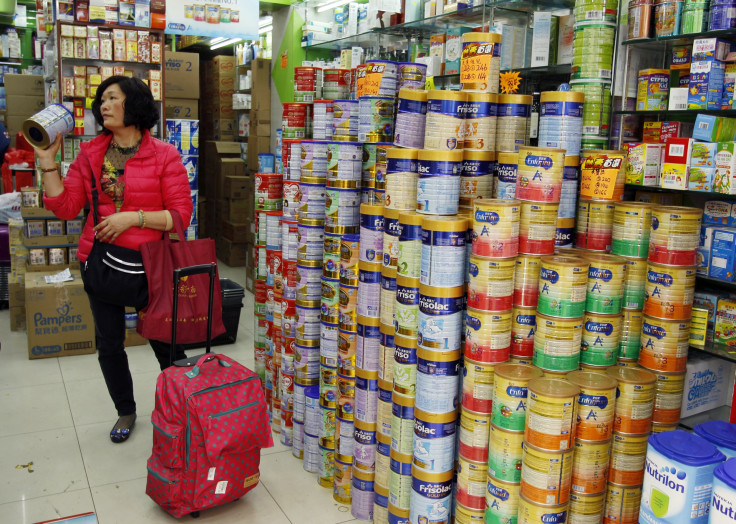 HONG KONG -- A senior Chinese official has said that Beijing will tighten rules allowing mainland Chinese citizens access to Hong Kong, following protests in the former British colony against the growing number of Chinese shoppers coming to the city to buy cheap goods for re-export to the mainland.
Zhou Bo, deputy director of China's Hong Kong and Macao Affairs Office, told the official China Daily newspaper that Beijing was negotiating with the Hong Kong government about "refreshing" policies governing visits by mainland tourists. He did not specify when the new policy would be announced, but suggested it would be soon.
Zhou's comments follow growing tension in Hong Kong over an influx of mainland visitors, many of whom come to the city to buy goods such as infant formula milk powder, medicine, cosmetics and jewelry, which they then take back across the border to China, and in some cases resell to stores or wholesalers. In recent weeks, hundreds of Hong Kong citizens have staged protests against these 'parallel traders' in popular shopping centers close to the Chinese border.
The issue made headlines last Sunday when seven protesters, most of them high-school and university students, were arrested after they "insulted, hit and kicked passers-by," according to Hong Kong police. A young mainland Chinese girl was also filmed crying after she and her mother were insulted by protesters; footage of the incident went viral on the Internet, prompting a war of words between some Hong Kong and mainland Chinese citizens.
The number of mainland visitors to Hong Kong has increased significantly in recent years, after China relaxed restrictions on visits by its citizens to Hong Kong. Residents of 49 major Chinese cities can now apply for permits, which allow them to visit Hong Kong twice a year, while several million residents of Shenzhen, just across the border from Hong Kong, are allowed unlimited entry to the city.
The relaxed rules were designed partly to boost Hong Kong's economy, following a slump sparked by the SARS respiratory disease crisis in 2003, and the financial crisis of 2008. However, Hong Kong protesters say the massive influx of tourists taking advantage of Hong Kong's lower prices and import duties has led to the development of entire areas of shops catering to mainland shoppers, particularly in towns in Hong Kong's New Territories near the border with China. They complain that streets and malls have become clogged with mainland visitors, while rents have been pushed up, pricing many shops and restaurants used by locals out of these districts.
Zhou stressed that the policy of 'free entry' to Hong Kong had helped to boost the city's economy. But he acknowledged that: "Any city would be unable to host such a dramatically increased number of tourists," and noted that Hong Kong was at saturation point. "Unsurprisingly, certain problems have occurred," he added.
In 2013, the Hong Kong government imposed limits on the number of containers of infant formula milk powder people could take across the border to two tins, totaling 1.8 kilograms, each time, following protests against shortages in the territory. But protesters say some Shenzhen citizens get around such rules by making as many as four or five trips to and from Hong Kong each day, carrying formula and other products. They say that the number of visits by Shenzhen residents to Hong Kong has increased dramatically over the past two years, mainly because of parallel trading.
It is not known specifically what measures the Chinese government will take to restrict visits. Hong Kong's pro-business Liberal Party has proposed a compromise solution, suggesting that Shenzhen residents should be limited to one visit to the city each day. The party has also proposed building shopping centers specifically for the mainland shopping trade.
But Ray Wong, a spokesman for Hong Kong Indigenous, one of the groups that helped organize the recent protests, said he was "not optimistic" that any rule changes would bring meaningful progress. "Even if they limit the number of visits by Shenzhen residents to one per day, the people organizing this trade will just change their strategy, and pay more different people to cross the border to smuggle goods back. They're very well organized," he told International Business Times.
One Chinese newspaper recently expressed some sympathy with Hong Kong protesters, noting that the growth of parallel trading was partly the result of problems with food and other product safety issues in China, which led many to prefer imported goods. After last weekend's violent scenes, however, some angry mainlanders have posted pictures of themselves tearing up their Hong Kong entry permits, with some saying they won't bother going to the city again.
Officials on both sides have called for a rational approach. But tension over mainland immigration into Hong Kong has risen as the city's population has grown sharply over the past decade. One Hong Kong columnist on Thursday described "public frustration at the city being overrun by mainlanders" as "a time bomb waiting to explode."
Some observers say the mainly young anti-parallel trading demonstrators have been radicalized by last autumn's 'Umbrella Movement' protests and the resulting frustrations toward China, over its refusal to grant Hong Kong greater freedom to elect its own leader. Further protests are expected on Sunday, though Hong Kong police have pledged to prevent any further outbreaks of violence.
© Copyright IBTimes 2023. All rights reserved.