China 'Resolutely Opposed' To North Korea's Third Nuclear Test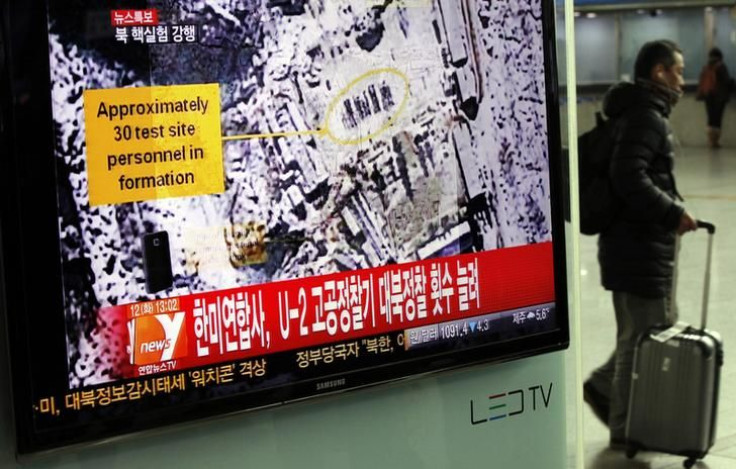 North Korea has conducted another nuclear test, despite appeals from longtime ally China and the rest of the international community.
The official Korean Central News Agency said the nuclear test was "carried out at a high level in a safe and perfect manner." This is North Korea's third nuclear test, and according to the official statement, improvements have been made over the previous ones. North Korea used "a smaller and light device unlike [those tested in 2006 and 2009]," implying developments have been made to create a warhead small enough to fit on a ballistic missile.
Reuters reported that China's Foreign Minister, Yang Jiechi, summoned the North Korean ambassador to China, protesting the North's third nuclear test. According to the Ministry website, Yang reiterated China's position on the testing, saying the nation was "strongly dissatisfied and resolutely opposed." Yang also urged North Korea to continue diplomatic talks and to "stop any rhetoric or acts that could worsen situations and return to the right course of dialogue and consultation as soon as possible."
This is not the first time China has called on North Korea to refrain from testing. Ahead of the most recent test, in late January, China's Foreign Ministry spokesperson, Hong Lei, called for restraint from all parties involved with North Korea's vow to conduct "a higher-level nuclear test."
"It is in the common interests of all parties concerned to maintain peace and stability on the Korean Peninsula and achieve the denuclearization of the peninsula." Hong said in a news briefing. Adding that, "China is committed to make joint efforts with the international community to achieve these goals."
The North Korea National Defense Commission announced the nuclear test after the U.N. Security Council adopted a resolution that condemned the nation's satellite launch that took place at the end of last year.
"We will not hide the fact that a variety of satellites and long-range rockets will be launched and a nuclear test of a higher level will be carried out during the next phase of the anti-U.S. struggle," KCNA announced last month.
The passing of the resolution angered Pyongyang, which called for the disbanding of the Six Party Talks, a negotiation group which includes North and South Korea, the U.S., China, Japan and Russia, and discredited the Security Council's efforts for peace.
"The UNSC should apologize for its crime of seriously encroaching upon the independence of a sovereign state … and repeal all the unreasonable 'resolutions' at once,"the KCNA said, adding that the group "has been reduced to an organization bereft of impartiality and balance."
China, a permanent member of the U.N. Security Council, did not exercise its veto power on the resolution because it did not include any new penalties on North Korea.
© Copyright IBTimes 2022. All rights reserved.
FOLLOW MORE IBT NEWS ON THE BELOW CHANNELS