China, UAE To Hold First-Ever Joint Air Force Training, Aim To Strengthen Ties In Middle East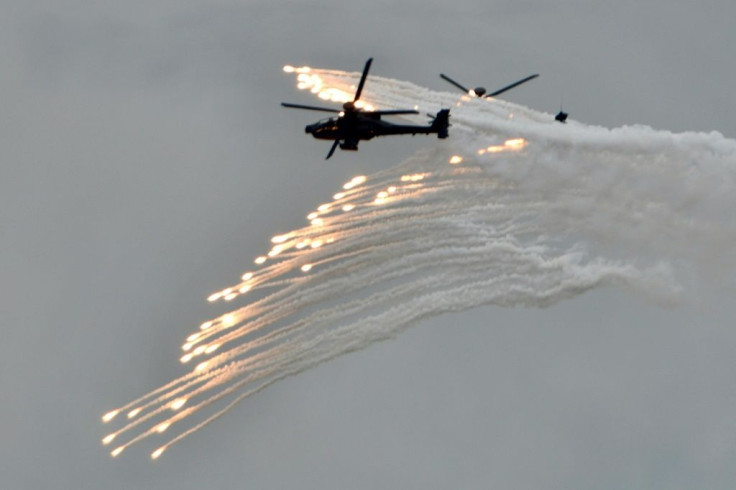 KEY POINTS
This joint air force training will take place in China's northwestern Xinjiang Uygur autonomous region
The main objectives of the exercise are to enhance "pragmatic exchanges and cooperation"
Xinjiang was used as a location for conducting joint military exercises in the past as well
As part of a strategic initiative to strengthen military cooperation in the Middle East, China is scheduled to host the first-ever joint air force training with the United Arab Emirates (UAE) next month.
The Chinese defense ministry announced Monday that the military drill, named "Falcon Shield 2023," will take place in the northwestern Xinjiang Uygur autonomous region.
The main objectives of the exercise are to enhance "pragmatic exchanges and cooperation" between the Chinese and UAE militaries while promoting mutual understanding and trust between the two nations, the ministry said in a statement.
The statement did not include specific details regarding the size of the UAE contingent, the duration of the training or the scope of the exercise.
Xinjiang was used as a location for conducting joint military exercises in the past as well. In 2016, the region hosted a significant joint military training, which brought together infantry units from China and other member countries of the Shanghai Cooperation Organization (SCO) bloc. The primary objectives of the exercise were to enhance combat capabilities, foster military communication, and bolster the readiness of the participating troops in effectively addressing security threats, Eurasian Times reported.
The next year, the Chinese Air Force conducted a joint military exercise with Pakistan, named "Shaheen VI," in Xinjiang. The exercise primarily aimed to bolster combat logistics, enhance night coordination capabilities and strengthen defense against electromagnetic interference.
To achieve these objectives, Beijing deployed a diverse range of aerial assets and troops to Xinjiang. They included Shenyang J-11 twin-engine multirole fighters, Xian JH-7 fighter-bombers, KJ-200 airborne warning and control system (AWACS) aircraft, along with personnel operating surface-to-air missile systems and radars. Pakistan used their JF-17 Thunder fighters, as well as their own early warning aircraft, most likely the Shaanxi ZDK-03 K. Eagle or Saab 200 Erieye.
The UAE Air Force is known for using Western fighter jets like the F-16, an American multirole fighter, and the Mirage-2000, a French fighter jet. Additionally, the UAE ordered 80 French Rafale fighter jets in 2021, indicating their continued interest in acquiring advanced Western military aircraft.
However, since the Chinese defense ministry has not revealed the details of the UAE's participation in the joint air exercise, it remains unclear whether the UAE will use any of these Western fighter jets or opt for other aircraft.
The upcoming joint Air Force exercise serves as a significant step in China's strategic agenda to forge stronger partnerships in the Middle East and expand its influence in the region. It highlights the country's commitment to bolstering economic and military cooperation with key regional players such as the UAE. Through the exercise, China aims to deepen mutual understanding, strengthen diplomatic ties and enhance collaboration in areas of mutual interest, the defense ministry said.
© Copyright IBTimes 2023. All rights reserved.