China's Divorce Rate Rises For Seventh Consecutive Year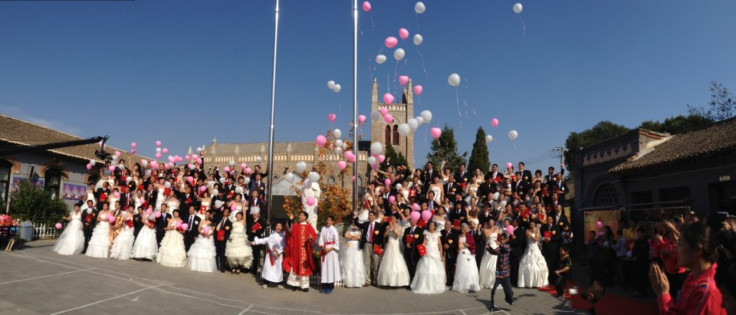 While it seems that many in China are waiting a little longer to get married, millions of couples are ending their marriages altogether. For the seventh consecutive year, China's divorce rates have risen.
According to a survey by Tsinghua University and lifestyle magazine Xiaokang, a total of 2.87 million marriages ended in divorce in 2012, which is a 7.65 percent increase from the previous year.
A report by state-run newspaper People's Daily cited a jarring statistic according to which 1.2 million Chinese couples tied the knot in 2009, but in that same year nearly 2 million filed for a divorce.
The survey then delved into the root of the marital problems that left so many couples separated. The biggest reason? Infidelity. Even though 80 percent of respondents claimed they would pick their spouse again if given the opportunity, the survey found that only 58 percent of those polled were positive they would not cheat on their spouses if they met another person they were attracted to. This phenomenon, though not novel, has recently been at the forefront of media attention as several high-ranking officials have been caught in cheating scandals over the past year.
The survey then ranked the top 10 factors that influenced marital happiness, in descending order of importance, starting with love between spouses, willingness and ability to communicate, loyalty, children, income, sexual life, relations between mother-in-law and daughter-in-law, relationship with in-laws in general, housing conditions, and housework allocation.
And when the honeymoon stage is over, the marital happiness seems to fade. The survey found that people who have been married for less than three years were the happiest demographic while those who have been married from seven to 10 years were enjoying their marriages the least.
Divorce rates are also significantly higher in metropolitan areas compared to the national average. Nationwide, China's divorce rate is 2.20 percent, but statistics drastically increase in the nation's major cities. Beijing leads the nation with the highest divorce rate at 39 percent. Shanghai closely follows at 38 percent and Shenzhen is third with 36 percent.
On an international scale, China still has a relatively low divorce rate, ranking 57th worldwide, but after seven years of consistently increasing rates, it has also climbed the rankings.
"There are a variety of claims," the report said. "Some say that the divorce rate in China has surpassed Japan and South Korea and is now ranked first in Asia."
Recent reports by the dating website Baihe.com found that one third of Chinese singles were marriage-phobic. With divorce rates continually raising it's no wonder young men and women are putting off tying the knot.
© Copyright IBTimes 2023. All rights reserved.
FOLLOW MORE IBT NEWS ON THE BELOW CHANNELS