China's Steep University Tuition Costs The Average Farmer 13 Years Of Income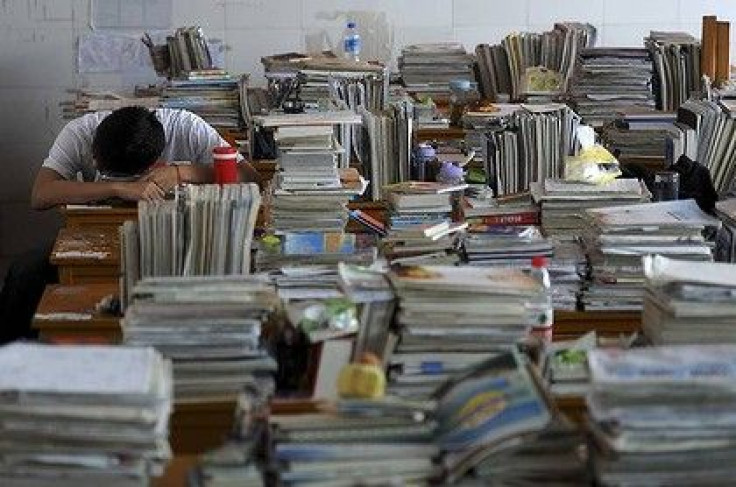 How much are you willing to pay to send a child to college? How about 13 years of your net income?
In China, for the average farmer, this is a reality. According to a government think tank report, which was cited by Xinhua News, a farmer would have to work for 13.6 years in order to fund tuition at a Chinese university. However, those who live in wealthier urban areas pay the equivalent of 4.2 years of an individual's annual income on average.
Wu Yiebing, a miner, and his wife, Cao Weiping, who works on an apple farm, put all their earnings toward a fund to send their daughter to college. The New York Times documented the tireless efforts of the couple, who saved and scrimped for decades -- and for many rural Chinese, the story hit close to home.
"For nearly two decades, they have lived in a cramped and drafty 200-square-foot house with a thatch room. They have never owned a car. They do not take vacations -- they have never seen the ocean. They have skipped traditional New Year trips to their ancestral village for up to five straight years to save on bus fares and gifts, and for Mr. Wu to earn extra holiday pay in the mines. Despite their frugality, they have essentially no retirement savings," the report said.
And though they will not be able to retire comfortably, they were able to send their now-19-year-old daughter to college.
Still, migrant workers and people from poorer, rural areas of China are finding it increasingly difficult to pay for their children to attend college as tuition costs continue to rise. According to the government report, Chinese universities have increased their tuition at least 25 times since 1989.
As a result, those looking to get a degree in business, perhaps the most popular area of study, have to be willing to pay large sums of money before they can start earning income in their chosen field. The state-run newspaper People's Daily reported that in 2010, two of China's large, top-tier universities, Peking University and Tsinghua University, decided also to increase the tuition for their MBA programs by a whopping 60,000 yuan ($8,900) and 40,000 yuan ($5,900), respectively.
Even still, tuition keeps rising.
Other business schools in the nation's capital, like the University of International Business and Economics and the Central University of Finance and Economics, also began planning tuition increases.
This highlights the lack of public funding for subsidizing higher education and the persistent wealth gap that exists between the nation's rich and poor. The government's Social Security Development Green Paper suggested that optimizing educational investments would guarantee education opportunities in rural areas, giving more people a chance to make higher salaries.
© Copyright IBTimes 2023. All rights reserved.