China's Heatwave To Cause Economy To Crumble, Leave Lasting Impact, Economist Says
KEY POINTS
China sounded it's first national drought alert Thursday night
Severe weather causes direct losses of $400 million to its economy in July alone
GDP growth will be gravely impacted, says economist
China is facing a record-breaking heat wave, and the country has sounded off its first national drought alert late Thursday as parts of the Yangtze river have run dry.
Several regions are battling severe conditions, including mass power outages carried out by authorities, who have also urged business and residents to conserve energy.
These conditions have had a direct effect on the country's economy. Supplier offices for huge corporations like Toyota and Apple have been ordered shut, as the government has asked most factories to halt production until the end of this week for planned power outages.
The poultry market in the country has been affected as hens are rejecting their feed and producing fewer eggs due to the extreme weather, a report said, citing AFP. As the grip of these extreme weather situations tighten on China, one of the leading economists from the country foreshadows the economy's crumble, which could last many months.
Dan Wang, the chief economist of Hang Seng Bank, said Thursday that China's heatwave "is a dire situation," adding it could probably last for the next "two to three months easily," CNBC's Squawk Box Asia reported.
"It will affect those big energy-intensive industries and it will have [a] knock-on effect throughout the economy and even to the global supply chain," she said. "We already see a slowdown in production in the steel industry, in chemical industry, in fertilizer industry."
"Those are very important things when it comes to construction, to agriculture and also to manufacturing in general," Wang added.
She also predicted the losses incurred to China's GDP growth will surpass that caused by 2021's power outages.
"Last year, as we have estimated, the power shortage period has caused China about a 0.6% point of GDP growth. This year we think this number will be a lot higher... I would say 1.5% point lower," Wang said.
Outlining the predicted full scope of losses, Wang said, "Right now, we are giving 4% of GDP growth for the full year. If the current situation continues, then I have to say the growth rate is probably below [3%]".
According to China's emergency ministry late Thursday, severe weather conditions have caused direct economic losses amounting to $400 million in July alone.
The many devastating situations that have plagued China currently include drying up of the Poyang Lake. It is China's largest freshwater lake located in northern Jiangxi province, which has now shrunk to a quarter of its normal size for this time of the year, according to a Reuters report citing state news agency Xinhua.
As many as 66 rivers across 34 counties in the southwestern region of Chongqing have dried up, state broadcaster CCTV said Friday. A gas utility in Fuling district has warned of supply cutoffs Friday until further notice as they battle "serious safety hazards."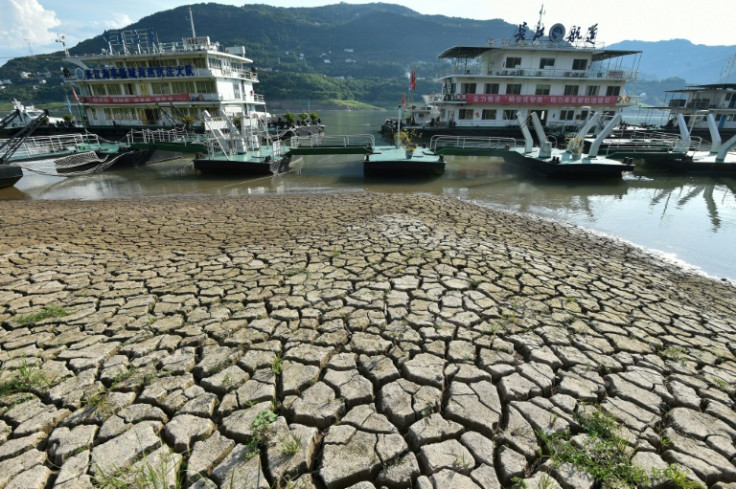 © Copyright IBTimes 2022. All rights reserved.
FOLLOW MORE IBT NEWS ON THE BELOW CHANNELS