China's Out Of Control License Plate Prices, Now More Expensive Than The Car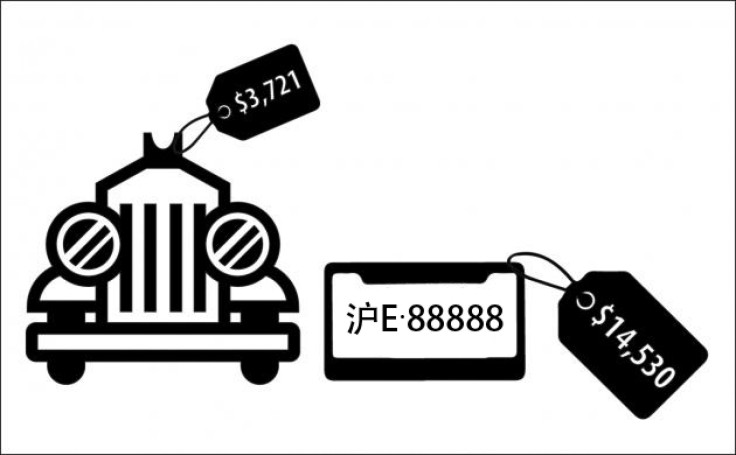 One of China's policies to control the growing number of cars on its roadways has helped curb neither pollution nor traffic, but it has created other problems.
While the so-called Chinese dream is to own an apartment and a car, those who want to take that car out of the driveway and onto the streets in the nation's biggest cities may have to keep dreaming.
In attempt to battle air pollution and traffic congestion in four of China's largest cities, including Shanghai and Beijing, the government implemented a license-plate rationing system based on a lottery. The system, allocating new license plates every month in each city, has gotten so out of hand that the cost of registering a vehicle and getting a license plate for it has exceeded the price of many domestically made cars, which can run as cheap as 37,800 yuan, or $6,131. People have paid as much as 90,000 yuan, or $14,599, for a license plate in recent lotteries.
The expensive and tedious process of registering a new vehicle has only driven prices higher and increased demand, thus creating more problems, instead of solving old ones.
China's domestic automakers say they are suffering as a result of the lotteries, too.
Affordable brands of Chinese carmakers such as the privately held Chery Automobile Co. Ltd., Geely Automobile Holdings Ltd. (HKG:0175) and Great Wall Motor Co. Ltd. (HKG:2333) have seen dramatic drops in profitability because the steep price of a plate makes investment in comparatively expensive vehicles more appealing, according to Bloomberg News.
"Whenever there's a restriction of new-car purchases through the quota system, there is always a big impact on lower-price cars like the ones we make," Lawrence Ang, an executive director of Geely, told Bloomberg.
After China introduced the license-plate system in January 2011, the share prices of the country's automakers plunged by more than one-half by the year's end, according to research by ISH Automotive.
And still, every month, more and more vehicle owners, presumably drivers of mostly foreign brands, try their luck at the car lottery.
In Beijing's lottery in February, there were 1.42 million applicants for license plates, China's official Xinhua News Agency reported. Among them, just 18,511 were able to get tags. This means that roughly one of every 77 applicants were able to secure plates. In the same lottery in January, there were 1.4 million applicants for tags, and only 18,653 were able to obtain them.
Two years earlier, chances were much higher. During the very first drawing for the license-plate lottery, one of every 10.6 applicants was able to obtain a car registration. But the application pool rose to 1.42 million in February this year from 187,420 in January 2011.
The restrictions put in place to curb air pollution and traffic congestion seem to have been largely ineffective. An estimated 5.2 million vehicles are registered in the city of Beijing, which still has some of the nation's worst pollution.
China's government is attempting to alleviate the record-breaking pollution levels by adding another level of prevention, Reuters reported. It is imposing tougher fuel-economy standards on the auto industry. It plans to cut passenger cars' average fuel consumption to 5 liters per 100 kilometers by 2020, thus reduce pollution caused by exhaust. The government says that this will in turn force more hybrid innovation by Chinese automakers and encourage citizens to purchase fuel-efficient cars.
However, any forecast about whether the combination of the two policies will finally constitute the silver bullet necessary to successfully target the nation's pollution woes remains hazy.
© Copyright IBTimes 2023. All rights reserved.