China's President Xi Jinping Makes Just $1,600 A Month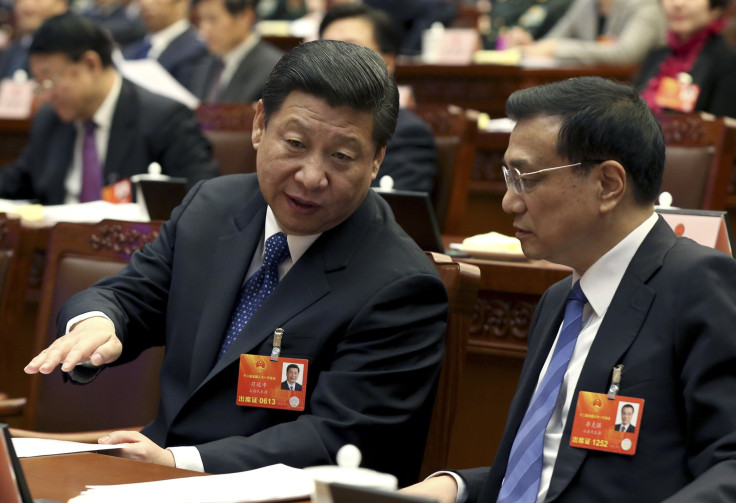 Translated by Sophie Song
Government work is a stable, easy and sought-after career path in China. However, with the lack of risks comes a lackluster paycheck. President Xi, at the very top of the Chinese bureaucratic pyramid, receives a meager monthly salary of more than 10,000 yuan, or just over $19,000 a year. By comparison, President Obama's base annual salary of $400,000 seems downright indulgent.
More Than 80 Percent Of A Public Servant's Salary Is Comprised Of Subsidies
Tao Lei, a public servant for a central administration, has a bachelor's degree and nine years of work experience. His title is section chief, the second-lowest rank in the Chinese bureaucratic leadership system, just above that of deputy section chiefs. Both section chiefs and deputy section chiefs, however, are above ordinary workers, who are not part of the leadership system.
His January 2013 salary breaks down as follows: base salary (1,173 yuan), which includes service salary (480 yuan), rank salary (498 yuan), and a work adjustment supplement (45 yuan), among others. He also gets a service subsidy of 3,250 yuan, a commuter subsidy of 200 yuan, a communications subsidy of 130 yuan, a rent subsidy of 80 yuan, and a housing subsidy of 1,000 yuan. However, he is required to contribute more than 500 yuan to the mandatory housing provident fund of his work unit (the governmental equivalent of his "company"). At the end of the month, Tao Lei receives 5,259 yuan in his paycheck, which is about $850.
"A public servant's salary, since the policy reform in 2006, is divided into four parts: service salary, rank salary, service subsidy and living expenses subsidy," said Lin, a manager in a subsidiary administration of the State Council, who spoke on the condition that only his last name would be used, making him less identifiable in China, where last names are very common, than if he used his full name. "The first two are standardized nationally and paid directly from the Central Ministry of Finance; the last two are set and paid by local administrations."
Tao Lei's base salary each month is only 1,173 yuan; the rest, which comprises more than 80 percent of what he receives in total each month, are subsidies. This is the result of a previous policy change in 1993, which established a regional subsidy program. Each province, city or town, based on its own economic development, decides how much of a subsidy to provide for its public servants.
The President's Monthly Salary Is Just Over 10,000 Yuan
According to Tao Lei, officials of different ranks receive different levels of subsidies. For example, a division chief receives 240 yuan per month for a rent subsidy. A deputy division chief receives 210 yuan, a director general level official receives 130 yuan, while a deputy director general receives 115 yuan, and a director receives 100 yuan. Someone like Tao Lei only receives 80 yuan.
"The salary difference between each rank is usually between 800 and 900 yuan," Tao Lei said. "Accordingly, the president would only receive a little over 10,000 yuan [$1,600]."
Despite their low salaries, public servants do have advantageous benefits, which differ according to rank, in addition to their salaries. "Public officials can usually be reimbursed for up to 90 percent of their medical and pharmaceutical expenses that fall under the governmental guidelines," according to Lin, "Anyone above deputy director general level who is also over the age of 50 receives additional benefits. For example, in designated hospitals in Beijing, they can be reimbursed for much better rooms and treatments."
"The only bonus is the 13th month salary at the end of the year," Tao Lei said. "And that is just the base salary from the Central Ministry of Finance, not my total salary each month." His 2012 year-end bonus was only about 1,000 yuan. This too is regulated by the 2006 policy reform.
"Unfair Pay"
"It's unfair to pay according to rank," Tao Lei said.
However, even workers without rank can get pay raises. "While it takes five years to gain one rank, an ordinary worker with two years of satisfactory work will still get a pay bump," Lin said. "Usually this type of pay upgrade amounts to 100 yuan."
Climbing up the ranks takes time. For example, it would take at least three years for Tao Lei to be promoted from section chief to deputy director, the next level up. Few can manage to do so in less than three years.
What does a salary of 5,000 yuan mean in terms of living standards in Beijing? According to a 2011 announcement from the National Bureau of Statistics, the average monthly salary in Beijing is 4,672 yuan. An earlier statistic shows that only 39.3 percent of the entire work force reaches this average. Five-thousand yuan a month is in this above-average minority.
"Luckily when I first started to work, our work unit provided dormitories," Tao Lei said. "Otherwise the 1,000 yuan a month that we were paid during the trial period would definitely not be enough to live on, especially with the astronomical rent prices in Beijing. Although, at the very least, breakfast and lunch are free."
The reporter asked whether public servants receive significant "invisible compensation," such as bribes. Tao Lei answered that he is a base level worker, and his work unit is a clean one with no corruption.
"After 2006, most of us on the lower pay grades got raises. My salary went up by 1,000 yuan," he said. "Some more prosperous work units are still paying more in salaries than allowed, which is frustrating for the rest of us."
The original story appeared in IBTimes China.
FOR FREE to continue reading
✔️ Unlock the full content of International Business Times UK for free
offer available for a limited time only
✔️ Easily manage your Newsletters subscriptions and save your favourite articles
✔️ No payment method required
Already have an account? Log in
© Copyright IBTimes 2023. All rights reserved.