Chinese Censors Lift Ban On Zhou Yongkang On Weibo, As Party Announces Corruption Investigation Into Top 'Tiger'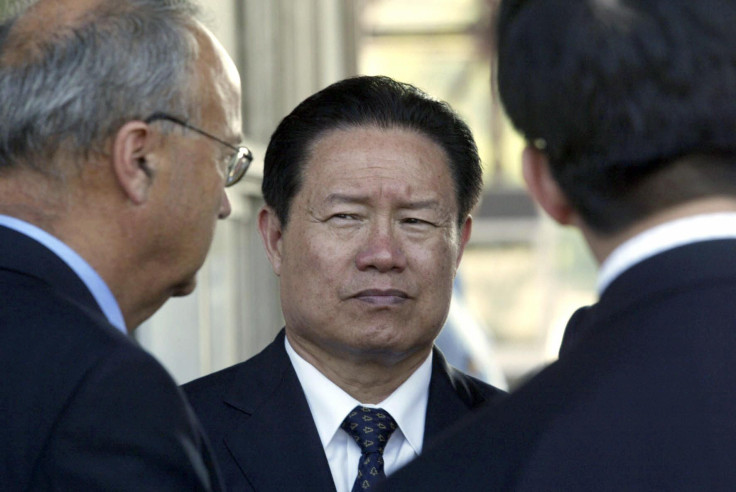 The Chinese Communist Party announced Tuesday an unprecedented investigation into one of the country's most powerful men, 71-year-old Zhou Yongkang. After an investigation that may have lasted up to two years, China's state-run media carried the official announcement of a probe into the former national security boss and retired Politburo member, the highest-ranking official to be so investigated. At the same time, authorities also lifted a long-standing ban on using his name on social media.
China's state-run media handled the announcement with uniform and coordinated reports, in line with the way the central government usually manages cases of high-profile corruption. A number of media outlets, including the party's official mouthpiece, People's Daily, all reported on Zhou's investigation using prepared statements from the party that he was under scrutiny for "serious violations of discipline." The statement did not go into specifics but alluded to grave cases of corruption.
On the Chinese social media platform Weibo, conversations about the top party official suddenly looked very different. Before the announcement, using the characters for Zhou Yongkang's name guaranteed a post would be blocked by China's stability-obsessed censors, who deemed his name taboo when rumors of a scandal began to swirl more than a year ago. On Tuesday, code names for Zhou, like "Kang Shifu" (a brand of instant noodles) or "Big Tiger," were no longer needed to evade social media censors, as the ban on his name was lifted. The search term "Zhou Yongkang" was discussed among some 10 million readers after being cleared by censors, and quickly became the social media site's no. 1 trending topic.
"After much speculating, Chinese media has announced what we have been saying all this time about Zhou Yongkang," one blogger noted, adding that "we can now finally talk about it [freely]."
"This is the highest level of investigation under Xi, however it seems no one is really surprised, are they?" another blogger asked rhetorically.
"We have clearly entered a new stage of the anti-corruption movement," another blogger added.
The probe into Zhou is part of a larger plan set in motion by President Xi Jinping, who has been zeroing in on corruption within the leadership since he took the helm in 2012. The People's Daily also describes Zhou as "the real big tiger" of corruption in the country because of his influence in various sectors and levels of the state security apparatus. Zhou is easily the biggest target in recent history because of his connections in the lucrative state-owned oil industry from early in his career, as well as the ties he made from running police forces and intelligence.
© Copyright IBTimes 2023. All rights reserved.