The Net Closes Around Former Chinese Party Boss Zhou Yongkang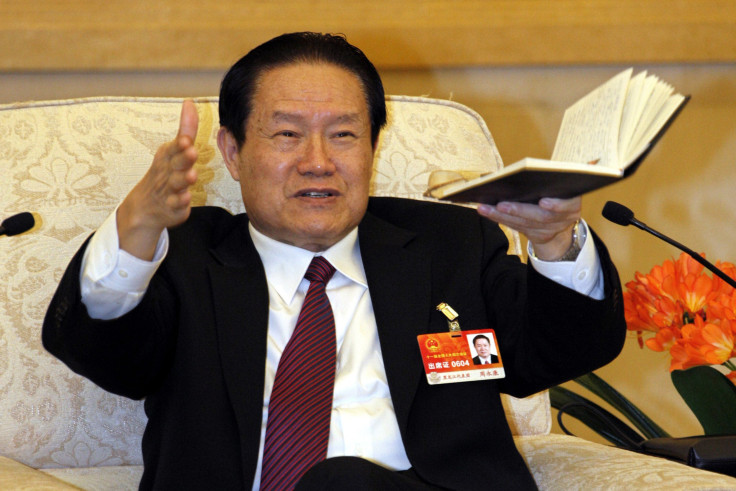 Another of Zhou Yongkang's associates is being prosecuted for criminal charges. On Wednesday, Chinese authorities announced that Guo Yongxiang, a former governor in Sichuan and an aide to Zhou, a retired Communist Party security head, has been expelled from the party and is being charged criminally.
According to the Central Commission for Discipline Inspection, Guo, 65, is accused of accepting "massive bribes" and using his position of power to bring his son, Guo Lianxing, and other constituents illegal profits. According to the bureau's website, Guo is also accused of being "morally corrupt" due to an extramarital affair.
Guo is the latest of Zhou's friends and associates to be prosecuted while the investigation closes in on Zhou himself. Guo was initially detained in June for violations against the party. At the time, he was serving as chairman of the Federation of Literary and Art circles in Sichuan, one of Zhou's old stomping grounds. The most serious allegations posed against Guo involve the link between corrupt wealth and his son. While nepotism continues to be a large part of Chinese Party politics, using family members to help disguise shady earnings is heavily scrutinized and punished.
While details on the connection between Guo and his son are not abundant, the South China Morning Post found that Guo's son is engaged in corporate dealings with Zhou Bin, Zhou Yongkang's eldest son. An energy company that was founded in 2010 under Guo Lianxing's name is registered with the same address as several other companies owned by Zhou Bin and Zhan Minli, who is Zhou Bin's mother-in-law.
Though Zhou has yet to be formally charged with a crime, Chinese authorities have made it clear that they are going after him. President Xi Jinping reportedly initiated a special task force to investigate and take down Zhou and his network of associates.
Many of the investigations involve people who used to work with him in the southwestern Sichuan province, and many of those people are involved in the oil and gas industry.
Ji Wenlin is Zhou's former researcher and secretary during the time when Zhou was minister of Land and Resources, and ascended while Zhou climbed the ranks. Chinese authorities have already accused Ji of graft, but are still refraining from publicly implying that there's a link to Zhou.
Li Donsheng, a former vice minister of Public Security, as well as Liu Han, a billionaire tycoon, are also being investigated for corruption and murder charges, respectively. Both are also Zhou associates.
© Copyright IBTimes 2023. All rights reserved.