Chinese Citizens To Government: Aid Us, Not North Korea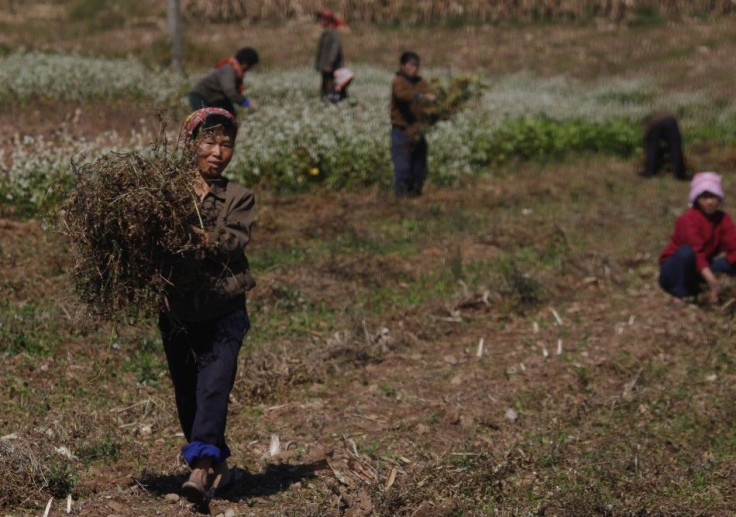 China's government is North Korea's biggest ally. The two countries' history, geographical location and Communist-run governments may make the alliance an inevitable match, but some Chinese are not keen on sending aid to the pariah nation when things at home still need help.
Plagued with famine and food shortages due to agricultural failure and natural disasters, in addition to an inefficient economy, North Korea is heavily dependent on foreign aid and funding. Most of its energy and food resources are provided by China, its biggest trading partner.
But according to a report this week in the Southern Metropolitan Daily, a Chinese newspaper known for its relatively free coverage, some neglected Chinese citizens are taking up issue with the amount of money China spends on helping North Korea. One frail, elderly woman, Wang Xiuyiing, who is nearly blind and in her 80s, has emerged as an unlikely candidate to lead a movement asking for transparency on what Beijing is doing for North Korea.
But Wang has been a long-time activist, and was even sentenced to "re-education" through labor in her late 70s. Her sentencing didn't scare her from pursuing answers; Wang's latest mission is aid transparency. According to the report, she went to her local courts and demanded the government reveal how much aid the Chinese government provided for the North. The Ministry replied that such information was a state secret and could not be disclosed to citizens, but that didn't satisfy her. After several attempts at an administrative review panel, and even an attempt to sue China's Ministry of Finance, she still doesn't have an answer.
"They don't take care of us hard-up folks, but they go and support North Korea," Wang said to the newspaper. "Nobody knows how the ordinary folks' money is spent," she added.
Chinese citizens and government have become increasingly weary of support for China's so-called "older brother" relationship they have with "little brother" North Korea, especially after nuclear threats from the regime of Kim Jong-un continued to mount earlier this year.
Unfortunately for Wang and those who say that funds would be better spent locally, China's government won't likely give up any information on North Korea. Citizen petitions are rarely noticed, and an even smaller amounts are heeded when involving diplomatic relations, particularly with North Korea.
© Copyright IBTimes 2023. All rights reserved.