Chinese Firm's Attempt To Lease Tulagi Island Shot Down By Solomons Government
There is a new battle brewing in the Pacific. Just one day after China officially established diplomatic ties with the Solomon Islands, a lease for Tulagi Island was signed , causing worries among U.S. military circles. The China Sam group signed a contract for the island, which is less than 2 square miles with a population of 1,200, for its new oil refinery.
China Sam Corporation wants to establish an oil production and refinery facility on the island. The problem with this is the fact that it will take the place of an old Japanese military installation, which was the site of fierce fighting in World War II. United States allies in the region are concerned that the Chinese are trying to establish a bigger military footprint in the area.
Solomon's Central Province signed "the strategic cooperation agreement" on Sept. 22 just one day after China and the Solomons officially established diplomatic relations.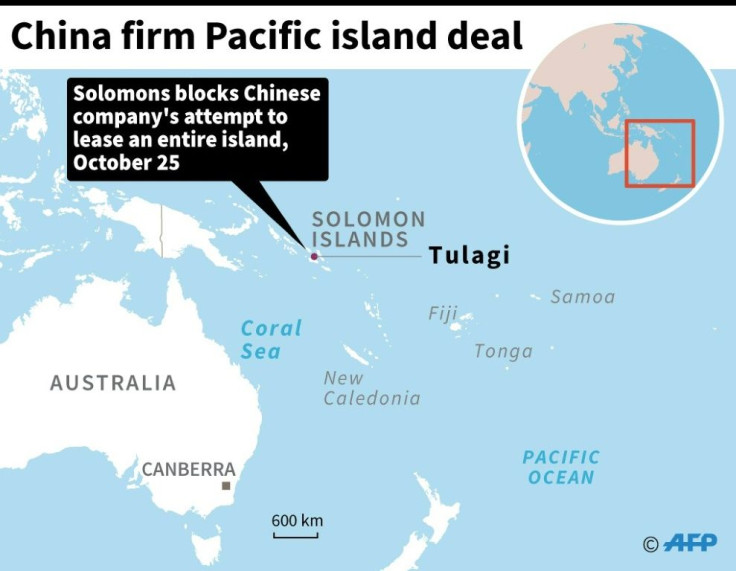 As of now, an agreement for lease has been deemed unlawful as the Chinese company did not have foreign investment status in the Solomon Islands then. According to prime minister Manasseh Sogavare's office in a statement, reported in media, "the deal is unlawful and unenforceable and it must be terminated with immediate effect." This means the corporation will have to apply for foreign investor status to wrap up a deal at a later date.
As of now, the law states that all agreements involving the Solomon Islands government need to be vetted by their attorney general before it is executed.
So there may not be an ability right now to set up the operations, or any kind of military base in the island, which has a deep natural harbor.
However, the deal leaves U.S.-allied interests wondering why China is trying to establish a more substantial military footprint in the Pacific region. Though a lease on the island may be temporarily delayed, the deal can be expected to be pursued based upon the fact that the Solomon Islands have elected to severe ties with Taiwan and side with China.
This whole things just leaves Taiwan reeling because it comes just days after Kiribati, another island nation in the region, locked away from Taiwan in favor of China. The question still remains: what does China really want with an island in the Solomons?
© Copyright IBTimes 2023. All rights reserved.