Chinese Missiles Could Fly Over Taipei And Two Other Cities; 'Be Mentally Tough,' Says Analyst
KEY POINTS
The Zone 4 has been designed to enable missiles fired from the PLA Leping base to fly over Taipei
The missiles from Ganzhou and Danzhou will also fly over Taichung and Kaohsiung, respectively
The PLA could also fire DF-15 and DF-16 short-range ballistic missiles, though not the DF-17
A Taipei-based military expert has predicted that Chinese missiles could fly over the Taiwanese cities of Taipei, Taichung and Kaohsiung as the People's Liberation Army (PLA) weapons glide toward Zone 4, one of the six zones covered by the drill.
China has announced a drill of unprecedented scale around Taiwan, which will see the PLA troops inching closer to the island than in previous exercises, and even encroaching on Taiwan's territorial waters. The PLA has marked vast swaths of waters off the coast of Taiwan, including areas to the northwest, north, northeast, east, southwest and southeast of Taiwan, covering it from all directions.
According to Lu Li-shi, an expert and former instructor at the Taiwanese Naval Academy, the PLA's six live-fire zones have been carefully selected to focus on displaying firepower. He urged the Taiwanese to be "mentally tough," reported Taiwan News, quoting his Facebook post.
Lu said Zone 4 has been designed to enable missiles launched from the PLA Leping base in China to fly over Taipei. The existence of Zone 4 will also enable missiles launched from the Ganzhou base to fly over the Taiwanese city of Taichung, and those from the Danzhou base to fly over Kaohsiung. He added the purpose of the missile tests was to trigger Taiwan's "missile air raid warning" alert text message to "impact the morale of the people."
The expert estimated that the launch points at Leping and Ganzhou are 850 and 865 kilometers, respectively, from the No. 4 zone. This means they are within the 1.000-kilometer range of the Dong-Feng (DF)-15 short-range ballistic missile. Chinese media has already mentioned the PLA would use "conventional" missiles in the drill.
If China decides to use the base in Danzhou, which is 1,450 kilometers away from Zone 4, the DF-16 short-range ballistic missile will be used as it has a range of up to 1,500 kilometers. Lu then predicted that the PLA "would not be foolish enough to use the DF-17 medium-range ballistic missile."
As for other zones within 500 kilometers of China, Lu believes PLA will use the Type PCL191 truck-mounted self-propelled multiple rocket launcher. These weapons can interfere with Taiwan's naval patrols in the Taiwan Strait, and China can also use the firing videos for cognitive warfare.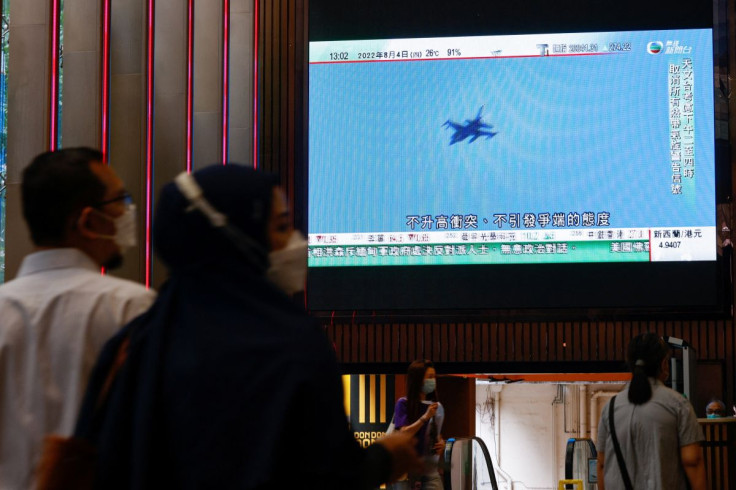 © Copyright IBTimes 2023. All rights reserved.