Chinese Nobel Prize Writer Condemned For His Murky Political Stance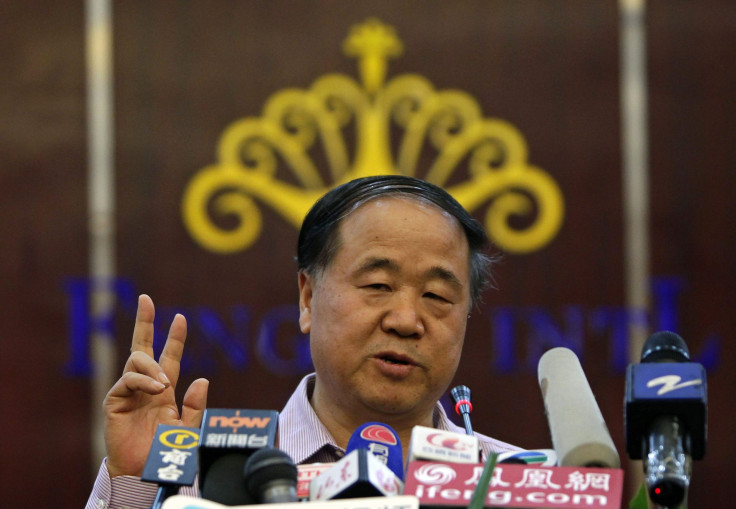 Heavily criticized for maintaining close ties with the China's Communist Party, author Mo Yan, the first Chinese citizen to have received the Nobel Prize for literature, nonetheless told reporters on Friday that he hopes that human rights activist and political prisoner Liu Xiaobo regains his freedom soon.
Mo Yan was awarded the prestigious Nobel for merging "folk tales, history and the contemporary" with "hallucinatory realism."
This honor came as something of a surprise to many and prompted tremendous controversy within Chinese literary circles.
(In 2010, Liu Xiaobo, who has languished in prison since 2009, was also awarded a Nobel, for promoting peace).
Chinese officials have already begun celebrating Mo Yan's triumph, making it the cover story of many state-owned newspapers, while Chinese dissidents bashed the award as a disgrace, attacking Mo Yan for his close links with Beijing authorities.
Prominent dissident, artist Ai Weiwei, blasted him.
"[Mo Yan] will always stand on the side of power, and he will not have one bit of individualism," Ai told Agence France Presse, adding that the Chinese "people don't know if they should laugh or cry over this Nobel Prize."
Wei Jing-sheng, a leading pro-democracy activist in China, further commented that the award was merely Norway's attempt to appease the Communist Party after angering them by bestowing the peace prize to Liu Xiaobo.
"We can tell that this prize was awarded for the purpose of pleasing the communist regime and is thus not noteworthy," Wei said.
Earlier this year, Mo Yan's participation in a Communist Party-led commemoration event celebrating Chairman Mao Zedong disappointed many people.
The event involved the spectacle of 100 writers reciting Mao's famous speech in Yanan regarding the socialist movement in art. It infuriated many people who deemed both the speech and the commemoration as shameful.
All of the participants were harshly criticized, with some writers expressing their regret and even apologizing for their involvement.
Mo Yan, however, told reporters that he did not regret his decision to participate in the commemoration. He defended his actions by asserting that "some of Mao's remarks on art were reasonable."
Yu Jie, an exiled dissident writer, was quoted by German broadcaster Deutsche Welle as condemning the award to Mo Yan as "the biggest scandal in the history of the Nobel Prize in Literature."
"That an author who copied Mao Zedong's Yanan text and sang the praises of Mao Zedong can earn the prize -- the number of people Mao Zedong slaughtered surpasses even that of Stalin and Hitler," he said.
Indeed, there have been mixed feelings toward this Nobel Prize, leaving many people with complex and contradictory attitudes.
Despite Mo Yan's apparent approval of Mao, however, the writer has himself had an unfortunate history with Mao's policies.
"Mo Yan" is actually a pseudonym for Guan Mo-ye, the 57-year-old novelist who was born and raised in a small town in eastern China. The pseudonym was chosen by Guan himself and literally means "Don't speak."
He said that his nom de plume serves as a constant cautionary reminder of his childhood during the Cultural Revolution, when, as a 12-year-old boy, he was condemned as a "bad member." He was sent to the countryside to take on farming and was forbidden to continue school.
He once explained in an interview: "I was born in 1955. At that time in China, people's lives were not normal. So my father and mother told me not to speak outside. If you speak outside, and say what you think, you will get into trouble . . . So I took Mo Yan for my pen name. It is ironic that I have this name because I now speak everywhere."
Mo Yan has dismissed those who criticized him for his political stance, arguing that they probably have not read his books.
"Some say that because I have a close relationship with the Communist Party, I shouldn't have won the prize. I think this is [unfair]," Mo Yan said.
"Since [the] last century in the 1980s, I've picked up my pen and been determined to write for the people. I write [about] people's emotions, people's fate. My novels transcend the boundaries of classes and politics. If you read my books, you would know that my criticisms against the evils in society are always very harsh and serious."
To those who criticize him for his "cowardice" and "refusal to speak against what is wrong," Mo Yan emphasized that the award is a literary recognition, not a political victory.
Despite Mo Yan's efforts to focus people's attention upon his works and not his political position, it seems impossible at this sensitive period when so many activists are trying to push for changes in China that literature remains truly separate from politics.
It is not the first time that this literary prize has been linked with politics.
When Gao Xingjian, a naturalized French citizen who was born in China, received the same award in 2000, the Chinese government severely criticized the Nobel Committee's decision as a political move, since Gao's works are critical of the Chinese regime.
It seems inevitable that people would link the Nobel Committee's decision with China's political development, as long as Chinese Nobel Prize recipients remain a rare phenomenon.
Finally, Mo did once curiously and notably express his views regarding his political involvements.
According to China Daily, at the 2009 Frankfurt Book Fair, he recounted in his speech the story of two Germans, the writer Goethe and the composer Beethoven. In the story, the two men were walking side-by-side when they met a royal entourage. Goethe was said to have taken off his hat and stood to the side in deference, while Beethoven refused.
"When I was young, I thought that what Beethoven did was great," Mo said. "But, as I've matured over the years, I realized it could be easier to do what Beethoven did, and it might take even more courage to do what Goethe did."
FOR FREE to continue reading
✔️ Unlock the full content of International Business Times UK for free
offer available for a limited time only
✔️ Easily manage your Newsletters subscriptions and save your favourite articles
✔️ No payment method required
Already have an account?
Log in
© Copyright IBTimes 2023. All rights reserved.