Chipotle Mexican Grill Inc (CMG) Stock Plunges 7% After Burrito Chain Warns Of Price Hikes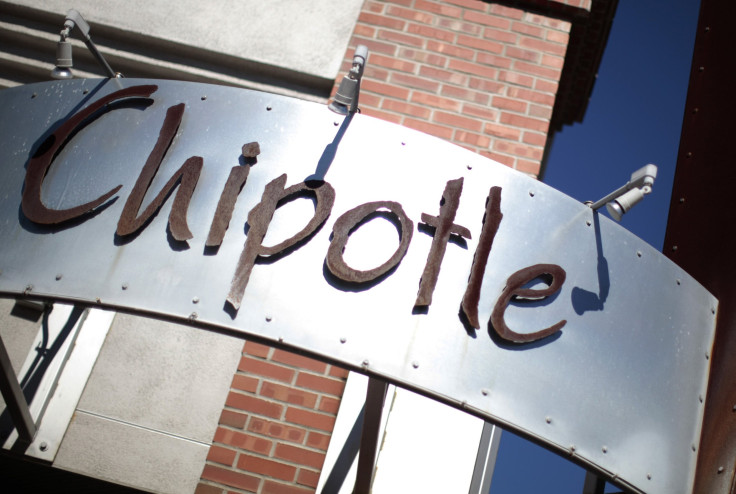 Chipotle Mexican Grill Inc. (NYSE:CMG) warned of possible price hikes Tuesday, sending shares tumbling more than 7 percent in extended-hours trading. Rising beef prices are weighing on the burrito chain's profits. The company's sales missed forecasts last quarter, prompting it to consider increasing the prices of some entrees, including steak and barbacoa products, Chipotle chief financial officer Jack Hartung said during a conference call with shareholders Tuesday.
"We don't have any plans for across-the-board menu increases in 2015," Hartung said during the call. However, the company left the door open for price hikes for its steak and barbacoa products. "Now it costs us an extra dollar or so to serve steak versus chicken," Hartung said. "So we're actually not covering that with the upcharge. And so it's that situation that causes us to think that we're subsidizing steak and barbacoa with other items on the menu, and that doesn't make sense to us."
The price for live cattle skyrocketed 23 percent in 2014 and hit a record $1.71 a pound Nov. 17 on the Chicago Mercantile Exchange. It looks like beef prices will remain high until 2017, according to the U.S. Department of Agriculture.
"Although beef prices are at record or near-record levels, it is possible that consumers may balk at the higher retail prices for beef and substitute pork and/or poultry products for beef," the Department of Agriculture said in a livestock, dairy and poultry outlook report in December. "However, it is likely that retail beef prices will on average move higher during 2015."
Last quarter, Chipotle's same-store sales rose 16.1 percent, below Wall Street expectations of more than 16.5 percent. Meanwhile, food costs totaled 35 percent of revenue during the quarter, up 1.1 percent primarily due to higher dairy and beef costs.
Chipotle Mexican Grill reported fiscal fourth-quarter net income of $121.2 million, or $3.84 a share, up from $79.6 million, or $2.53 a share, in the same year-ago period. Revenue last quarter rose to $1.07 billion, up 26.7 percent from the same period a year ago, as a result of a 16.1 percent rise in sales and new restaurant openings.
In the last quarter the company opened 60 restaurants, bringing its total restaurant count to 1,783. During 2014, Chipotle added 192 restaurants.
For the full year ended Dec. 31, Chipotle Mexican Grill's net income rose 36 percent to $445.4 million, or earnings per share of $14.13, as revenue rose 27.8 percent to $4.11 billion from 2013. Food costs were 34.6 percent of revenue, an increase of 120 basis points due primarily to higher beef, avocado and dairy costs.
In 2015, the company expects to open 190 to 205 restaurants and forecast low-to-mid-single-digit comparable restaurant sales increases, below Wall Street estimates.
Following the company's earnings announcement, shares of Chipotle Mexican Grill dropped more than 7 percent Tuesday to $678.53 in after-hours trading. In the last 12 months, the company's stock has gained 34 percent to $617.52.
© Copyright IBTimes 2023. All rights reserved.