Chris Hayes Is Still 'All In' At MSNBC, Even As Everyone Counts Him Out
"You want ratings; you want people to like you," the host told International Business Times. "You can lose yourself."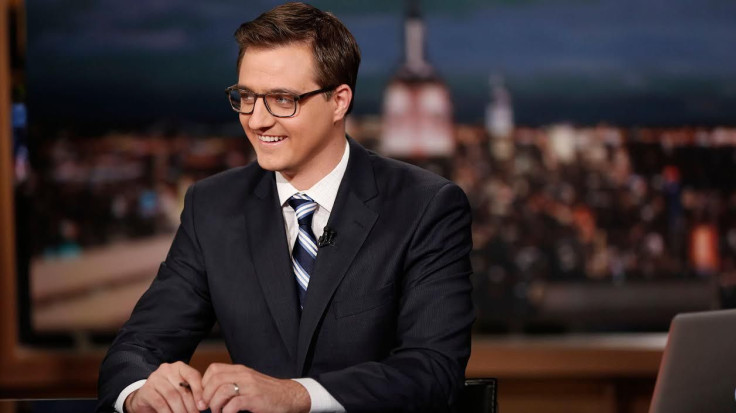 Chris Hayes barreled into his office from the rain, wearing a blue hoodie over an art deco-style T-shirt of the cover of George Orwell's "Animal Farm." He tugged his headphones from his ears, gave me a brief hello and made a hard left into the writers' room, on the third floor of NBC's headquarters at 30 Rock.
"We should just do Viggo Mortensen for the whole show," he joked as he slumped into a chair. The crew had just taped an interview with the Hollywood star, apparently a fan of the show, that was set to air that night. Hayes' staffers chuckled; in fact, the next few hours would be another day's effort to turn raw news into an episode of Hayes' prime-time MSNBC show, "All In With Chris Hayes."
"I feel like I am more at peace with what a prime-time show is now than I have ever been."
"I feel like I am more at peace with what a prime-time show is now than I have ever been," he later told me as he sat behind his own desk. "I'm not fighting it."
Yet the industry press has been declaring Hayes a dead host walking for the better part of a year. The narrative makes sense: Since its inception in 2013, "All In" has underperformed in the 8 p.m. slot, consistently coming in third among cable news shows behind CNN's Anderson Cooper and the untouchable, high-decibel juggernaut that is Fox News Channel's Bill O'Reilly.
In the second quarter of 2015, "All In" brought in an average of 540,000 total viewers a night, delivering a poor showing in the advertiser-coveted 25- to 54-year-old age demographic and clocking a 12 percent ratings drop from last year. As recently as October, Hayes remained a marked man, whose survival baffled colleagues and fellow journalists alike.
But with 2016 around the corner, the rising tide of the election cycle is lifting all cable news boats. And things are especially looking up for Hayes. His show is up 32 percent in total viewers and 28 percent in the demo from last year, a lift far surpassing MSNBC's most popular host, Chris Matthews, and his show "Hardball." Hayes has even shot ahead of CNN's Cooper in recent weeks, though he still trails Cooper in the demo.
What's more, since September he has had a shiny new club to wave off his detractors: "All In" took home an Emmy Award, the only one in all of cable news. So maybe Hayes isn't destined for the fire just yet.
"Part of my frustration with the way that this industry is covered is that it is covered like sports," he said. (An interesting complaint, seeing as cable news largely treats politics like sports.)
"Literally, they call it, 'The Scoreboard," ' he went on, referring to Adweek's ratings matrix. "But sports has no content other than whether you won or lost! Like, yes, winning matters, it does a lot. I understand the industry we're in. But there's also another component. There's good editorial and bad editorial, there's good journalism and bad journalism, there's good TV and bad TV.
"And when you go meet St. Peter, you've gotta justify what you've done," Hayes said.
Out Of The Frying Pan
This summer, NBC News President Andy Lack began to obliterate the channel's gallery of liberal-leaning shows in an effort to reboot MSNBC, axing Alex Wagner, Ed Schultz and Al Sharpton. The shake-up goes on: Now Lack is reportedly in talks with Bloomberg TV to simulcast MSNBC contributors John Heilemann and Mark Halperin and their little-watched and widely mocked chat show "With All Due Respect" in the 6 p.m. time slot.
The atmosphere is dire, a bit like when a radio station gets a new format. No one is safe. After his daytime colleagues were taken out, Hayes was naturally viewed as the next to go.
"Look," he said when asked about the vibe, "one notices what is happening in one's workplace."
"What I do think is true: It's been pretty clear since I started this job that, when the story that's driving people's attention is politics, we do well as a network," he said. "And when it's not politics, we do less well."
Despite the directive from up top to shed the channel's identity as the supposed liberal counterweight to Fox News, Hayes said he hasn't felt any pressure to change. "It has not affected the show in any direct way. There's certainly not been, like, 'Don't do any liberal stuff.' We are what we are; I am what I am."
Many TV viewers only discovered what he is, and who is he is, in 2011, when Hayes got his first MSNBC show on Saturday and Sunday mornings, "Up With Chris Hayes." He was raised in the Bronx by an Italian-American mother and an Irish Catholic, onetime seminarian father who organized in the style of radical activist and conservative bogeyman Saul Alinsky. His career was born in Chicago's alt weeklies, first as a reporter, then as a commentator and essayist. In 2006 he became a fellow at the Nation magazine, an elder statesman of the American liberal press, where he later became Washington, D.C., editor.
The Nation's editor, Katrina vanden Heuvel, recalled hiring Hayes for that job in New York's Union Square in 2007, when he was only 28 years old. "He was clearly someone who had great curiosity, verve. He was an intellectual but someone who also valued reporting. You see that in the medium he works in now." Vanden Heuvel said Hayes is part of a tradition that comes from "decent people who value social and economic justice, who have worked in schools and city governments."
The magazine, where Hayes is still editor-at-large, ran a tough piece on MSNBC in October, but vanden Heuvel said that Hayes, Rachel Maddow and another Nation alumnus, Melissa Harris-Perry, represent "the best of MSNBC."
"I think it was a Nation publicist, a few months in, that sent MSNBC a clip of Chris on 'Washington Journal' on CSPAN," vanden Heuvel recalled.
Eventually MSNBC plucked him out of D.C. for New York and gave him the chance to tinker with his own TV formula on "Up," before popping him into prime time for "All In."
How did it feel going from making beans at the Nation to suddenly taking in big TV money? "We live not very differently than we've done in the past." He says he feels blessed not to worry about his children's financial situation. He and his wife and children reside in the same neighborhood in Brooklyn that they moved to in 2011, after he got his first show.
Now, even with Lack's changes looming, Hayes repeated that he's finally got the hang of things. "In some ways, I feel like we're more comfortable in our skin now than we ever have been, in a weird way, despite the amount of upheaval around us."
What, Us Worry?
For a show that's reportedly on the chopping block, the editorial meeting on that drizzly afternoon was fairly upbeat. It didn't feel like an office that was about to get canned. Hayes, hair still damp from the rain, swiveled in his chair, surrounded by his writers and producers. Some were older, some young, some much younger. Most were white, evenly split between men and women. Staffers joked and spitballed ideas as Hayes went back and forth between running the meeting, scribbling pitches and venting about the world at large.
The laid-back atmosphere, marked up whiteboards and slightly cramped office space made the whole thing feel like a college paper more than a slick prime-time show.
At this point, he's used to laughing off less-than-flattering assessments of "All In." Emmy or no Emmy, he's still the butt of jokes when it comes to ratings, especially in conservative media, often cast as a wonky lightweight who doesn't have what it takes to make it on TV. His competitor Bill O'Reilly, not known for his magnanimity, once called Hayes "the biggest failure in cable news."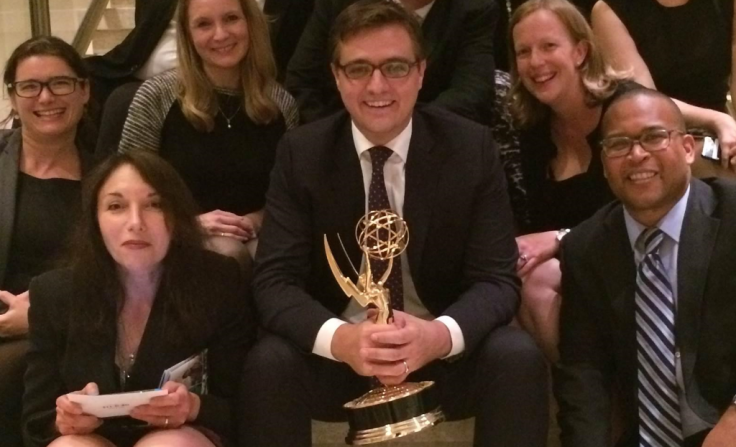 Critics write that Hayes has "managed to fall short of even modest expectations," and describe his show as "anemic" and a "ratings suck." "Any objective media critic or fan will tell you Hayes isn't a primetime host," wrote Mediaite's Joe Concha earlier this year. There's no shortage of pieces speculating that Andy Lack is still ready to can Hayes and replace him with MSNBC's bombastic ex-pundit Keith Olbermann. (When contacted by International Business Times about those rumors, a representative for MSNBC declined to comment.)
It's true that Hayes lacks the on-air charisma of Maddow, the gravitas of Matthews, or the ability to bloviate like Lawrence O'Donnell. He's boyish and bookish, with a lighter voice and a lighter touch than his fellow talent. Two years into "All In," he still has occasional problems reading the teleprompter. During interviews, he can get too caught up in the ideas and arguments in play, speaking too fast and interrupting the flow of a segment.
Hayes admits it has taken him a long time to "relax into the genre" and that he struggles with it still.
"Do I have regrets about every show? Of course. Do I go home and spend an hour on the way home beating myself up about the question I asked, or the convoluted way I read the prompter? Yes, constantly," he said. "But generally, we all care. I care tremendously."
"How could you not care?" he asked aloud.
Despite his lefty, alt-weekly origin story, Hayes doesn't throw out the standard TV liberal red meat like Maddow or O'Donnell. Back at the editorial meeting, the general rule seemed to be that "juicy" wasn't really good enough to make a segment. The sound bite dominating the news cycle that day was Ben Carson's biblically sanctioned but historically questionable theory of the pyramids (not tombs, Carson said, but grain warehouses). Hayes wasn't buying into it.
"I know it's juicy, but at this point we know Ben Carson believes a lot of crazy stuff, right?" Hayes said to the room. "There's this, 'look at this doofus' liberal coverage of this story." Apparently, he did not want to join in.
That's not to say he pretends to be a totally neutral broadcaster. Last week, Hayes flew out to Paris to cover the aftermath of the terrorist attacks that left over 120 dead and hundreds maimed. As his peers at MSNBC and other networks spent the days asking what the U.S. should do to respond to the carnage, Hayes was one of the few mainstream voices, unmistakably anti-war, who urged restraint. That's a position as political as any other.
"Sometimes in the wake of a crisis or a tragedy, people say 'something must be done,' " he said last week, reporting from the French capital. "And this is 'something,' and therefore it must be done. And it is that kind of reasoning, frankly, that has gotten us into some of the most destructive debacles in recent memory."
In fact, Hayes comes off a lot more comfortable when he's not stuck behind the desk on his show. His Emmy-winning project was a deeply reported series on American poverty; he flew out to Ferguson, Missouri, during the upheaval after the killing of unarmed black teenager Michael Brown.
If his prime-time show were canceled, you get the sense he would enjoy the chance to do these kinds of PBS "Frontline"-style specials.
"I do love field reporting," he said. "I love being able to sort of bring some of that thoroughness and storytelling to this medium that you would, say, put into a feature magazine article. That is very satisfying."
Seeing Double
The most intriguing thing about Hayes is that he's of two minds: He seems to recognize the flaws, limits and the downright inhumanity of show business, in a way that many of his colleagues and competitors don't; the psychological toll it takes to face the overnight ratings each day, to hear your bosses tell you the key demo in Springfield, Colorado, hates your face.
"It's a psychological struggle to not lose yourself in it," he said. "You want ratings, you want people to like you and react to you. And if you orient your entire life toward that, you can lose yourself."
Hayes hesitated over transitioning to TV, vanden Heuvel said. "He grappled with it. He spoke with Bill Moyers, we had talks."
At the same time, he chooses to swim in that swamp, and seems to enjoy the fame and prestige. He's not too shy to brag of his reporting chops, or the value of his show, or his skill as a writer.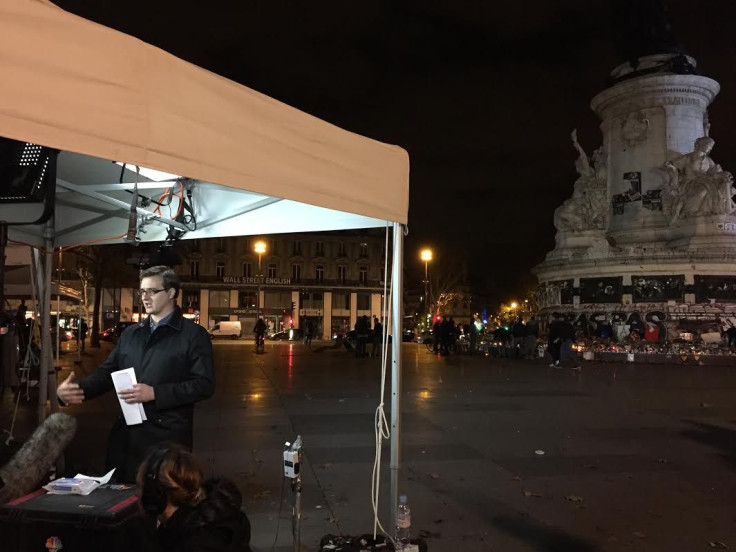 The biggest safeguard against losing his soul in a soulless industry, Hayes said, has been his wife, Kate Shaw. "Having known each other as long as we have has insulated me from what this job can do to you," he said. This month, they celebrated 17 years together, along with their two young children. It's the first and only romantic relationship Hayes has had.
"She's by far the most accomplished person in our household," he added, and he wasn't being humble. Shaw graduated magna cum laude from Brown University, where she and Hayes met, and went on to clerk for Justice John Paul Stevens of the Supreme Court and, still ascending, went on to serve in the White House Counsel's Office.
"Everything that I am as a human being has been constituted by that relationship," Hayes said. "I often think about the stress of the job and that the crazy psychological effects of being on television would easily drive a person insane, or make them into a monster, in the absence of having an amazing relationship. I'm lucky."
So Hayes is finally seeing better days at MSNBC, but nothing is permanent. Andy Lack still has a mission to complete. "TV is TV," Hayes said. "People come, people go -- you get moved! That's television."
Despite his earlier insistence that journalism is not a sport, Hayes packaged his parting feelings in a sports analogy.
"If you're a basketball player and you're reading trade rumors, you gotta go out and play," he said. "So, I just play. If I didn't do that, I would lose my mind."
© Copyright IBTimes 2022. All rights reserved.
FOLLOW MORE IBT NEWS ON THE BELOW CHANNELS