Chris Paul Trade: Clippers Emerge After Lakers Drop Out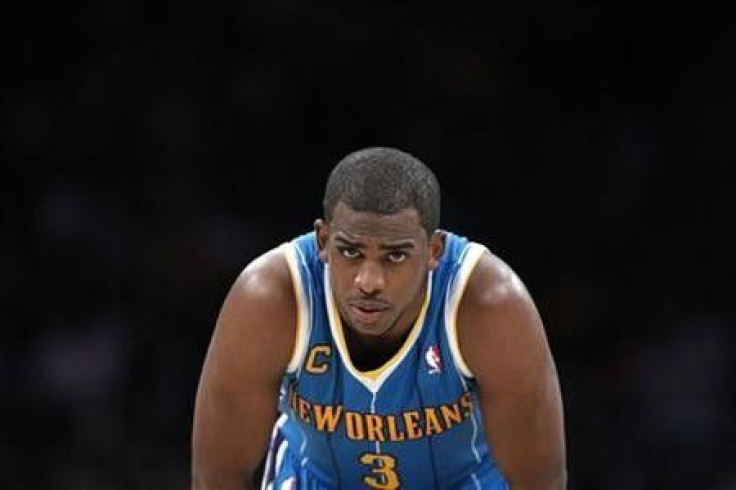 It's not his top choice, but with the Los Angeles Lakers and New York Knicks out of the picture, New Orleans point guard Chris Paul's new preferred choice are the Los Angeles Clippers, according to a report.
ESPN reported on Sunday night that Paul prefers to team up with Blake Griffin on the Los Angeles Clippers, if he can't go to either the Lakers or Knicks. The Clippers are reportedly interested in Paul, but the holdup is whether Paul will commit to the team long-term.
Ric Buchler reported that Paul would be willing to opt-in for the 2012-13 season, which would mean the star guard would commit to at least two seasons with the Lakers. Paul would then be a free agent in 2013 and free to sign with another team, if he wanted to leave Los Angeles.
Paul appeared headed to the Lakers on Thursday, but NBA commissioner David Stern blocked the deal to uphold the Hornets' franchise value. Stern blocked a three-team deal that would have sent Paul to the Lakers; Pau Gasol to the Houston Rockets; and Luis Scola, Lamar Odom, Kevin Martin, and Goran Dragic to the Hornets.
The NBA has allowed Hornets general manager Dell Demps to pursue other trades for Paul -- the Hornets even resubmitted the three-team deal to the NBA before the Lakers dropped out -- but it wants the Hornets to acquire young talent and/or draft picks.
Many lauded the Hornets for acquiring the multi-player package, but Stern and Co. want the Hornets to get younger. That means that the Clippers could have to include up-and-coming guard Eric Gordon and/or multiple draft picks in order to acquire Paul.
The Hornets have reportedly asked for Gordon, Chris Kaman, Eric Bledsoe, Al-Farouq Aminu, and at least two future first-round draft picks. The Clippers are expected to be willing to part with most of the Hornets' desires, but are doubtful to give up Gordon and multiple draft picks.
The 26-year old Paul originally told those close to him that he'd like to play for the Knicks, but New York's recent signing of Tyson Chandler should knock it out of the running. The Knicks traded away their most valuable assets to get Carmelo Anthony from the Denver Nuggets last season; and used up their entire remaining salary cap on a sign-and-trade deal for Chandler.
© Copyright IBTimes 2023. All rights reserved.