Christian Archaeological Discovery Could 'Change History': 1,100-Year-Old Crucifix Found In Denmark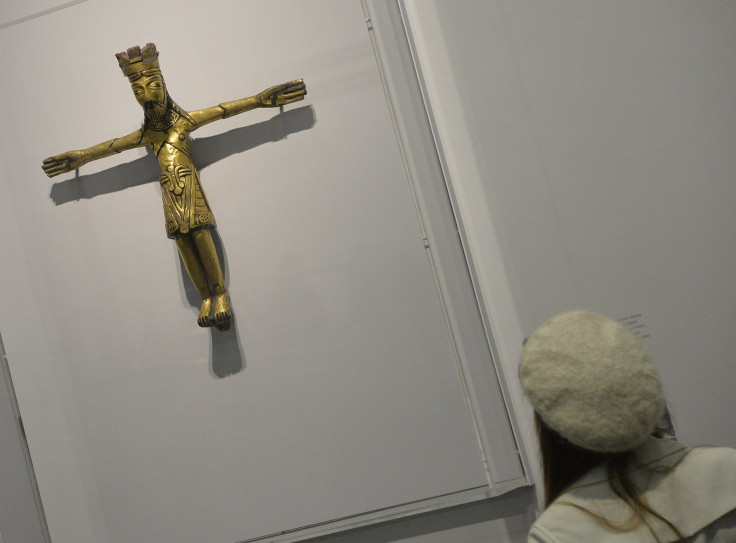 A tiny crucifix pendant found earlier this month by an amateur Danish archeologist could "change history," according to experts, who believe the cross predates the time Christianity was thought to have become widespread in Denmark, the Local reported earlier this week. Dennis Fabricius Holm discovered the 1,100-year-old artifact as he walked around a field near the town of Anslev, Østfyn, with his metal detector on a recent Friday.
"Ever since I turned over the clump of earth and saw the cross, I've been unable to think of anything else," Holm reportedly said.
Before the latest find, the Jelling Stone — a large stone with a representation of Jesus on the cross — was the oldest known Christian artifact in Denmark. It dates back to 965. The crucifix discovered by Fabricius is thought to date back at least a decade and a half earlier, to the first half of the 10th century.
"In recent years there has been more and more signs that Christianity was widespread earlier than previously thought — and here the clearest evidence so far," Malene Refshauge Beck, curator and archaeologist at Østfyn's museum said, the Independent reported.
The stone is small — just 4.1 centimeters. On the front-side is a figure, presumably Jesus, and the reverse is smooth. While other artifacts have been discovered from the era, the cross is particularly well preserved. It was likely worn by a Viking woman.
Several other artifacts found in Denmark from the same era resemble hammers, likely influenced by the hammer of the god Thor. The Norse god was believed to wield a hammer associated with controlling thunder and lightning.
Although Christian missionaries sought for centuries to convert the Danes, the Vikings are thought to have resisted their attempts. Under pressure from Christian trade partners, particularly from Germany, most Danes adopted Christianity by 1050, the end of the Viking era.
"The figure can therefore help to advance the time when one considers that the Danes really were Christians," Beck said. "This is a subject that certainly will have to appear in the history books in the future."
© Copyright IBTimes 2023. All rights reserved.