Christian Taylor Police Shooting: Arlington, Texas Has History Of Racial Tensions, Embracing Confederate Flag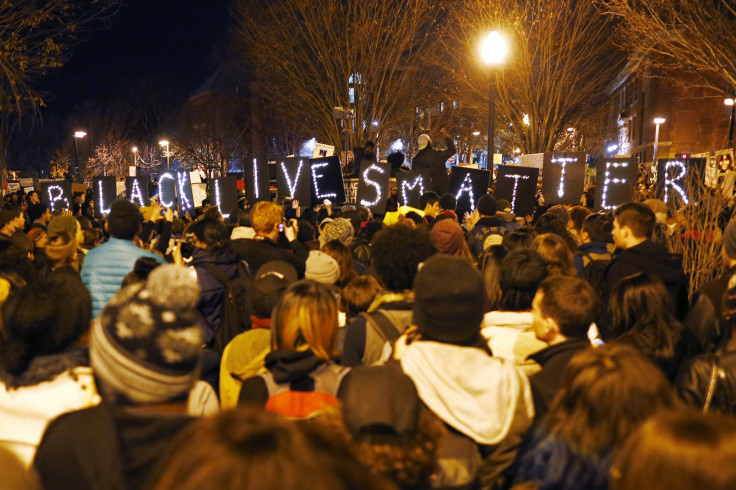 Christian Taylor's family was getting ready to take him to his sophomore year at Angelo State University, where he played as a defensive back on the Division II school in San Angelo, Texas. But just two days before they were scheduled to make the trip, the black 19-year-old was fatally shot by a white Arlington Police officer in training after the teenager smashed his car through a car dealership.
"Christian's mother and father, they have to make funeral arrangements and accept the fact that he's gone," said Sara Mokuria, co-founder of Mothers Against Police Brutality, which organized a vigil for Taylor vigil outside the Arlington police station Monday. "They were supposed to be taking Christian back to college Sunday. You're planning on all that 'get back to college' stuff and now you're planning a funeral."
Taylor's death comes amid a national debate over police brutality and race, raising questions about whether the fatal shooting was justified. It's also cast a spotlight on race relations in Arlington, a Dallas suburb with a history of flying Confederate battle flags on campuses and racially segregated communities. Local residents said Arlington, like many communities in the U.S., has struggled to unify its diverse neighborhoods, but black and white leaders disagreed over whether the city had a larger race problem as Taylor's family demanded a thorough investigation into his death.
Brad Miller, a 49-year-old Arlington Police officer in training, was fired Tuesday for shooting Taylor four times through the chest. Arlington Police Chief Will Johnson said an investigation into the shooting would be expeditious and transparent, but that he also had "serious concerns" about the decision to use deadly force. Taylor was seen vandalizing cars at the Classic Buick GMC in Arlington on Friday when he was confronted by police. The fatal shooting was the latest in a long string of incidences across the nation of an unarmed black man being killed by a white police officer.
Now, Taylor's death has cast the national spotlight on his hometown, which has struggled to smooth over relations between its increasingly diverse population. Arlington, home of the International Bowling Hall of Fame, the Texas Rangers and the theme parks Six Flags Over Texas, has seen its black population grow steadily in recent years, even as the Arlington City Council has remained predominantly white.
The black population jumped from 13.7 percent in 2000 to 18.8 percent in 2010, higher than the 12.6 national average, according to the U.S. Census Bureau. At the same time, the white population shrunk from 67.7 percent in 2000 to 59 percent in 2010, and the Latino population grew from 18.3 percent to 27.4 percent, according to Census data.
Only one of the eight city council-members, Michael Glaspie, is black. He was first elected in 2012. City leaders insist Arlington doesn't have a culture of racial discrimination.
"The racial dynamics of police incidents around the country have driven a wedge between community groups," Arlington Mayor Jeff Williams wrote in a public letter after Taylor's death. "That's not characteristic of Arlington, Texas and we don't want this incident to derail our progress."
Arlington residents are generally middle class and work for the government. Arlington's median household income was $52,933, slightly lower than the national average, as of 2010, with 16.6 percent of the population below the poverty line. Most of the city's workers are employed by academic institutions. The Arlington School District has about 8,000 workers and the University of Texas at Arlington employs about 5,300 residents. Other big employers include General Motors, Six Flags Over Texas and The Parks Mall.
The city has grappled with bouts of alleged racial injustice in the past. Confederate symbols and popular in Arlington, where for decades the rebel banner proudly flew at Arlington State College and other institutions.
In March, Jonathan Ryan Paul, a 42-year-old black man, died while in police custody. Paul was arrested when police found he had outstanding warrants against him when they answered a disturbance call at his apartment, the Dallas Morning News reported. While in custody, police said Paul continued to be uncooperative, and he was placed in restraints, which he died in a day later. A lawsuit has been filed against the detention officers, and the Tarrant County District Attorney's office is reviewing the case, the Dallas Morning News reported.
Earlier this year, six black customers complained after they dined at a local restaurant on New Year's Eve and a waiter wrote "N-----" as the name on their receipts, according to USA Today. The waiter at the Shatila Lebanese Grill and Hookah was fired after the incident.
In 2013, the Arlington School Board faced allegations of racism after a white special education teacher said she poured pencil shavings into a black student's mouth.
Dominique Alexander, founder of the Next Generation Action Network, a Dallas-based social justice group, said black Americans have closely watched the ongoing national discussion on racism and criminal justice reforms. "When it comes to a black person in America, we don't get that patient," Alexander said. "These things are growing across America."
Still, some Arlington residents described a city of tolerance, where racial problems are not a dominating concern.
Tracy Stanley, the vice president of the Turtlerock Homeowners Association, which represents the Turtlerock neighborhood of Arlington, said Taylor's shooting was not emblematic of any larger racial issue.
"I think you had an inexperienced officer that hasn't been well-trained, and [Taylor] was just acting up," Stanley said. "It wasn't like him based on the character profiles I've read of him."
Turtlerock has about 110 households, and is about 60 percent white, and 40 percent either black or Latino, said Stanley, who worked as a real estate broker for about 40 years and knows Arlington's demographics well.
When he became a broker in 1965, he said the city's black population represented 5 percent of all residents. Arlington neighborhoods were racially divided at the time, with most of the black families living in one small area, Stanely said.
"[Black families] branched out more, I would say in the late 1970's because of jobs and more acceptance and making more money," Stanley said. "They moved into nicer areas of Arlington and it became very integrated; it all happened very quickly."
But for those suspicious about how Taylor's death unfolded, this isn't the first time the Arlington police department's action have raised questions among black community leaders.
Mokuria said Arlington police have a sense of entitled immunity, calling the city the "untold ground zero for police brutality."
In 2014, 45-year-old Juan May was killed by off-duty Arlington Police Sgt. Thedrick Andres. Andres shot May after the two got into a fight on a party bus, with Andres claiming self-defense, according to the Dallas Morning News. Both men were black. Andres was no-billed by a grand jury in May and was exonerated after an internal affairs investigation. He returned to the police force's criminal investigations unit after being placed on administrative leave following the shooting.
"It shows the immunity officers have," Mokuria said. "He still has his job."
Moving forward, activists said they hope Taylor's shooting sparks a debate in Texas about racial justice, and possibly results in better training for officers.
"We know this country is grounded in a lot of ways on oppression, on white privilege, and when it's not addressed in a constant way, when folks get into the field their initial response isn't, 'Oh. This is a college student, this is a graduate,'" Mokuria said, "It's, 'this is a thug, this is someone who's dangerous."
Video of the night Taylor was killed shows Taylor walking around the dealership showroom before attempting to bash both the front window and windshield of a vehicle open. The video ends on a shot of an ambulance backing into a parking spot next to the showroom.
Roughly 75 people attended the Mothers Against Police Brutality vigil Monday in front of the Arlington Police Department headquarters to honor Taylor, including Taylor's cousin Richard McCray, Jr.
"It was very emotional," Mokuria said. "We created a circle and we called out the names of those killed in Arlington and around the country, and they spoke Christian's name."
FOR FREE to continue reading
✔️ Unlock the full content of International Business Times UK for free
offer available for a limited time only
✔️ Easily manage your Newsletters subscriptions and save your favourite articles
✔️ No payment method required
Already have an account? Log in
© Copyright IBTimes 2023. All rights reserved.