Christmas In New York City 2015: ISIS Terror Threat Coincides With Rockefeller Tree Lighting, Holiday Markets, High Tourist Season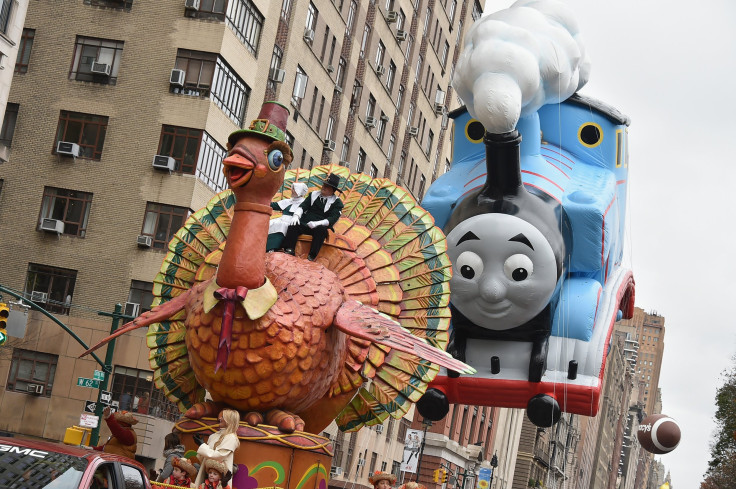 To Scott Freda, New York City is especially magical during the Christmas season. Freda, a civil engineer from Arlington, Virginia, has spent many holiday seasons in the Big Apple, taking in the decorative lights and the oversized Christmas tree.
"I've gone to the Christmas Spectacular at Radio City Music Hall, which is a lot of fun. I might do that this year," said Freda as he waited for a train back home Thursday at Penn Station. "It's a fun place to be around the holidays."
For New York, this week marks the unofficial start of its festive holiday tourism season. New York City is one of the world's most visited locations, and that is especially true around holiday time, as the city hosts many iconic events such as the Macy's Thanksgiving Day Parade, the Rockefeller Center tree lighting ceremony and New Year's Eve in Times Square. However, this year, the holiday season comes on the heels of a week full of terror threats and killings around the world carried out by radical Islamic terrorists.
After terror attacks in Beirut and Paris last week, many people in other parts of the world have wondered if they could be next. American cities have acutely felt the sense of disturbance as the Islamic State group, which claimed credit for the Paris attacks, made threats against Washington, D.C., and New York City. While the tourism industry and tourists themselves said they were aware of the terror threats, many said the show must go on in New York City.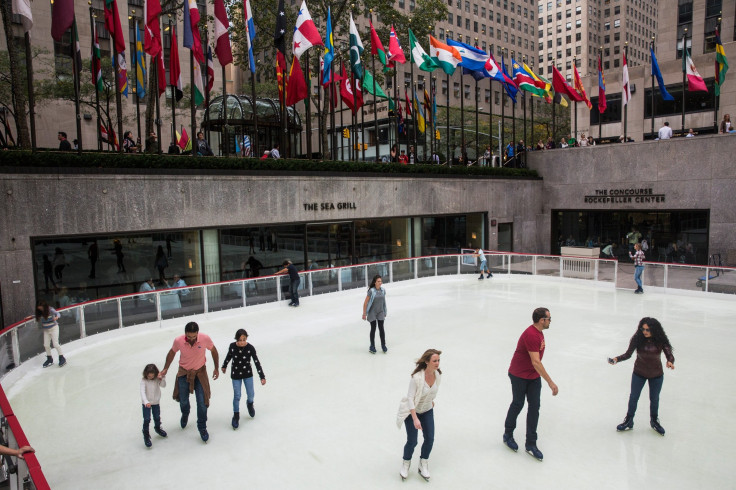 When the militants -- also known as ISIS or ISIL -- released a video Wednesday making threats against New York City, it included old footage of Times Square that had appeared in a propaganda message released in April. The New York City Police Department determined there was no credible or specific threat against the city, Police Commissioner Bill Bratton said Wednesday, but he still deployed members of a new anti-terrorism squad as an extra precaution.
"The people of New York City will not be intimidated," New York City Mayor Bill de Blasio said late Wednesday. "We understand it is the goal of terrorists to intimidate and disrupt our democratic society. We will not submit to their wishes."
New York is wrapped in holiday cheer every December, as parents and children flock to ice skate in Bryant Park, shoppers stroll along Fifth Avenue to take in store windows dressed up for the holidays, and the Christmas tree at Rockefeller Center glitters, drawing visitors and locals from around the city. The smells of roasting chestnuts fill sidewalks and churches perform traditional carols.
Tourists at Times Square and Penn Station on Thursday said they had noticed an increase in police officers at big tourist locations, and most said the increased presence made them feel safe. Lewis Moynan, a 22-year-old from England who was finishing up a trip to New York on Thursday, said he was not worried about traveling this week.
"It's probably one of the safest times you can travel, really, with all the security," he said. "You can see all the police presence all around the city. ... It makes you feel safer."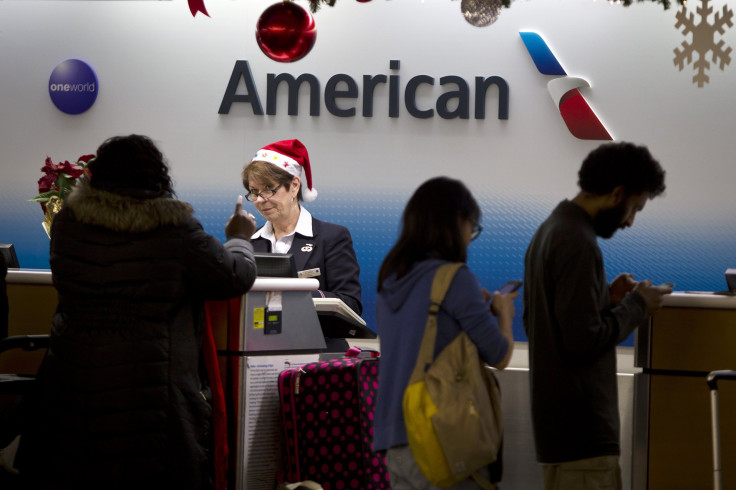 After working as a soccer coach in California for several months, Moynan's visa was nearing expiration, so he wanted to stop in New York to see the sights before heading to visit family in Maryland. While in the city, he made time to see the Empire State Building, Times Square, the Brooklyn Bridge and the World Trade Center.
"I saw this morning outside Macy's they've got all the Christmas trees out and everything," he said. "I loved it so much last year and there's so much to do that I wanted to come back."
Several holiday-themed events opened this week with increased police presence. The annual Union Square Holiday Market opened Thursday, and Urbanspace, the organization that runs the market, said it expects to have just as busy a holiday season as ever.
"We're going on as usual this year, but obviously we're cognizant of what's going on in the world," said Rachel Van Dolsen, a spokeswoman for Urbanspace. "The holiday market has been in New York for over 20 years, it has integrated itself into the city's culture, it's become an institution."
Between Thanksgiving and New Year's Eve, New York City expects to host about 5 million visitors, according to NYC & Company, the city's tourism organization. Those tourists will bring in more than $3 billion, which the city's businesses and tourist attractions rely on to sustain them throughout the rest of the year.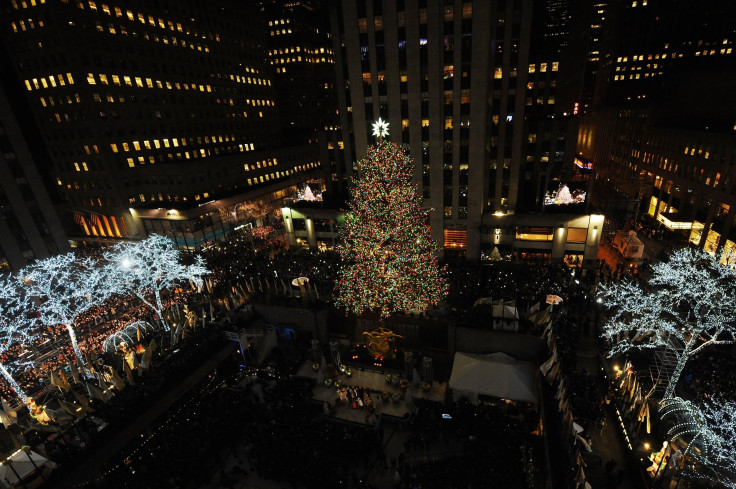 "Cultural institutions and theaters launch new performances and blockbuster exhibits this time of year; major parades and events also add to the city's appeal," Dena Libner, a spokeswoman for NYC & Company said in an email. "The strength of holiday visitation is essential for the businesses and employees sustained by visitor spending."
Hotels, too, rely on holiday visitors for big business. While most aren't expecting a drop in visitors due to the recent terror threats, some have added their own security along with Christmas wreaths and red velvet bows in recent days.
"At all Hyatt Hotels, the safety and security of guests and associates is one of our top priorities. Out of an abundance of caution, various key properties in the U.S. have elevated their security measures," the Hyatt Corp. said in a statement. "Additionally, the hotels are in close contact with local police and are collaborating with them in their enhanced community policing measures at these locations."
For tourists in New York City the week before Thanksgiving, many were excited to be avoiding the holiday crowds, but did say friends or relatives had warned them about traveling so soon after the Paris attacks.
Melissa Lindsay, who had just arrived at Penn Station Thursday for a girls' weekend with her best friend of 30 years, was excited to be in New York for the first time, despite the state of world affairs. She and her friend had come from Fredericksburg, Virginia, to see Joseph Prince, the pastor of New Creation Church in Singapore, who is currently on a world tour, and they decided to make a weekend out of their trip to New York.
"I'm so excited to see 'The Color Purple,' " Lindsay, 51, said. "I'm not nervous traveling, but other people did tell me to be careful going to New York. About four people said, 'Have fun, but be careful.' "
A more experienced traveler, Maria Elena Wood has tried to visit New York City every year since 1981. A journalist from Santiago, Chile, she loves the New York theater scene and exploring the city. But Wood, who is 55, wasn't going to let terrorists ruin her time in the iconic New York City.
"I think that we [cannot] be nervous because anywhere it can happen," Wood said. "We must continue to do our lives. I think that we have to continue living as we live because that's the best way to fight terrorism -- not to be in terror."
© Copyright IBTimes 2023. All rights reserved.
FOLLOW MORE IBT NEWS ON THE BELOW CHANNELS