Chuck Hagel Approval As US DOD Head Looks Likely After Schumer OK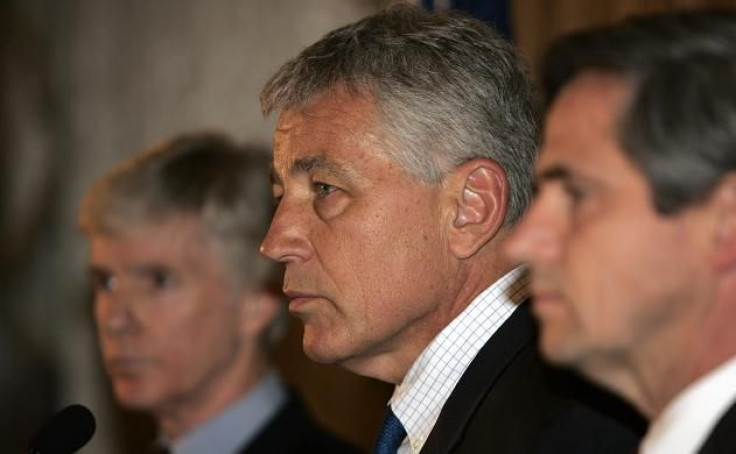 Chuck Hagel's chances of becoming U.S. defense secretary got a critical boost Tuesday when two leading Senate Democrats came out in favor of confirming him following assurances on Israel and the treatment of gay and lesbian servicemen.
Sens. Chuck Schumer, D-N.Y., the No. 3 Democrat in the Senate, and Barbara Boxer, D-Calif., a senior member of the Foreign Relations Committee, said Hagel had eased their concerns over his stands on Israel, Iran and other issues, Reuters reported.
"Based on several key assurances provided by Senator Hagel, I am currently prepared to vote for his confirmation," Schumer said in an extensive statement. "I encourage my Senate colleagues who have shared my previous concerns to also support him."
Critics including some of Hagel's former Republican colleagues, interventionists and some right-wing Israel backers have sought to portray Hagel as anti-Israel – some even say anti-Semitic -- and as someone who is not committed to preventing Iran from obtaining a nuclear weapon, accusations he strongly denies. The main Israel lobby, AIPAC, has styed out the fight, however.
Hagel was also criticized for opposing a gay ambassador nomination by the Clinton administration in 1998.
White House staffers arranged the 90-minute meeting between Schumer, a leading Jewish-American legislative voice, and Hagel, which took place at the White House and was kept secret until Schumer's announcement.
Schumer was first offered a telephone interview with Hagel but wanted a face-to-face sitdown. He called both President Barack Obama and Hagel Tuesday morning to inform them that he was about to issue a statement announcing his support, a Democratic Senate aide told Reuters.
Schumer's move could be decisive. Shortly after Hagel was nominated last week, Talking Points Memo asked a Senate Republican leadership aide what their opposition strategy was going to be.
The aide's response in full: "Schumer."
Schumer, by the way, is not even on the Armed Services Committee that has jurisdiction over the confirmation of the secretary of defense.
Boxer, who is also Jewish, had held off announcing her support. On Tuesday, she said Hagel would have her vote - after they had a long conversation and he wrote her a letter spelling out his positions on Iran, Israel and the treatment of gays and women in the military.
"We spoke for quite a while last week and I was very pleased with that conversation," Boxer told reporters on a conference call from California.
"I urge more of my colleagues to come out because from what I've seen is there seems to be a Republican push here to really go after Senator Hagel, which is really quite disturbing," Boxer said.
The Army Times reported that Hagel promised Boxer he would support equal benefits for same-sex military couples now that the Don't Ask, Don't Tell ban is gone.
In a Monday letter to Boxer, he also promised to support government-paid abortions for military women in cases of rape and incest and to improve sexual assault prevention programs ordered by Congress.
"I know firsthand the profound sacrifice our service members and their families make," Hagel said, referring to his own combat service in Vietnam. "If confirmed as secretary of defense, I will do everything possible to the extent permissible under law to provide equal benefits to families of all our service members."
His options are limited as long as the Defense of Marriage Act of 1996 remains in effect, the Army Times notes. That law prevents most same-sex couples from receiving federal benefits, including military health care, housing allowances and travel payments.
Boxer also asked about Hagel's support for programs to combat sexual assault in the military and for the change in abortion policy that was ordered as part of the 2013 defense authorization bill.
Hagel said he is "committed to the full implementation of all recent policies and procedures" on sexual assault and will "ensure" the programs have full resources.
A decorated Vietnam veteran and former two-term senator from Nebraska who split from fellow Republicans by opposing the Iraq war (after voting for it), Hagel was nominated by Obama on Jan. 7 to replace outgoing Defense Secretary Leon Panetta.
Some conservative Republicans have already declared their intention to vote against their former colleague.
Sen. James Inhofe of Oklahoma, the top Republican on the new Senate Armed Services Committee, which will hold confirmation hearings, said he met with Hagel on Tuesday and opposes his nomination. He cited issues including Hagel's refusing to sign a letter affirming solidarity with Israel in 2000, voting against extending sanctions on Iran in 2001 and support for nuclear disarmament.
"We are simply too philosophically opposed on the issues for me to support his nomination," Inhofe said in a statement.
But Schumer said Hagel rejected a strategy of "containment" for Iran. "Senator Hagel made a crystal-clear promise that he would do 'whatever it takes' to stop Tehran from obtaining nuclear weapons, including the use of military force. He said his 'top priority' as secretary of defense would be the planning of military contingencies related to Iran."
Hagel also promised to continue a program to deliver F-35 joint strike fighters to Israel, continue cooperation on Israel's Iron Dome interceptor system and recommend that the United States refuse to join any NATO exercises if Turkey continues to insist that Israel be excluded from them.
The Armed Services committee will hold confirmation hearings at the end of the month or in early February, Senate aides said.
Republicans also criticized a 2006 reference by Hagel to the influence of the "Jewish lobby" in Washington. Hagel has acknowledged that he misspoke and his defenders say such concerns are overblown.
"He told me that if there's one thing in his life that he'd like to take back, it's that," said Boxer, according to Reuters.
FOR FREE to continue reading
✔️ Unlock the full content of International Business Times UK for free
offer available for a limited time only
✔️ Easily manage your Newsletters subscriptions and save your favourite articles
✔️ No payment method required
Already have an account?
Log in
© Copyright IBTimes 2023. All rights reserved.