Church Sexual Abuse Crisis Far From Over, US Cardinal Says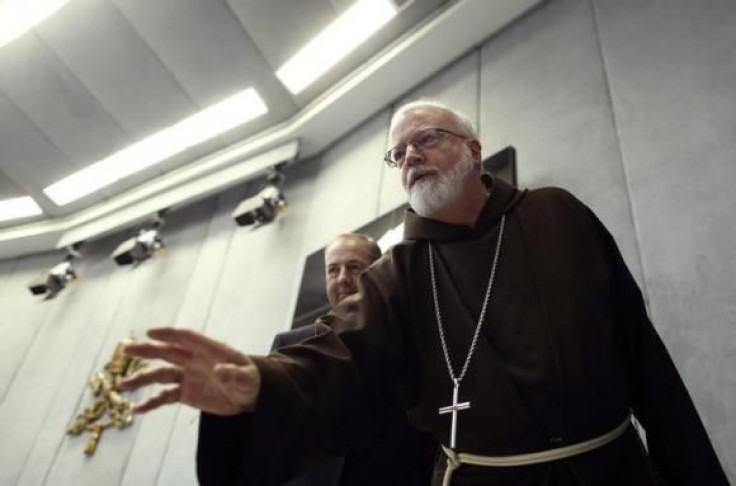 (Reuters) - The U.S. cardinal who heads the Vatican's commission on sexual abuse of children by clergy warned his fellow Roman Catholic bishops on Monday not to behave as if the problem had passed.
Cardinal Sean O'Malley of Boston told a conference at Rome's Pontifical Gregorian University that some prelates were still reluctant to deal with the problem openly.
"It would be perilous for us, as leaders of the Church, to consider that the scandal of clergy sexual abuse is for the most part a matter of history and not a pressing concern here and now," said O'Malley, whose commission advises Pope Francis on how to root out the abuse that has shamed the Church.
"Its not a pleasant topic. It's easier just to ignore it and hope it will go away (but) when we are defensive and secretive, the results are disastrous," he said in his speech.
O'Malley said last week, after the 17-member commission held its first full meeting at the Vatican, that the group is studying sanctions for bishops suspected of cover-ups or of failing to prevent abuse.[Id:nL5N0VH0RA]
Victims groups have been urging the Vatican for years to make bishops more accountable for abuse in their dioceses, even if they were not directly responsible for it. Few have lost their posts because of a scandal on their watch.
Earlier this month the pope sent a stern letter to bishops around the world ordering them to cooperate as a matter of priority with the commission to root out "the scourge" of the sexual abuse even if it unearths new scandals.[ID:nL6N0VF2WW]
Part of the task of the commission, made up of clerics and lay people from around the world, is to help dioceses put in place "best practices" to prevent abuse and work with victims in a process of healing. Eight members are women.
The worldwide scandal, which first became prominent in Boston in 2001, saw known abusers shunted from parish to parish instead of being defrocked and handed over to authorities.
Cardinal Bernard Law, O'Malley's direct predecessor, fled to Rome after the abuse scandal broke out there and was given a prominent ceremonial post by the late Pope John Paul.
© Copyright IBTimes 2023. All rights reserved.