Citibike Rolling Out In NYC On Memorial Day: Safety Concerns, Gripes Abound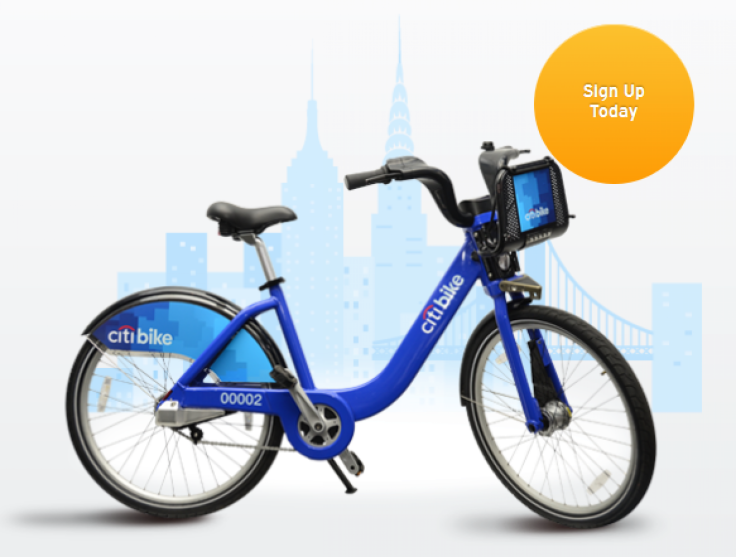 Blue bicycles are about to invade the streets of New York City. The Citibike program is rolling out this weekend, cheering bike-sharing advocates -- but also raising safety concerns and NIMBY complaints.
The gripes about New York's bike-sharing program are already starting to bubble up in advance of the May 27 debut: There aren't enough bikes in Brooklyn. The bikes' weight limits aren't fair to heavier New Yorkers. The rates are more expensive than in other cities. The racks are unsightly in the eyes of Manhattanites.
Plus, with bike-sharing programs being especially appealing to Sunday riders and tourists, there's fear that a sudden flood of novice cyclists could be dangerous. (Especially as helmets are not included with the rental.)
"The city isn't being aggressive enough about educating people about safety — and it sends mixed messages," Nicole Gelinas, a researcher at the Manhattan Institute for Policy Research, wrote in a column for the New York Post on May 13. "For example, the city tells people to ride in bike lanes when possible — but it's dropping huge bike docks near Fifth and Sixth avenues, where there are no such lanes."
Gelinas also thinks the city should be doing more to warn Citibike users about the risks they'll face on the street, especially from big trucks. Big trucks have big blind spots along their sides, and when they make right turns a cyclist pedaling alongside runs a serious risk of being crushed.
Citibike annual members get a brochure about safety rules that includes a warning about trucks, but what about occasional users? Paris's bike program, Velib, puts warnings about trucks right in the cyclist's face – printed on the handlebars of the bike itself. The City of Light also went through a massive safety campaign before rolling out the program, with posters on traffic rules put up all over major streets.
How will the Big Apple's new program fare? To get a better picture of the future, experts say we shouldn't look at bike-sharing Washington, D.C., or Boston. Actually, one of the best approximations, according to the New York Department of City Planning, can be found in Paris, which has a population density and public transit system very similar to the five boroughs.
Three cyclists on Velib bikes were killed in the first year of the program -- out of 27.5 million rides, though, that's a pretty small proportion. Plus, walking isn't always a safe alternative in the city. Analyst Charles Komanoff noted in an article for Streetsblog that scores of pedestrians have been killed by trucks in the past decade.
Gelinas, in response, pointed out that those first three Velib deaths were all women, and all killed by a large truck or bus.
"The majority of the victims have been women, or older people, or both, neither category of which fits the statistical profile of the middle-aged, male expert biker," Gelinas wrote on Streetsblog. "It is reasonable to assume that inexperienced cyclists have made up the preponderance of victims."
The conventional wisdom is that with an influx of more bikers, drivers will become more aware of their surroundings. With more than 10,000 people already signed up for annual Citibike memberships, those blue bikes may soon become hard to miss.
© Copyright IBTimes 2023. All rights reserved.
FOLLOW MORE IBT NEWS ON THE BELOW CHANNELS