Cleric Leads Massive Protest In Pakistan Seeking To Dissolve Government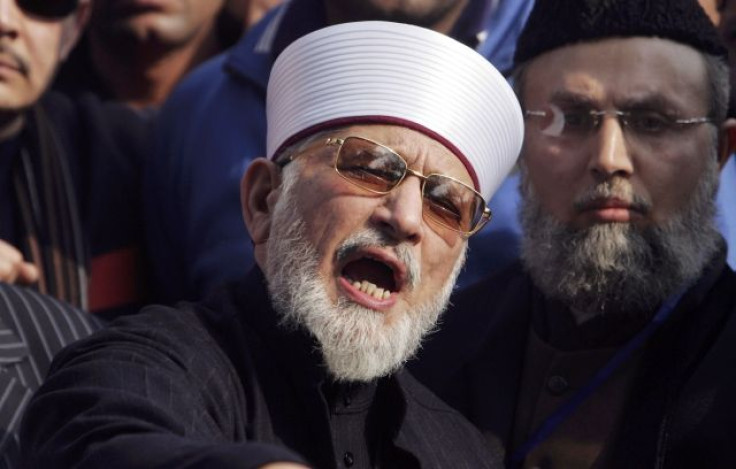 A massive protest in Islamabad led by a Sufi cleric, purportedly to clean up Pakistani politics by ousting the current government, turned violent Monday when the police resorted to tear gas to take control of the situation.
The government had allowed the demonstrators to stage a sit-in less than a mile away from the Parliament House, but clashes erupted after the protesters pelted stones at the security forces, Pakistani media reported.
The protest, led by Tahirul Qadri, a Canada-based Islamic scholar of Pakistani origin and the leader of the Mihaj-ul-Quran movement, left the eastern city of Lahore Sunday with thousands of protesters and reached the national capital late Monday.
Qadri arrived in a bullet-proof container truck at D-Chowk on Islamabad's Jinnah Avenue in front of the Parliament House, according to a Dawn News report.
"It's the beginning of the revolution," Qadri told the rally in Islamabad late Monday, according to a CNN report. "Dissolve federal and provincial governments by tomorrow morning; otherwise, the public will force them to step down!"
"Today, the president and the prime minister have become ex as (they) won't have their government tomorrow," he said.
Appearing to address President Asif Ali Zardari's administration, he added, "Don't test the patience of these people."
The riot police were on standby while the security forces created barricades to block the protesters from entering the heavily-guarded area where the offices of the president and prime minister and foreign embassies are situated.
Qadri, who has been running a worldwide network of religious schools and charities from his home in Canada, where he lived for seven years, returned to Pakistan last month.
Qadri's return was heralded by extensive television campaigns touting the slogan: "Save the state, not your politics."
He addressed a massive political rally at Minar-e-Pakistan in Lahore Dec. 23 before the Karachi-based Muttahida Quami Movement announced their support to the movement.
By organizing the "long march," he has vowed to overthrow the "corrupt" government and pave the way for electoral reforms under an interim government of "honest" people.
However, the rumors are abound that the movement has the backing of Pakistan's politically influential military establishment, after Qadri stressed on the role of both military and judiciary in choosing an interim government.
Qadri was a prominent supporter of former army chief Pervez Musharraf who toppled the government in a coup d'état in 1999. He had served in the National Assembly under Musharraf's rule before moving to Canada in 2005.
Zardari's administration has accused Qadri of trying to postpone the general elections due in May.
© Copyright IBTimes 2023. All rights reserved.