Cleveland Cavaliers Are Clear Eastern Conference Favorites After Beating Boston Celtics, Trades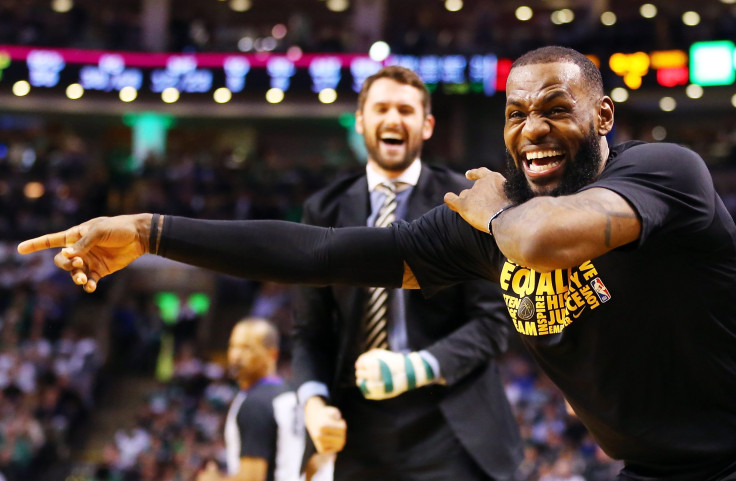 It was only one game, but the new-look Cleveland Cavaliers sure seemed like a completely different team in their first contest together following the trade deadline. In defeating the Boston Celtics 121-99 Sunday afternoon, the defending Eastern Conference champions re-established themselves as the clear favorites to reach the 2018 NBA Finals.
Technically, the Cavs have always been the favorites in the East this year. That's a result of LeBron James winning the conference in seven straight seasons and still proving to be the best basketball player in the world.
But Cleveland hasn't been this vulnerable since James returned to his hometown in 2014. After getting fleeced in the Kyrie Irving trade and falling to the No.3 seed with the conference's worst defense, the Cavs didn't look like a team that was on its way to the NBA Finals. Boston and the Toronto Raptors sit comfortably ahead of Cleveland in the standings, and both manhandled the Cavs in early January games, part of a stretch in which James and Co. went 0-9 against the league's top six teams.
Isaiah Thomas and Cleveland's offseason additions had fallen well short of expectations. That forced the organization to trade away six accomplished veterans, bringing in three 25-year-olds and an experienced point guard. Facing the possibility of an early-round playoff upset and losing James to free agency in the next couple of months, the Cavs had to try something, anything, that might make a difference.
It was only one game, but the moves are already paying off.
With Celtics' legends sitting courtside to witness the team retire Paul Pierce's No.34 jersey, Cleveland embarrassed Boston. The Cavs led by as many as 29 points and James was able to rest for the entire fourth quarter with the game in hand.
James led the charge as he put up 24 points, 10 assists and eight rebounds in just 28 minutes. He was held to 19 points, seven rebounds and six assists in his visit to Boston 39 days prior.
All four additions made an impact in their Cleveland debuts—none of them played Friday when the Cavs beat the Atlanta Hawks. Starting at point guard, George Hill had 12 points and three rebounds. Jordan Clarkson and Rodney Hood combined to shoot 13-of-22 from the field for 32 points. Larry Nance Jr. did a little bit of everything with five points, four rebounds and three assists, even getting James to leap off the bench in excitement when his fourth-quarter dunk put an exclamation point on Cleveland's victory.
Been about two years since I've seen LeBron as happy as he was after Larry Nance's dunk pic.twitter.com/YXfpaUhV3j

— gifdsports (@gifdsports) February 11, 2018
Both on the bench and on the court, the Cavs looked rejuvenated. Before the trade deadline, Cleveland was an old, slow team that didn't seem to like each other. On Sunday, they looked like a much younger, more athletic group that was having fun again.
"Fun," Hood said when asked what it's like to play with James, via ESPN.com. "It's fun. He demands simple things, just to play hard. But other than that, he'll make the game easy for you if you're in the right spot, so it's fun."
"It started with George and his on-the-ball pressure and him just running the team," James said. "And then the three guys came off the bench. Jordan was -- he's ready to score at any time, but his composure was great. Rodney plays with so much poise, and Larry was just controlling the perimeter, setting great pick-and-rolls. Got him a lob, got him a dunk, so it was a good start for the new guys, a good start for all of us with our revamped team so far."
Cleveland's 98.3 defensive rating was their best in over a month. It was only the third time in 2018 that they held a team below 100 points.
The Cavs had a 64-52 lead at halftime, forcing Boston to give up more points in the first two quarters than they had all season. Against the league's best defensive team, Cleveland shot 53.6 percent from the field, making 16 of 30 three-point attempts.
Surround James with shooters and the Cavs become incredibly dangerous. Only Golden State made more three-pointers in 2016 when Cleveland won the title, and the Cavs made 40 percent of their shots from behind the arc in the playoffs. The Cavs were second in both threes made and three-point shooting percentage last year. The team is second in total threes this season, though eight teams are shooting a better percentage.
Hill, Hood and Clarkson went eight-of-14 from three-point range against Boston. No NBA player had a higher three-point percentage than Hill when Cleveland acquired him from the Sacramento Kings. Hood is one of seven NBA players that shoots at least 6.5 threes per game and makes them at a 39 percent clip or better.
The six players that Cleveland traded all took at least 1.5 threes per game. None of them made more than one-third of those shots. Isaiah Thomas and Derrick Rose were both 25 percent three-point shooters.
As good as Boston's defense has been, they can't compete with Cleveland if James is James and he can pass to players that are shooting efficiently. Boston ranks 21st in offensive efficiency, often looking lost when Irving isn't dominating opposing defenses.
Toronto is the East's No.1 seed, but they'd rightfully be considered significant underdogs in a series with the Cavs. The Raptors have the same core that's won at least 48 games in the last four regular seasons while underachieving in the playoffs.
Cleveland certainly still has their fair share of issues. They'll struggle to get higher than the No.3 seed with Kevin Love slated to miss the next few weeks with a broken bone in his hand. Their defense still isn't very good, and they won't challenge Golden State in the Finals.
The East, however, still belongs to James and the Cavs.
It's only been one game, but the East is once again Cleveland's to lose.
© Copyright IBTimes 2023. All rights reserved.