Cleveland Cavaliers vs. Golden State Warriors: Game 3 Prediction, Betting Odds For 2017 NBA Finals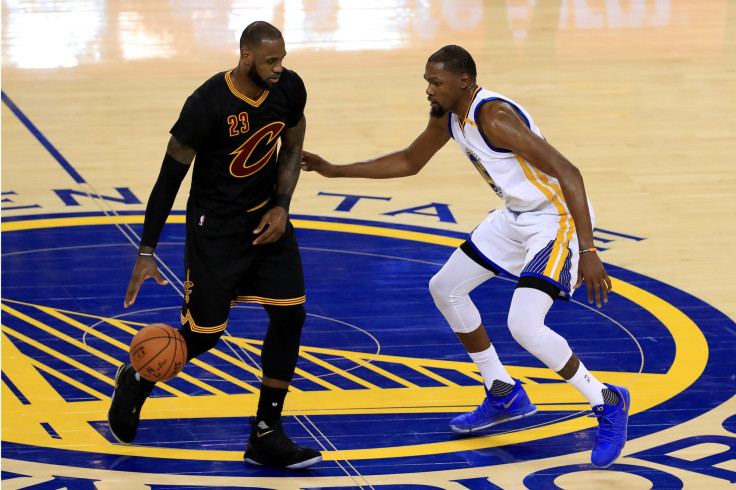 The Cleveland Cavaliers have one more chance to prove that they can challenge the Golden State Warriors in the 2017 NBA Finals. They find themselves in a virtual "must win" situation, returning home for Game 3 Wednesday night in a 2-0 series hole.
For many, Golden State's final two wins are a given at this point. It would be very tough to find any predictions of the Cavs coming back to win the series, and the Game 3 betting odds have significantly shifted in the last few days. Cleveland was a two-point favorite in their first home game before the series began, but they are now three-point underdogs, via OddsShark.
If the Cavs play at all like they did in the series' first two games, they'll suffer the same fate as the Warriors' first three playoff opponents. Cleveland needs to be close to perfect when Kevin Durant and Stephen Curry are locked in, and the Cavs have not been up to the challenge thus far.
There isn't much more that LeBron James can do. His postseason brilliance has continued in the finals, averaging 28.5 points, 13.0 rebounds and 11.0 assists per game on 55.3 percent shooting. But Durant and Curry have combined to average 65.5 points on 43.5 shots per game, and James hasn't gotten nearly enough support from his No.2 star.
Other than James' masterful performance in the 2016 NBA Finals, it was Kyrie Irving outdueling Curry that allowed the Cavs to pull off the greatest comeback in league history. Cleveland's point guard hasn't come close to reaching that level in two games, averaging more shot attempts (22.5) than points scored (21.5).
Irving certainly has what it takes to turn things around in Game 3. Aside from what he did in last year's finals, the point guard was spectacular against the Boston Celtics in the Eastern Conference Finals. He averaged 25.8 points per game on 62.2 percent shooting, shooting 50 percent from three-point range.
Irving's three-point shot hasn't abandoned him against Golden State, having made five of 10 attempts from behind the arc. He's attempted just three free throws, failing to get to the rim at a rate at which he's capable.
It's starting to look like the Warriors are just too good, even for the best player in the world and the defending champs. The comparisons that many made before the start of the series between the 2014 and 2017 finals are looking to be more appropriate with each game. The San Antonio Spurs had four wins of at least 15 points against the defending champion Miami Heat, and Golden State could win this year's title in similar fashion.
Amidst San Antonio's dominance, however, Miami still managed to win a game. James willed the Heat to a two-point victory against the Spurs in 2014, and he's got a chance to deliver Cleveland a victory in front of their home crowd in Game 3.
James is going to continue to put up impressive numbers, even as the Cavs have trouble slowing down the Warriors. The final Game 3 score could finish well above the over/under of 225.5.
Kevin Love shot well from the field in Game 2, and Irving could bounce back as he returns home. Irving shot 49.9 percent from the field at home in the regular season, compared to 44.8 percent on the road. Tristan Thompson should also perform better, having totaled just eight rebounds in two games.
Maybe the Warriors will go through the entire playoffs without a loss, but James and the Cavs are probably good enough to steal at least one win at home.
Prediction: Cleveland over Golden State, 120-117
© Copyright IBTimes 2023. All rights reserved.