Clinton To Give First Paid Post-Secretarial Speech On April 24, Still Isn't Running For President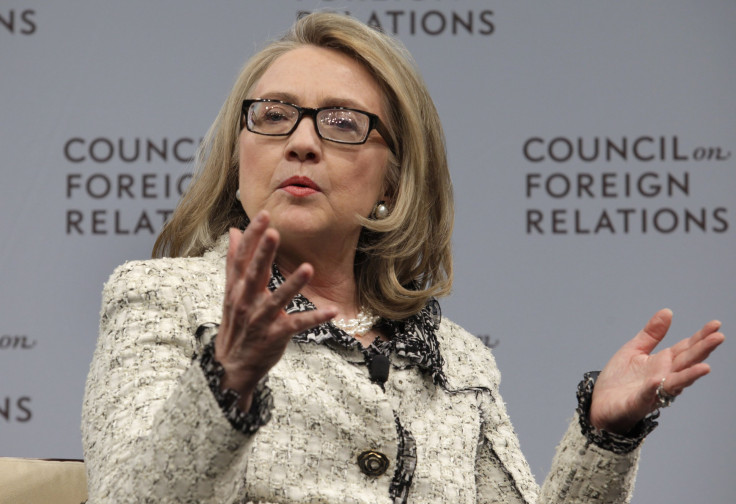 Citing "a Democratic source close to Clinton," CNN said on Sunday that former U.S. secretary of state and is-she-running-for-president-or-not Hillary Clinton will give her first post-government tenure speech at the National Multi Housing Council in Dallas on April 24.
The NMHC is an advocacy group for apartment rental firms.
An anonymous source said Clinton is expected to draw six figures for the speech, but the source did not say exactly how much she will garner from the engagement.
Clinton signed on with the Harry Walker Agency upon stepping down from the secretariat. The same agency represents her husband, Bill. CNN said she is also scheduled to deliver two sets of unpaid remarks this week at the Vital Voices Global Leadership Awards in Washington, D.C., and at the Women in the World Summit in New York.
Vital Voices Global Partnership is a women's empowerment nongovernmental organization that trains and "empowers" women leaders and combats violence against women.
The Women in the World Foundation is also an NGO dedicated to promoting women's rights. Their fourth annual conference will be on April 4 and 5 in New York.
In her farewell address at the Council on Foreign Relations, Clinton dedicated part of her speech to women's rights and advancement, and CNN's anonymous source said she is "deciding how she'll pursue her interest in furthering the advancement of women and girls."
Clinton's next political move, if she makes one, has been the source of much pundit commentary and speculation. A circle of former aides and campaign workers has already formed a "Ready For Hillary" Political Action Committee, and she does have a reported "transition office" on Connecticut Avenue in D.C.
But those closest to Clinton insist there's nothing to tell -- that is, there isn't a presidential campaign up for which to gear…yet. Clinton's longtime communications aide Philippe Reines told the New York Times, "Everyone's gotten way ahead of themselves, and most importantly, they have gotten way ahead of her."
But since America can't seem to stop campaigning, the polls gauging Hillary's clout in the presidential field have already begun. Quinnipiac University published a poll on March 21 showing that Clinton would handily trounce both former Florida Gov. Jeb Bush and current Florida Sen. Marco Rubio in a 2016 runoff for president in the state, a crucial battleground in recent presidential elections.
"We probably won't know for some time whether former Secretary of State Hillary Clinton runs for president in 2016, but if she decides to make the race, she begins with a sizable lead in a state that Republicans cannot win the White House without," said Peter A. Brown, assistant director of the Quinnipiac University Polling Institute, in the statement accompanying the poll. "Florida voters have a very positive view of Mrs. Clinton and it's not just Democrats who feel that way."
© Copyright IBTimes 2023. All rights reserved.