Clippers Trade Rumors: Blake Griffin Staying, But Does LA Need A Shake-Up?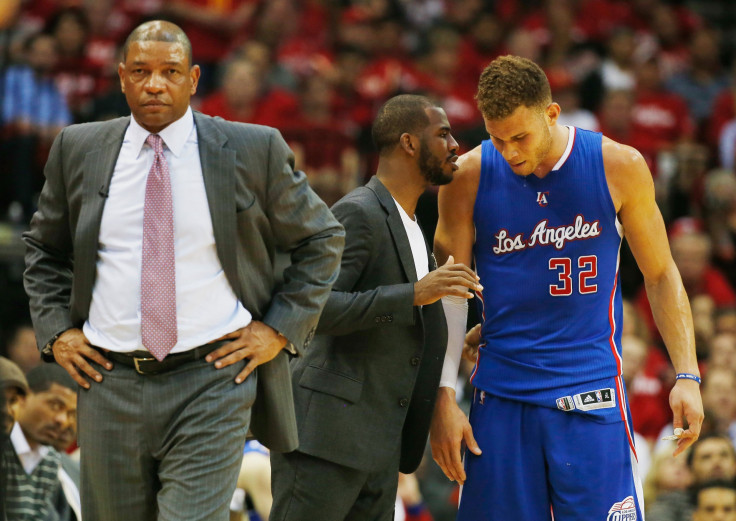 Since head coach Doc Rivers arrived in 2013, the Los Angeles Clippers and their core of point guard Chris Paul, power forward Blake Griffin, and center DeAndre Jordan have largely underachieved and yet to some puzzlement Rivers reportedly has no plans to adjust the team's foundation.
Following the Clippers first-round exit against the Portland Trail Blazers, Rivers, who also serves as team president of basketball operations, dismissed shaking up the roster to compete with the likes of the Golden State Warriors, San Antonio Spurs and Oklahoma City Thunder.
"I like our core and I like our bench, which was really good this year," Rivers told reporters three days after being eliminated by the Blazers. "I think they all want to come back, and we're going to make a strong effort to bring all our guys back. The good news about the free-agent guys who are opting out on their contracts - as they should because everyone knows what we can spend and what we can't spend - I can't find one who doesn't want to be here."
Rivers referenced injuries, in particular to Griffin, as to reasons why the Clippers failed to advance out of the first round. Los Angeles took the first two games against Portland but Griffin re-aggravated the left quadriceps injury that forced him to miss 41 games, Paul went down with a broken right hand, and the Blazers won four straight to hand the Clippers their first first-round exit on Rivers' watch.
Still, the Clippers have regressed each of the last two seasons under Rivers, and while it's only been by a handful of games, the team could use at least a minor shake-up to try and contend in the West. If the intention is to win a title, the Clippers seem to be a long way off.
Last summer, Rivers, along with Griffin and Paul, managed to convince Jordan to back out of his original handshake deal with the Dallas Mavericks to try and make another run, but Rivers did little else on the free agent market. He brought in Paul Pierce, one of his cornerstones in Boston, as well as his son, Austin, forward Josh Smith, and traded for guard Lance Stephenson.
Most of the of the moves had mixed results. Pierce averaged 18.1 minutes over 68 games and appeared to take a step back, Smith and Stephenson were both traded, while Austin Rivers became one of the team's best perimeter defenders and found his offense more after Paul went down in the playoffs.
That isn't to say the Clippers don't have enough pieces. Including their top trio, J.J. Redick and Jamal Crawford are a dynamic one-two scoring punch who provide long-range scoring, with the latter claiming yet another Sixth Man of the Year Award. Crawford, along with Jeff Green, are free agents but the Clippers own their Bird rights, which gives Rivers an advantage when other clubs offer deals.
Redick and Crawford have indicated they want to return. Rivers will also have the No. 25 and No.33 pick in the upcoming draft, though this class seems to be lacking in depth.
Upgrading the roster will be difficult due to salary-cap constraints. The Clippers are restricted to just a taxpayer's mid-level exception of $3.5 million per year for up to four years along with a biannual exception of $2.2 million for up to two years. That means they will likely miss out on someone like local product DeMar DeRozan, who ESPN's Stephen A. Smith referenced as a probable free-agent departure.
"He's enjoying his last days in Toronto because he'll be leaving for Los Angeles in a few months anyways," Smith said of DeRozan in April.
But Rivers might be wise to at least contemplate or even test Griffin's market value to reshape the roster. Of the three stars, the 27-year-old high-flyer is scheduled to make $20 million next season and $21.3 million on the final year of his deal, which in today's market is a relative bargain considering Griffin's offensive repertoire and ability to put fans in seats.
Griffin caused a big stir in the locker room this season, something Rivers can't ignore if they right deal comes along. Griffin punched a team equipment manager and friend during a road trip to Toronto back in January, suffering a hand injury and a team-enforced suspension.
A month later and just days before the trade deadline, ESPN reported that Griffin was the centerpiece of a six-player swap with Denver. The Clippers would have received forwards Danilo Gallinari and Kenneth Faried, as well as guard Will Barton and rookie center Nikola Jokic.
The move certainly would have padded the Clippers bench and frontline, while adding some more three-point shooting, but at the cost of a superstar. It's a move like that that could be on the horizon for the Clippers, whether Rivers admits it publicly or not.
© Copyright IBTimes 2023. All rights reserved.