Cluster Bombs Explained: Ukraine Employs U.S.-Supplied Munitions In Offensive Against Russian Forces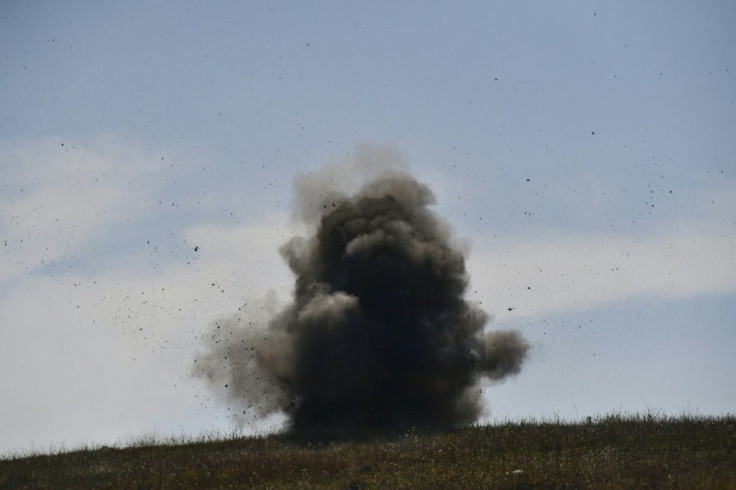 KEY POINTS
Ukraine used the cluster bombs as Russia continued its attack on Odesa for the third consecutive night
The attacks on Odesa were in direct response to the Kerch Bridge explosions
In the aftermath of this incident, Russia decided to withdraw from the U.N.-brokered grain export deal
Ukraine has initiated the use of U.S.-provided cluster munitions against Russian forces in southeastern Ukraine. The intention behind this action is to disrupt and dismantle the strongly fortified Russian positions, which have been impeding Ukraine's summer offensive progress, Kyiv's officials told The Washington Post.
When the U.S.-provided cluster munitions were utilized by Ukraine, Russian missiles relentlessly bombarded the Black Sea port region of Odesa for the third consecutive night. An attack on the nearby port city of Mykolaiv resulted in 19 people being injured, including five children.
The deployment of U.S.-manufactured weapons, which had not been publicly disclosed before, comes in the wake of President Joe Biden's "difficult decision" to authorize the delivery of these widely prohibited munitions the previous week. This move faced criticism from human rights organizations, European allies, and certain Democrats due to concerns about the potential for civilian casualties associated with their use, CNN reported.
Meanwhile, on Thursday, a senior Washington defense official stated that the controversial cluster munitions supplied by the U.S. are being utilized "effectively" by Ukrainian forces in their counteroffensive against Russia's invasion.
"We have gotten some initial feedback from the Ukrainians, and they're using them quite effectively," White House national security spokesman John Kirby told reporters Thursday. "They are using them appropriately, they are using them effectively."
The intense barrages by Russian forces were in direct response to Ukraine's recent attack on the bridge connecting Russia to Crimea. This attack took place earlier in the week and has escalated tensions between the two countries. In the aftermath of this incident, Russia decided to withdraw from the United Nations-brokered deal, which was aimed at ensuring the unobstructed flow of Ukrainian grain exports to the global market. This withdrawal further complicated the already volatile situation between Ukraine and Russia.
Russian President Vladimir Putin justified the decision to withdraw from the export deal, accusing the West of using the agreement as a form of "political blackmail." In response to the Russian attacks on the Ukrainian ports, approximately 60,000 tons of grain were destroyed, and storage facilities suffered significant damage. This raised serious concerns about the potential for a global food crisis, given the critical role Ukraine plays in international grain exports. The situation has further heightened tensions and deepened the impact on food security at a global level.
Russia's Defense Ministry has issued a statement claiming that ships enroute to Ukrainian ports on the Black Sea could be perceived as potential carriers of military cargo destined for Kyiv, making them "involved in the conflict."
On Sunday, Russian President Vladimir Putin issued a threat of retaliation against Ukraine's use of cluster munitions with Russia's own supply of these weapons, but he specified that it would only occur "if they are used against us." However, Russia has already employed cluster munitions in populated areas of Ukraine at least 24 times since the start of its invasion on Feb. 24, 2022, according to the United Nations.
Earlier this week, Col. Oleksandr Bakulin, the commander of Ukraine's 57th Brigade, told BBC News that the use of cluster munitions was deemed necessary to "inflict maximum damage on enemy infantry." However, he also acknowledged that despite their deployment, these munitions would not be a comprehensive solution to all the challenges faced on the battlefield.
What are Cluster bombs?
Cluster bombs are munitions that have been banned in over 120 countries due to their indiscriminate nature and devastating impact on civilian populations. When deployed, these bombs explode in the air over a target, scattering dozens to hundreds of smaller bomblets across a wide area, often comparable to several football fields in size. The widespread dispersion of these submunitions poses a severe risk to civilians, especially children, as they can remain unexploded and hidden for an extended period, even years after a conflict has concluded.
The danger lies in the fact that these unexploded submunitions can be mistaken for harmless objects, leading unsuspecting individuals, including children, to pick them up, resulting in tragic accidents and casualties. The use of cluster bombs raises serious humanitarian concerns, and their ban in numerous countries is a reflection of the international community's commitment to minimizing civilian harm in armed conflicts.
© Copyright IBTimes 2023. All rights reserved.