Poland's PM Firm On Border Closure For Ukrainian Grain Imports After Sept 15, Urges EU's Cooperation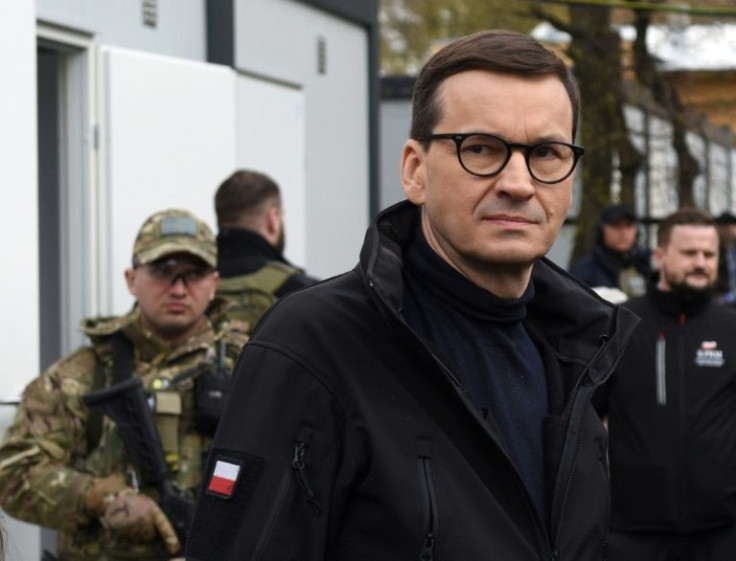 KEY POINTS
On Wednesday, five countries in Central Europe made a collective appeal to the EU
They requested an extension of the ban on imports of Ukrainian grain beyond Sept. 15
Central European countries expressed concerns over the termination of the grain deal by Russia
Polish Prime Minister Mateusz Morawiecki said if the European Commission's moratorium on importing Ukrainian grain expires after Sept. 15, Poland will not open its border with Ukraine for grain products.
"I want to make it clear on behalf of the Ministry of Agriculture and Rural Development of Poland that we will not open this border. Either the European Commission will agree to develop regulations extending this ban jointly, or we will do it ourselves," he said, European Pravda, citing the PAP agency.
While emphasizing that the decision was not intended as an action against Ukraine, Morawiecki said the measure was being taken in favor of Polish farmers. He added the border closure would not only be limited to grain products, but will also extend to other agricultural goods.
"Poles earn money on transit; this does not threaten to destabilize the domestic market, so we facilitate these exports and make transit possible," he added.
The Polish prime minister pointed out that as per the European Commission's decision, Poland was scheduled to reopen its border with Ukraine for grain imports on Sept. 15--less than two months away from the current date.
On Wednesday, five Central Europe members of the European Union--Bulgaria, Hungary, Poland, Romania, and Slovakia--made a collective appeal to the EU, requesting an extension of the ban on imports of Ukrainian grain beyond Sept. 15, the previously scheduled reopening date for the borders.
The Central European countries expressed concerns that the termination of the grain deal by Russia could result in a surge of grain flows and create bottlenecks within their territories. The situation raises apprehensions about potential challenges in managing the increased grain imports and its impact on their agricultural and logistical systems.
During the weekend, Russian President Vladimir Putin stated that the primary objective of the grain deal, which was to supply grain to countries in need, had not been achieved. He reiterated his dissatisfaction, mentioning that Russia encountered difficulties in exporting its own food products.
Last week, US Secretary of State Antony Blinken accused Russia of utilizing the grain deal as a weapon to advance its own interests.
Meanwhile, Ukrainian Foreign Minister Dmytro Kuleba expressed his concerns on CBS, saying that Russia has been deliberately undermining the grain initiative by continuously requesting extensions. Kuleba warned this situation could lead to a rise in grain prices worldwide, ultimately affecting vulnerable regions in Asia and Africa, where people may feel the impact of these price increases most significantly.
© Copyright IBTimes 2023. All rights reserved.