Coca-Cola Resumes Bottling Its Soft Drinks In Myanmar After 60 Years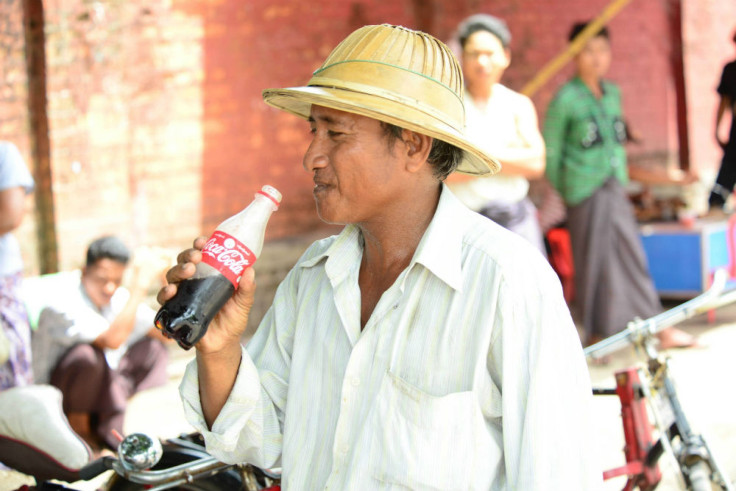 Coca-Cola Company (NYSE:KO) officially launched its soft-drink bottling plant in Myanmar on Tuesday, as part of a $200 million investment plan, marking its return to the former junta-ruled country after six decades.
The company began bottling two of its flagship brands -- Coca-Cola and Sprite -- in its new plant in Hmawbi Township, on the outskirts of Yangon, in partnership with local soft-drink maker Pinya Manufacturing Co.
"We're delighted to be part of this historic occasion as we return to local manufacturing of Coca Cola to this beautiful country after more than 60 years," said Muhtar Kent, Coca-Cola chief executive, AFP News reported.
The company said it will spend $200 million in the country over the next five years, creating employment for 2,200 people and generating 22,000 more jobs along the supply chain over the years.
Coco-Cola pulled out of Burma, as Myanmar was known at the time, after a military coup in 1962 led to a military rule, which blocked the country's economy to outside investors.
The U.S. and other western nations slapped sanctions on the country after the military regime crushed a pro-democratic movement in 1988. The country remained reclusive as most foreign companies severed ties and divested their interests in the local market.
Coca-Cola started importing its products last September after the U.S. and other western nations lifted most of the sanctions levied on the country following its transition to a democracy in 2011. Prior to that, both Coca-Cola and rival Pepsi were available in the country's black market.
The Atlanta-based company, in a statement, said that it is "one of the first U.S. companies to be awarded an investment permit under Myanmar's new Foreign Investment Law," Associated Press reported.
According to the company statement, currently the plant produces Coca-Cola and Sprite in 425-ml plastic bottles and the production of 300-ml glass bottles and aluminum cans are expected to start in coming weeks.
The bottling plant's inauguration was held prior to the three-day 'World Economic Forum on East Asia' event at Naypyidaw that begins on Wednesday. The World Economic Forum event will witness about 900 delegates from different countries pouring into the once reclusive country's capital, highlighting the world's increasing interest in the country's unexplored market.
Meanwhile, Coca-Cola's major rival PepsiCo Inc. (NYSE:PEP) is also in talks with the Myanmar government to sign a bottling agreement with a local partner.
© Copyright IBTimes 2023. All rights reserved.